Springfield Armory's new Echelon pistol is raking in the awards. Its cutting-edge styling, modularity, and ergonomics have upped the ante for semiautomatic striker-fired pistols. Springfield Echelon accessories compatibility is wide and varied. So, here's a rundown of products with which to trick out your new gun. But first, let's briefly highlight the Echelon's salient features.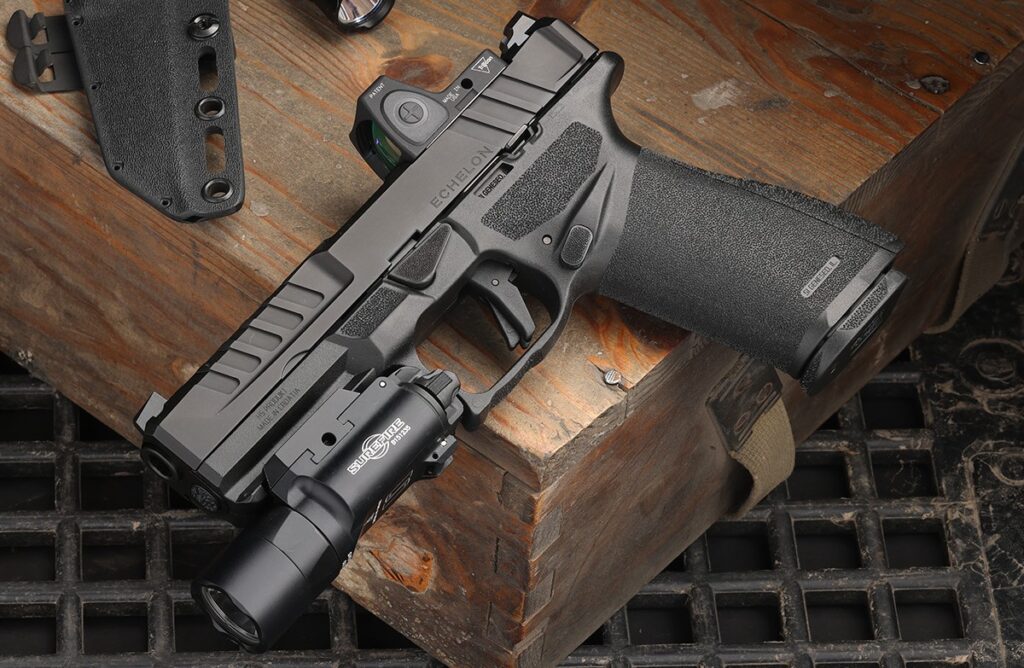 Springfield Armory Steps Up
Springfield's XD line has long been a solid, if not especially exciting, handgun. The XD was based on the Croatian military's HS2000 pistol developed by firearms manufacturer HS Produkt, who also manufactured the XD.
Springfield's new Echelon continues the Croatian collaboration. The Echelon is built around the now ubiquitous serialized chassis system, which Springfield calls the Central Operating Group (COG). The COG is the key to the design's modularity, which includes three different grip frame sizes, each with interchangeable backstraps.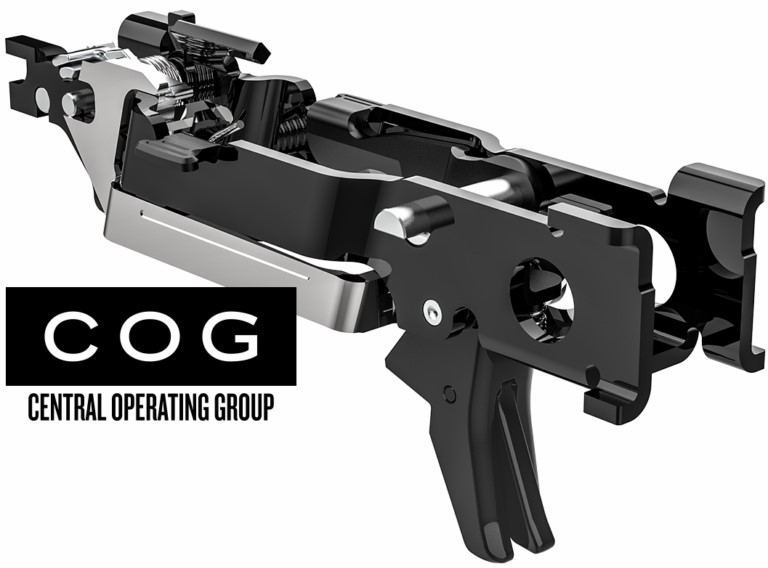 The slide is aggressively cut with deep front and rear serrations and front and rear cocking ears, easing slide manipulation. But these cocking ears are milled into the slide instead of sticking out, maintaining the gun's streamlined profile. The controls are fully ambidextrous, and the Echelon ships with tritium fiber optic sights for maximum visibility in any lighting conditions. No special night sights are needed. You get your choice of a U-Notch rear sight with a luminescent front ring or a traditional 3-dot configuration.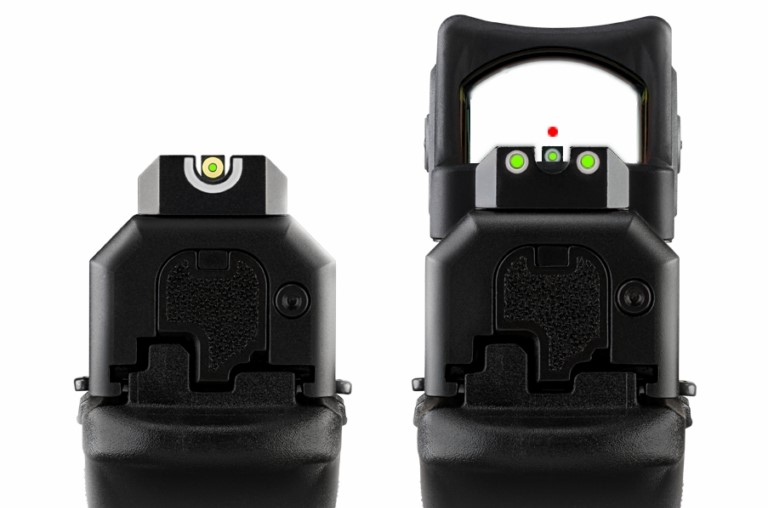 The Game-Changing Echelon Variable Interface System
But the Echelon's best feature is the new Variable Interface System (VIS). Shooters have long complained about the lack of a standard optic footprint on handgun slides. Choosing the right optic can be a hassle, what with matching footprints and shelling out extra money for compatible plates.
Springfield has all but eliminated that hassle. The Echelon VIS features three sets of interlocking pins to create three popular footprints without needing an adapter plate. VIS allows you to mount over 30 optics that fit the Trijicon RMR, Leupold DeltaPoint Pro, and Shield footprints. Mounting the optics directly to the slide increases stability and eliminates a possible failure point. But just in case you need them, Springfield offers adapter plates for the Aimpoint ACRO and Docter footprints for maximum compatibility.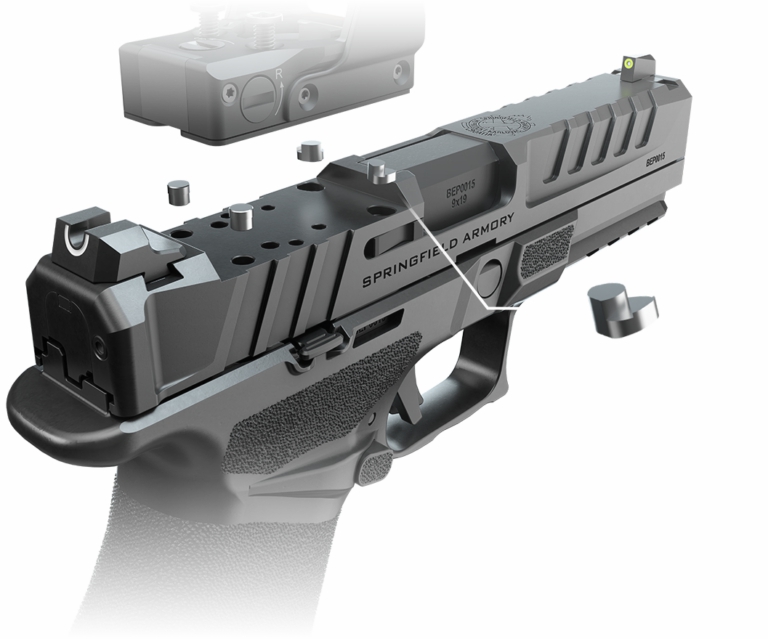 Setting up the VIS is simple. Just choose your pin set, plug it in, and mount your optic. The pins must be properly torqued, so make certain you have the right tools. Improperly torqued pins won't give you the stability you want. The gun ships with all three pin sets.
The VIS really is a game-changer. We've been clamoring for a standardized optic footprint. Optics companies have not delivered on that request, so Springfield came very close to doing it for them, while also throwing down the gauntlet to other handgun designers. We'll see if they step up to the challenge.
Echelon Magazines
The Echelon features a brand-new magazine designed for hard use and everyday reliability. The mags are coated with a scratch and wear-resistant black finish to enhance durability. Flush-fitting 17-round mags are standard with an extended baseplate 20-round mag also available.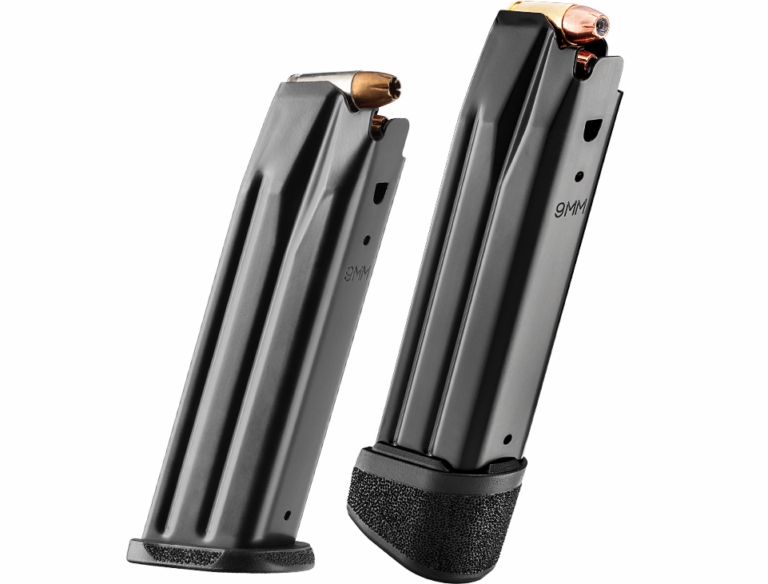 About Those Springfield Echelon Accessories
Since the Echelon is so accessory-friendly, let's look at some good options to trick it out. Our look at the VIS demands we start with optics.
Optics
Springfield offers a complete, and impressive, list of compatible optics. Space prohibits listing them all here, but let's hit the high points:
Trijicon RMR, SRO, RMR HD
Leupold DeltaPoint Pro
Shield RMSc,SMSc, SMS2, RMSX
Holosun 507c-X2,508T, 507k, EPS
Swampfox Kingslayer, Liberty, Justice
Vortex Defender CCW
EOTECH EFLX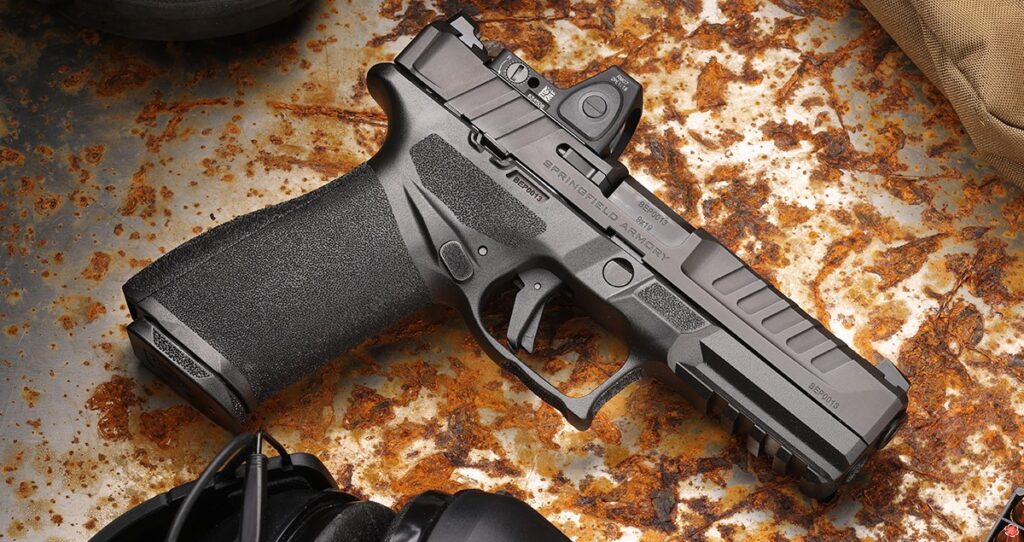 That's only about half the optics list, not including Aimpoint and Docter compatible products, which would add even more. Springfield really hit a grand slam on optic compatibility.
Holsters
Several companies currently offer Echelon holsters, including Safariland with the 6360RDS, 6390RDS, 6390RDSO ALS Duty Holsters, and the 6378 RDS ALS Concealment Holster. Holsters from DeSantis, Crossbreed, Vedder, Alien Gear, Comp-Tac, Galco, and Blackpoint are also available. Comp-Tac and Crucial Concealment offer Echelon magazine carriers.
The Echelon's award list and growing popularity will likely add even more to this list, including inside and outside the waistband choices and likely some duty holsters.
Weapon-Lights
The Echelon features a generous four-slot Picatinny rail, so your weapon-light choices are wide open. But let's offer some choices anyway. For concealed carry, check these out:
Streamlight TLR-7 A
Surefire XSC
Nightstick TCM-10
O-Light PL-Mini 2 Valkyrie

For a larger, duty-style light, consider these:
Surefire X300T
Streamlight TLR-9
Night Stick TWM-30
Or if you want a light/laser combo:
Streamlight TLR8A
O-Light BALDR S
Surefire X400 Ultra
Other Springfield Echelon Accessories
Want to add a suppressor or perhaps a compensator? No problem. Springfield offers a 4.5-inch threaded barrel for the muzzle device of your choice. Suppressor height sights are available. And you might want to save your thumbs with all the 9mm you'll be shooting, so maybe pick up an Echelon magazine loader. You can also purchase Echelon grip modules, interchangeable back straps, and extra VIS pin sets if you want.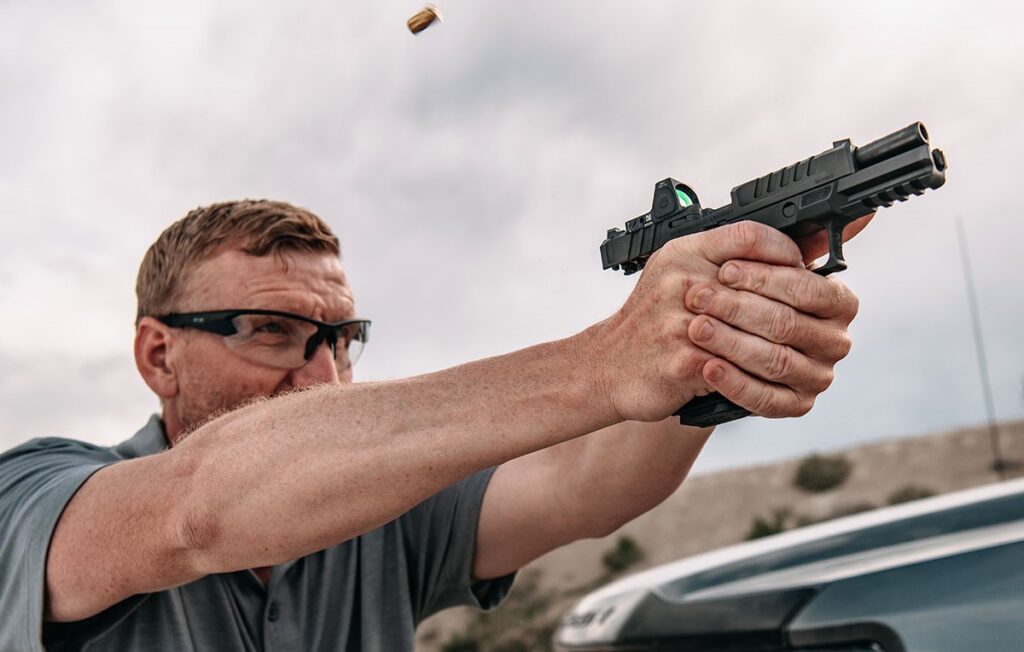 The New Hotness
The Echelon is the hot handgun right now. Springfield Armory obviously worked hard to bring shooters a truly feature-rich pistol at an attractive price, and the Echelon seemingly delivers on modern expectations. Modularity: check. Ergonomics: check. High-performance sights: check. Easy accessorizing: check. Not to mention it's a good-looking pistol. If the Echelon's performance and reliability measure up to its features, Springfield will have a landmark firearm on their hands. Early reports are good. We'll see if other gunmakers follow Springfield's lead.