Swampfox has released their new Sentinel II micro red dot, and it has a lot of things going for it that I like. As a relatively new company, Swampfox is a patriotic-themed optics maker. Their primary goal is to make quality products at an affordable price. From LPVOs to full-size and micro red dots, Swampfox makes a wide range of products.
The Sentinel II red dot has several features that make it stand out, but does it hold up to daily abuse? If I'm going to rely on an optic for home or self-defense, I want to know it will work when I need it to. More and more optics are coming out each year; some are of great quality and some fall short of the mark. A few companies have etched their name into the quality/affordable optics market but not many. Holosun, Vortex, and Primary Arms are some companies that retail in the mid-range price scale and make quality products.
I'll admit, my time with Swampfox products like the Sentinel II is limited compared to those other brands. But I like what I see so far, and I think they will fit nicely into that category of affordable yet durable optics-makers.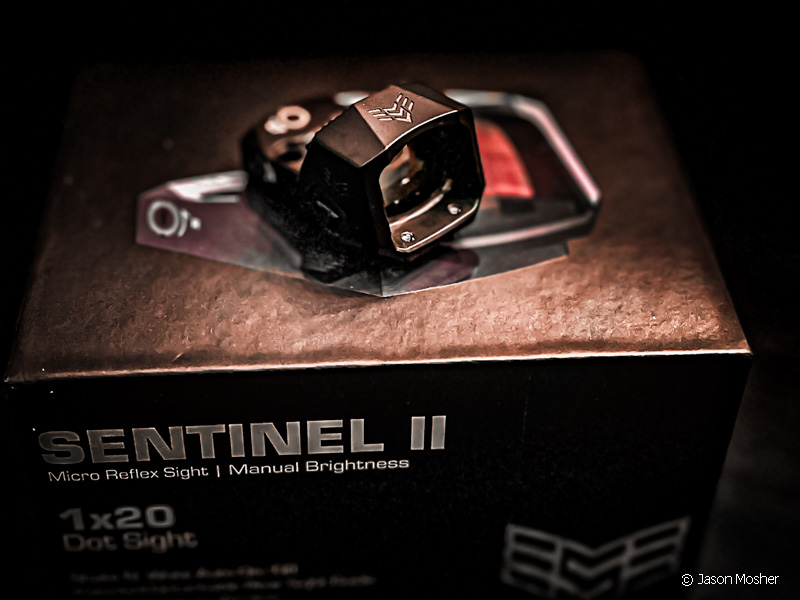 When considering an optic, I want to see its construction material, what type of glass it uses, the MOA adjustments, reticle size, and battery type. So, let's jump right into it and see what the Sentinel II red dot is made of.
Is it durable?
The standard material for durable optics has been 7075 aluminum for some time. This is because aluminum is durable and light, making it a great metal for firearms, optics, and lights. Swampfox uses a 7075-T6 aluminum which means it has a T6 temper. If you are not familiar with this process, the cast is heated to 450º F before the metal is aged at 120º F for 24 hours. Of course, this is the process in a nutshell, not a detailed description of the process.
Making the body of the optic from this type of metal is a step in the right direction. But what about the glass? Having a coated lens is important with any type of optic. The coating reduces light transmission and glare. Swampfox added a multi-coated lens to their optic for optimal glare reduction and light transmission. This is a great feature for a budget-friendly optic.
Another thing I want to mention is not part of the optic, but an accessory to it. When you buy the Sentinel II, you also have the option of purchasing the Ironsides Shield for it. This is a metal frame you can slide the optic inside of before mounting it to your favorite handgun.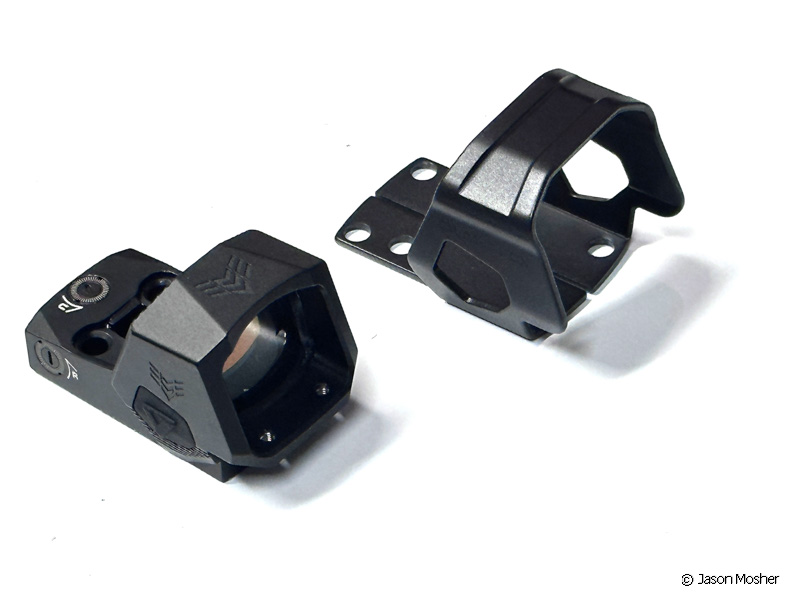 With this option, you not only have the benefit of a 7075-T6 aluminum frame, but an added metal cover. The Ironsides Shield is made of SUS304 stainless steel and a matt black PVD coating. It retails for $39, which is a great price for an extra layer of protection around your optic.
Installing the Ironsides shield
The Ironsides Shield has holes in it that align with the holes in the optic. All you do is slide the optic into the shield and mount it on the handgun like you normally would. I was going to mount the optic with and without the Ironsides shield to see which I liked better but there was no point. As soon as I placed the shield over it, I thought why do it without? Except for holster testing, I left the Ironsides Shield on.
Operating the Sentinel II red dot
When it comes to red dots, I like them simple, and I want them to activate quickly. There are some optics out there that are great optics but have some features I don't like when powering up. I work in law enforcement, so I need equipment ready to go when I grab it. This should be no different for home/self-defense. If you must hold down a button for several seconds to power it on, it's too long. With the Sentinel II micro red dot, you push a button one time and it's on.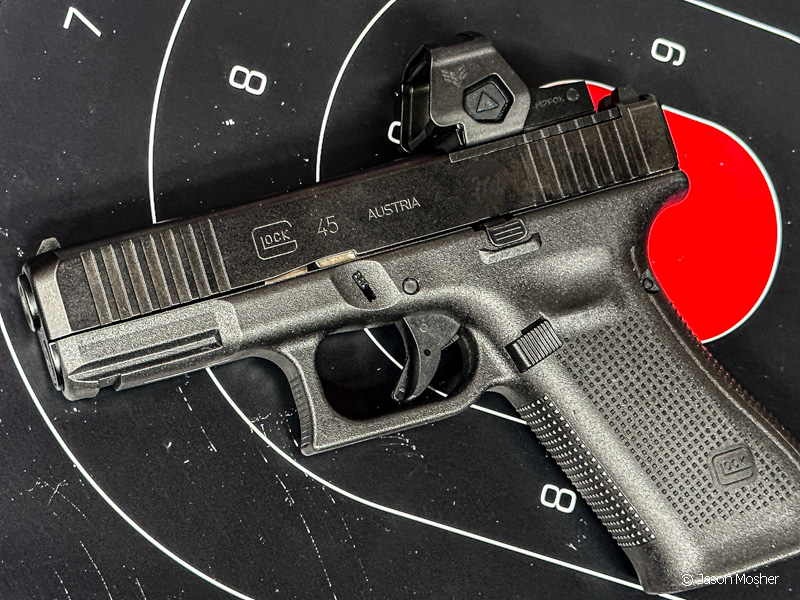 But that's not the biggest feature I look for in a handgun optic. I want it to be on without pushing any buttons. The Sentinel II red dot has auto off and on which is my favorite feature of red dots for handguns and rifles. This feature turns the optic off after a period of time with no movement. When it senses movement, it powers back on instantly. When it's on, you can cycle through any of the 10 brightness settings with the up and down arrow on each side of the optic.
When zeroing the optic, it has windage and elevation adjustments of 1 MOA per click. This makes it easy to zero in, but I didn't have to zero mine when I mounted it. Out of the box, I mounted the Sentinel II micro red dot to my Glock 45 during some work training. I'll discuss that more when we talk about shooting with the Sentinel II.
Patented rear sight guide
Another feature that comes with Swampfox's new micro-reflex sight is a patented rear sight guide that mounts to the front of the optic. This guide is basically a rear sight that can be mounted onto the frame of the optic just in front of the glass. When you look through the optic, the rear sight is just past the glass in clear view.
This option is for those times when the optic interferes with the rear sight. Keeping a set of iron sights as a backup is important to some. When you buy the Sentinel II reflex sight, you have that option without purchasing or replacing the sights on the gun.
On the range with the Sentinel II red dot
To see how well an optic holds up and keeps a zero, I put ammo through it, lots of ammo. Thanks to Global Ordnance for providing some Igman 124 gr FMJ ammo, we shot 300 rounds with the new optic.
When I mounted the optic, I fired the first few rounds at a metal gong just to see if it was close. Most of the time, I use paper targets to zero the optic and then go back to metal. At 10 yards, I heard the ding on the first several shots. We moved the target out to 15 yards and fired a few more with the same results.
Impressed that it was already hitting an 8-inch metal gong without any adjustments, we moved it out to 20 yards. I fired a few more rounds and heard a "ding" each time.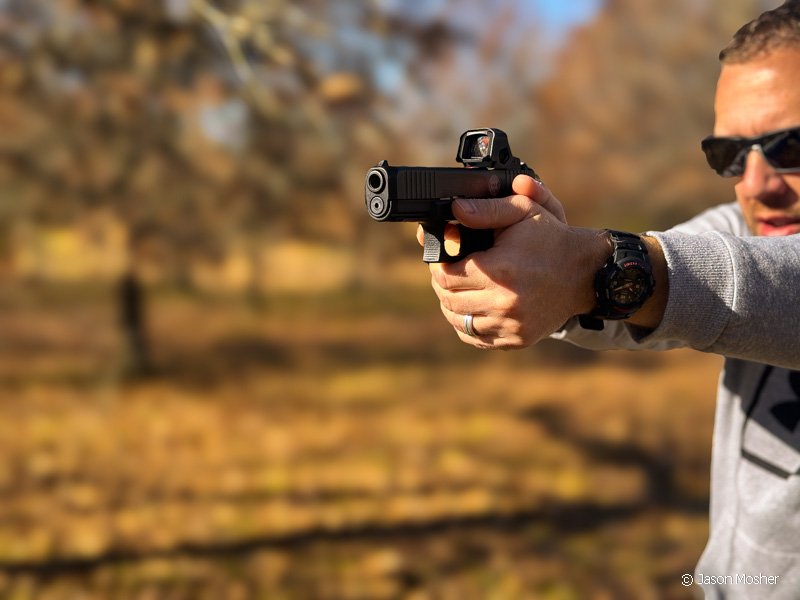 I went ahead and ran our shooters course without any adjustments and did fine. The 20mm window and 3 MOA dot made it super easy to see my target picture and stay on target when firing. After we were done with the course, I shot at some paper and made a couple of adjustments to get it right on the bullseye. We fired 100 more rounds through it without any changes.
Holster compatibility
Another thing I was pleasantly surprised with is that the Sentinel II red dot fit perfectly in my Safariland 7360 RDS duty holster. I use this holster because it's made to work with my Streamlight TLR-1 HL and red dot. I also use the Safariland QRS (quick locking system) at work because it allows me to move the holster to different platforms.
I tried the holster first without the Ironsides Shield and then with it. Both ways fit the holster just fine, so I left the shield on. I will note, the Ironsides Shield does increase the size of the optic just a little. If you use any type of holster that has just enough room for a compact sight like the Holosun 507, it may not fit.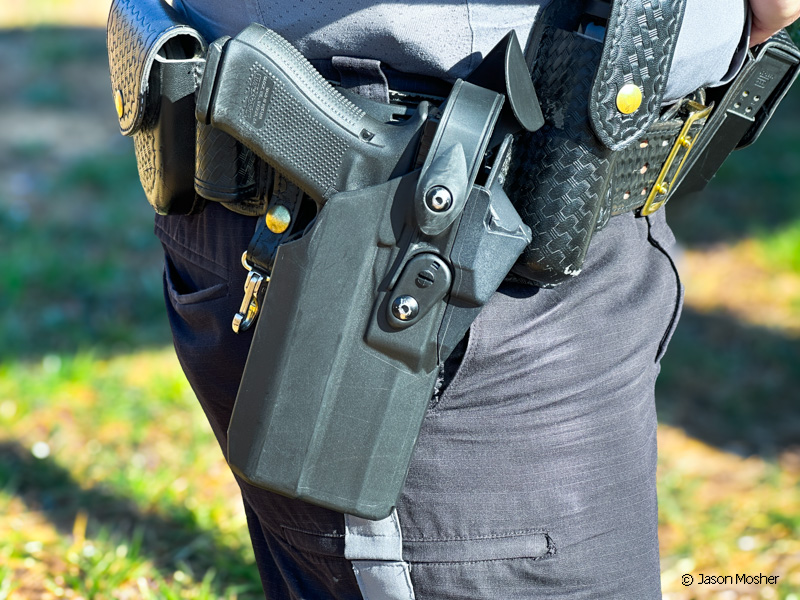 But in this case, the Sentinel II with the shield fit the 7360 RDS. This holster has a removable hood that closes over the optic when the gun is holstered. I like the hood and keep it on the holster, which also worked fine with the Sentinel II optic. The QLS system allowed me to move the holster from my duty belt to a drop-leg holster when I was wearing a larger entry vest.
Is it worth the price?
The big question after reviewing an optic comes down to two things: overall quality vs overall price. Ultimately the question is, is the Swampfox Sentinel II worth it?
I liked the large window and even on a bright day, the red dots were easy to see. I had it on setting 9 because it was bright outside. After shooting it throughout the day and drawing it in and out of my holster, it held up great. I even rolled around on the ground during some shooting transitions and didn't have any issues.
For the price, this optic is a great choice for those wanting a compact optic with a wide window view. It uses the RMSc footprint which makes it compatible with a lot of CCW guns. Glock also provides or has available multiple plate adaptors to make sure you can mount it on their firearms.
It runs on a 2032 battery and comes with a lifetime warranty on all components except the reticle, which has a 10-year warranty. Retail for the Sentinel II is $269 (Ironsides Shield cover sold separately for $40).
Is the Sentinel II worth it? I would say yes.