The G-S173 is a combination of Franklin Armory Glock binary trigger and slide for a G17. It's a trigger and slide pairing that gives a Glock 17 Gen 3 the capability of choosing between semi-automatic and binary rates of fire.
Franklin Armory says the G-S173 "…allows you to select between Semiautomatic and Binary modes to provide reduced split times and tighter groupings…the release round can be canceled by simply switching back to semiautomatic while the trigger is depressed."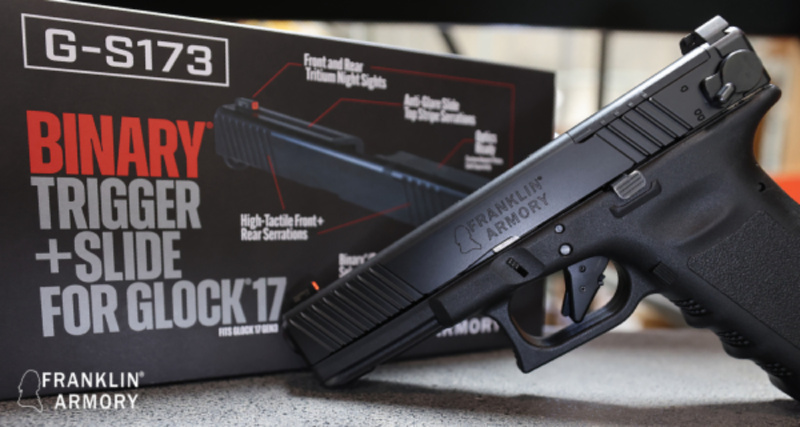 Note: that means you do not have to let that second round go, even if you're in Binary mode. You can switch over to semi-auto while holding the trigger to the rear. While in that mode the trigger can be allowed to reset without discharging a round.
The term Binary trigger is one used both colloquially and legally. It's a patented phrase; part of the Franklin Armory "Binary Firing System® (BFS™)." Unlike a forced reset trigger, with which it is occasionally confused, a Binary and binary-style trigger increases the rate of fire by shooting one round when the trigger is depressed and a second round when the trigger is released. A forced reset trigger, by contrast, utilizes a spring assembly to reset a trigger to its starting point after each shot is fired. In simplest terms, it speeds up the trigger reset. This allows someone to shoot more rapidly.
Having a selector switch of this kind is certainly unusual, but with training should be no more difficult to master than a hammer-fired weapon's de-cocker or the rocker arms of a WML. Just be sure that the selector does not get in the way of your Glock 17 holster.
G-S173 Glock Binary Trigger Features
The G-S173 is Franklin Armory's first set of its kind.
Integrated/selectable Semi and Binary modes of fire
Binary trigger operation position 1; semi, fires 1 round per pull
Binary trigger operation position 2; Binary, fires 1 round on pull and 1 round on release
Fits Glock 17 Gen 3
Optics ready (custom adapter plates sold separately)
Front and rear tritium night sights
High-tactile front and rear serrations
Anti-glare top stripe serrations
Easy to install
Learn more from the video.