Have you ever wondered what Glock 17 accessories are used by the police? Cops like accessories whether it's for their gun, belt, car, or anything else accessories are made for. I'm not sure what causes this, but cops light up like kids in a candy store when they see police gear. In today's world, you can buy accessories for just about anything. One of the most common things police want accessories for is their handgun. One of the most popular handguns carried by police is the Glock 17.
Back in the day, accessories for a handgun were not a thing. You could pick from a few different holsters and that was about it. Picatinny rails were next and with them came weapon-mounted lights. Weapon-mounted lights were a game changer for the law enforcement world. Cops used to hold the light with one hand and their gun in the other. Holding a gun/light combo with both hands is possibly one of the biggest advancements involving firearms since cops stopped carrying revolvers.
I would have never guessed more advancements were on the way, but they were. Handgun optics, flat-faced triggers, fiber optic sights, compensators and more would all have their debut as the next hot Glock 17 accessory. Cops are usually the last people to get new toys and accessories. But eventually, we do, and each accessory changes how we do things. During my time as a law enforcement officer, I've found some Glock 17 accessories I like and a few that are on my wish list. Here they are in no particular order.
1. Streamlight TLR-1 HL
If you draw your gun in the dark, you need a light. During firearms training in the police academy, they had us shooting on command at center mass of a B27 target. After a few minutes of firing when we heard the instructor yell "Gun" we had the hang of it. Until the lights turned off and we heard him yell "Gun" again. Several people on the line fired their guns in the direction of their target. It was pitch black, however, so some of us did not fire.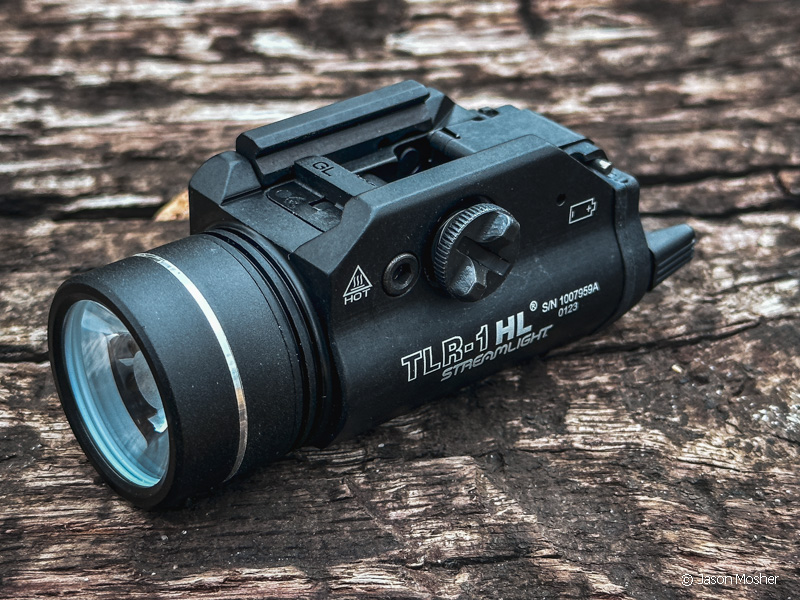 The lesson that day was that you can't shoot if you can't see. Sure, in an emergency if you can see muzzle flashes, you could aim at the flashes. But in that case, you still have something to focus your aim at. But most of the time, you need to see what you are firing at, and a tactical light makes this possible. This is not just for police, but also for homeowners and CCW carriers.
My favorite tactical light is the Streamlight TLR-1 HL. I've used the TLR-1 for more than a decade and it's almost like a Timex that just won't die. I've seen them run over, dropped in a lake, and undergo all other kinds of abuse. It is durable, and because of its popularity, it is easy to find a holster that fits it. The TLR-1 runs on two CR123 batteries which are not hard to find online or at a local store.
One of my favorite features of the TLR-1 HL is how easy it is to attach and remove from a handgun without needing any tools. Just about every cop I know carries a TLR-1 on their duty gun. The HL is a brighter version that boasts 1,000 lumens of white light. This little tank of light is reasonably priced and fits perfectly on the Glock 17. 
2. Holosun 507 Red Dot
Reflex sights for handguns started out slow and then took off like wildfire. When they were first becoming popular, most guns had to be sent off and have the slide milled out for an optic. Now, there are more optic-ready handguns than there are without removable optic plates. From full-size to micro and even revolvers, optics on handguns are now a standard feature. And on the Glock 17, this is a feature the police need. During high-stress situations, a pistol-mounted red dot helps the officer acquire the target faster.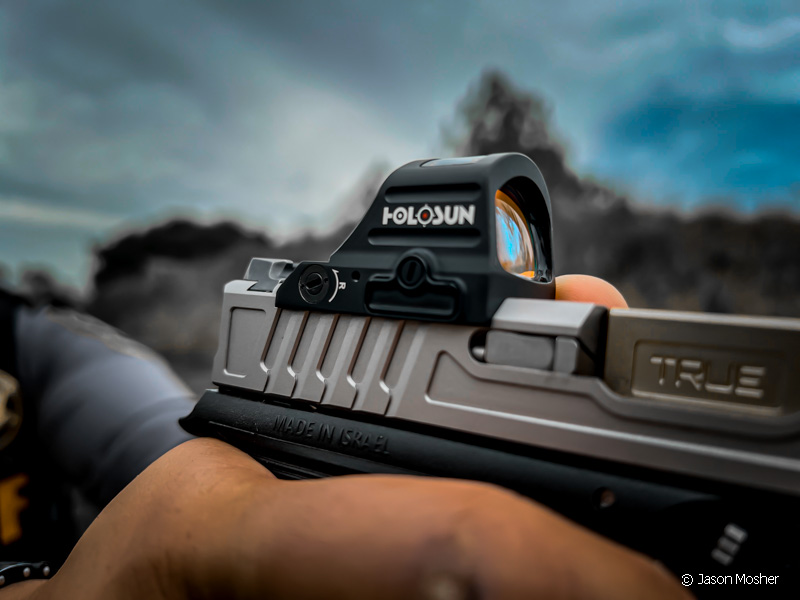 It also helps them to be more accurate for longer distances. The Holosun 507 is reasonably priced but durable enough for duty carry. I've been using my Holosun Red Dot for a while, and it meets all the requirements for me. Those are battery life, zero-hold, and durability. It holds a CR1632 battery in a side tray, so you don't have to remove the optic to change the battery. It's rated for 50,000 hours so you don't have to worry about changing it very often. I change mine once per year and it's never gone dead on me yet.  
Another feature I like about the Holosun is the auto-awake mode that turns the optic on when it senses movement. I've been in too many situations where frantic cops couldn't get their optics turned on in the heat of the moment. Regardless of whether it's a handgun or rifle, the optic needs to turn on when you pick it up. Trijicon set the standard for handgun-mounted red dots. But Holosun set a new standard for affordable but durable optics.
3. Magazine extension for Glock 17 mags
It's hard to find a cop who says he has enough ammo. We carry what is practical, not what we "want." That is because cops know how fast the unexpected can happen. If you need ammo and don't have it, you're in a bad place. Most of the time what you have in your gun is probably enough. But that is not always the case. We live in a crazy world, and you never know what could happen. Magazine extensions increase the amount of ammo you carry on you.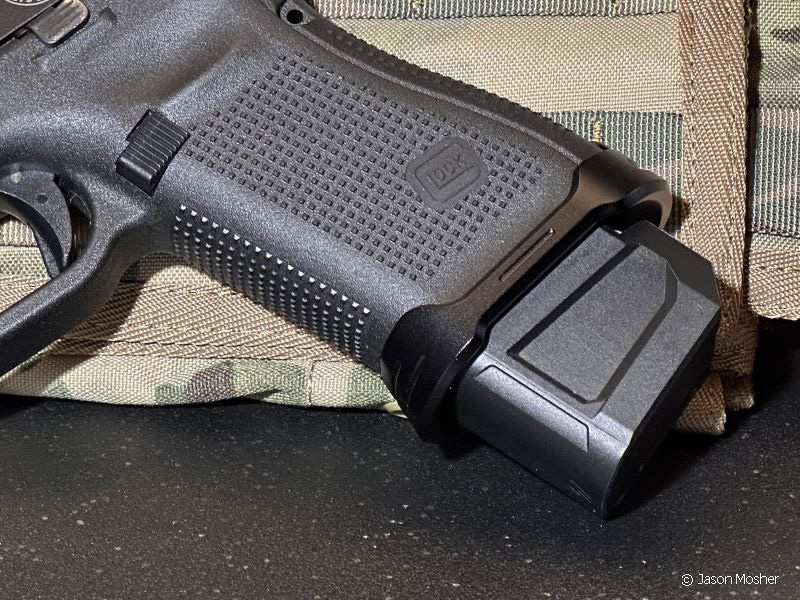 SLR Works makes a +5 round mag extension for the Glock 17, which brings the capacity of each magazine up to 22 rounds. Depending on department policy and the type of mag holders used, extensions may not work on your extra mags. But having one in the gun you carry gives you five more shots when something goes wrong. Most cops carry two extra magazines in a pouch on their belt, which again isn't enough, but we also carry a lot of other gear.
You can buy extended magazines from Glock, but a mag extender also extends the grip on your gun. If you use an open-top mag pouch, the extension gives you more to grab onto when changing mags. Over the years I've used SLR Rifle Works, Tyrant CNC, and Swamp Fox Wolverine mag extensions for Glock 17. If all three mags are equipped with extensions, an officer's ammo count increases from 51 to 66.
4. Extended magazine release
A lot of people don't think about the magazine release, but when your adrenaline is going and your brain isn't working at full speed, a simple thing like pushing a mag release button is harder than it sounds. This is especially true in the winter when you tend to wear gloves. Cops are out every day of the year, rain, shine, and when it's freezing. A mag extension helps you release that mag without any extra effort during stressful situations.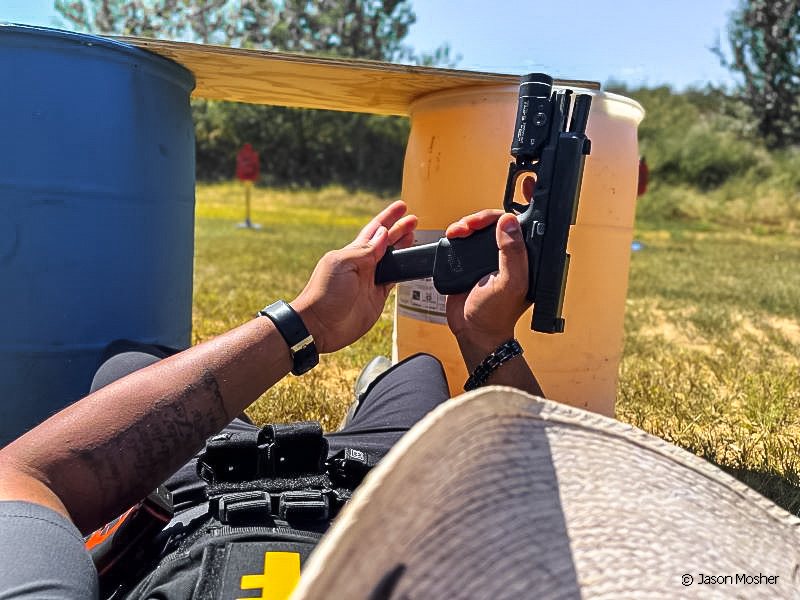 Tyrant CNC, Zev Technologies, and Tear Drop all make extended mag releases for Glock 17 pistols. This part is easy to switch on and doesn't require any specialized tools. You must remove a thin metal spring from inside the magwell, so if you are not comfortable with this process, find a Glock armorer to help you switch it out. One thing to be mindful about with extended mag releases is the type of holster you plan to carry your gun in. Some leather holsters go over the magazine release button and could potentially push on an extended-release button.
5. Glock 17 Duty Holster
The last and most important accessory for your Glock pistol is the holster that carries it. Over the years, holsters have come under increased scrutiny within the law enforcement world. This is because of incidents involving criminals reaching for an officer's holstered gun. Without proper retention, an assailant could pull it out and use it against the officer.
Modern duty holsters have multiple levels of retention and undergo extensive testing processes. These tests are performed to make sure the gun is secure in the holster while easily accessible by the officer carrying it.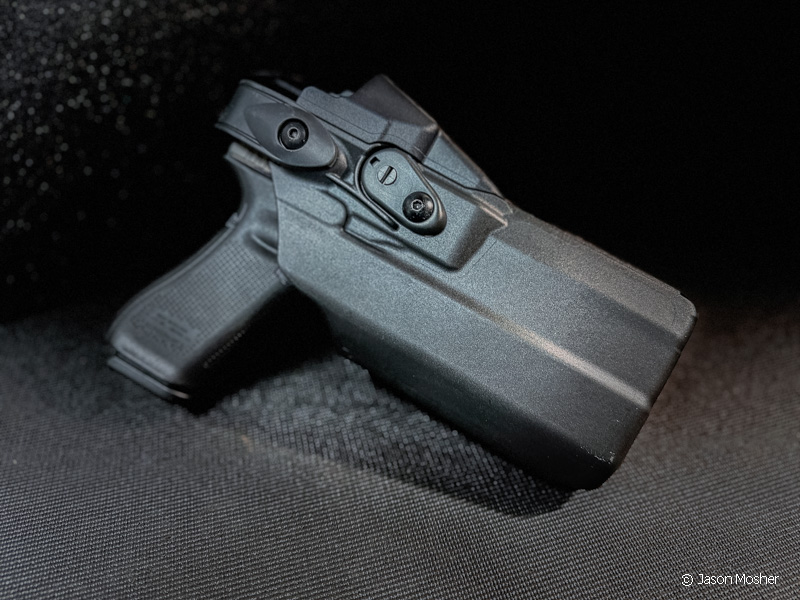 Since my first day out of the police academy, I have worn Safariland holsters and continue to trust in them to this day. My newest duty holster is the 7360 RDS ALS/SLS mid-ride duty holster. This holster works with the Streamlight TLR-1HL and the Holosun 507 reflex sight. It even has a cover to protect the optic which is a huge plus. The optic hood, which can be removed, flips out of the way as you draw the gun from the holster.
Besides the benefits of carrying a light and optic with this holster, it has three levels of retention to keep the gun secure. One of these retention levels is the automatic locking system (ALS) which locks the gun in place when it is holstered. Having a durable holster that accommodates the accessories on your gun and keeps it secure is one of the most important accessories to buy for your Glock 17.
Final thoughts
One thing to remember when adding accessories to a duty gun is they must comply with department policy. Agencies vary in what they allow or don't allow so it's important to check before making any changes to a firearm. Any upgraded parts to a Glock handgun should only be made by a certified Glock armorer if used for duty.
Many of these accessories are just as relevant for those carrying a Glock 17 for self-defense. There are plenty of other accessories for Glock 17 pistols and each person will have their own preference. The ones above are among my favorites currently in use or that I have used in the past. If you are in the market for some Glock 17 accessories, check them out.