The TWC 9 is a double stack 1911 chambered in 9mm from South Carolina's Jacob Grey Firearms. You may remember Jacob Grey's previous work from such hits as the F-22 Raptor and F-35 Lightning II.
The TWC 9 might have the same firepower as either of those, but it's just as well-made. And looks just as cool. Actually, nah, it doesn't look as cool. But it is nice. They describe it as a "…testament to [their] aerospace heritage."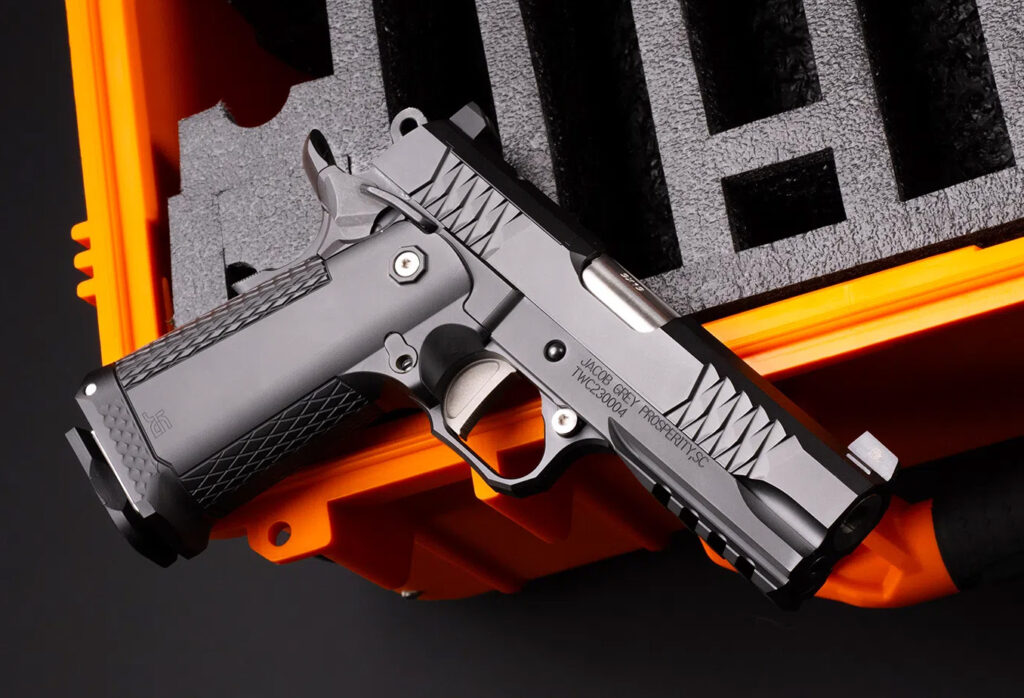 Aside from the aerospace work they do for such companies as Boeing and Lockheed-Martin, Jacob Grey has historically been known for its Damascus, Titanium, and other custom 1911 work. Most of that has been done as "Jacob Grey Customs," but they do manufacture a few production guns. The TWC 9, or Throwback With Capacity, is the latest of those.
TWC 9 DS 1911
The TWC 9 is a billet-built gun, designed with "exceptional features and meticulous craftsmanship" to deliver an "…unparalleled shooting experience for discerning handgun enthusiasts." Those are the manufacturer's phrases, it's not me being snarky. Given what I've read or watched in reviews of past Jacob Grey work I see no reason to doubt them.
Virtually all of the gun's parts are CNC machined from their respective metal, including the trigger. These are the same 5- and 7-axis machines that precision-cut parts for various fighter aircraft platforms, so it seems reasonable to assume the tolerances on their handguns are pretty exact. Properly used, a 5- or 7-axis CNC machine is going to produce stricter tolerances and a more precise fit than a 3-axis.
The guns's upper frame is aluminum and the slide is stainless steel. The lower grip is also 7075 aluminum, as is the "Controlled Radius Trigger" (CRT). Perhaps the most significant part of the gun is its bull barrel. The barrel is stainless steel, 4.25″ long, with a Nowlin ramp on the magwell end and a crown on the other. Other features include an interesting stipple pattern and slide-cut geometry, a flared magwell, ambidextrous safety, and a two-piece guide rod.
Jacob Bracket, founder and CEO of Jacob Grey Firearms, says the TWC 9 is a "…throwback to our first love, the 1911. It is the pinnacle of our pursuit of the perfect weapon." This echoes the company's motto/tagline, which reads, Owning Anything Less Is An Injustice.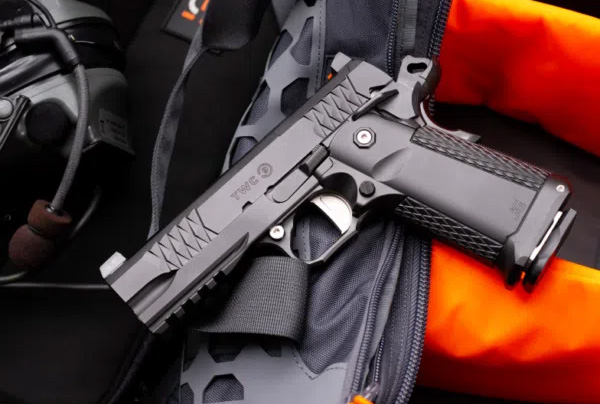 Need a Double Stack 1911 holster for that?
Safariland doesn't have a concealment rig for it yet, though an INCOG is coming. Until then, check these out:
Both are RDS-compatible and both are designed to accommodate a weapon-mounted light.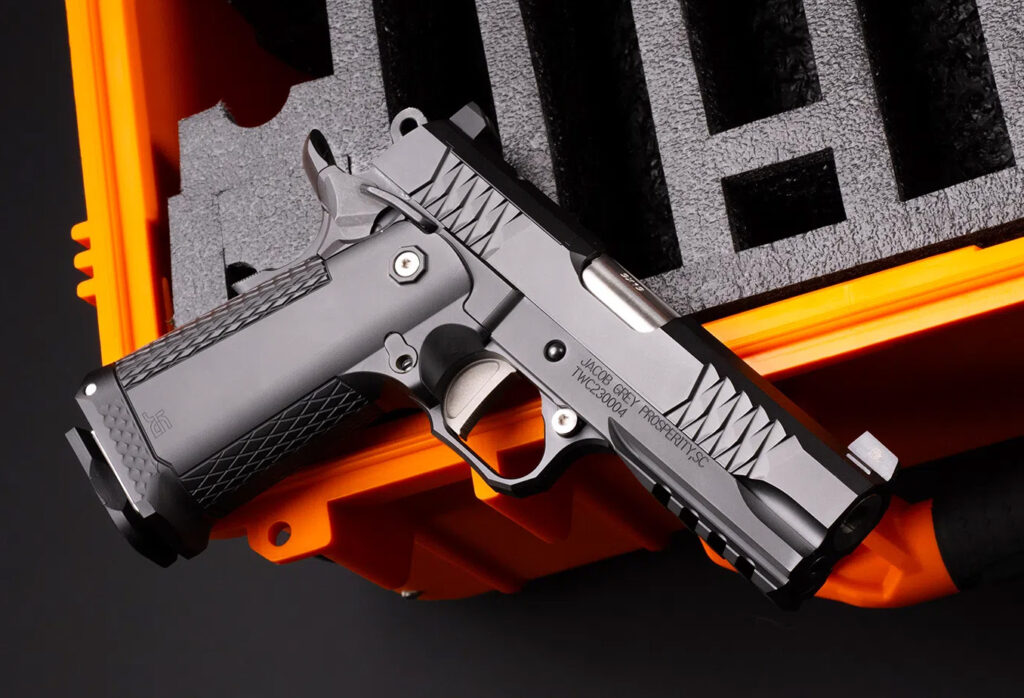 TWC 9 Spec Features
4.25″ stainless steel bull barrel
Barrel is crowned and features a Nowlin ramp
The upper frame is CNC machined billet 7075 aluminum
Grip is CNC machined billet 7075 aluminum
The trigger is monolithic (Controlled Radius Trigger/CRT)
The slide is stainless steel, treated with salt bath nitride
Optic ready for RMR and RMSc footprint red dot mounting
Tritium XS front sight (suppressor height)
Suppressor height rear sight integrated into optic or filler plate
Flared magazine well
Ambidextrous safety
Two-piece guide rod
Accepts standard 2011 magazines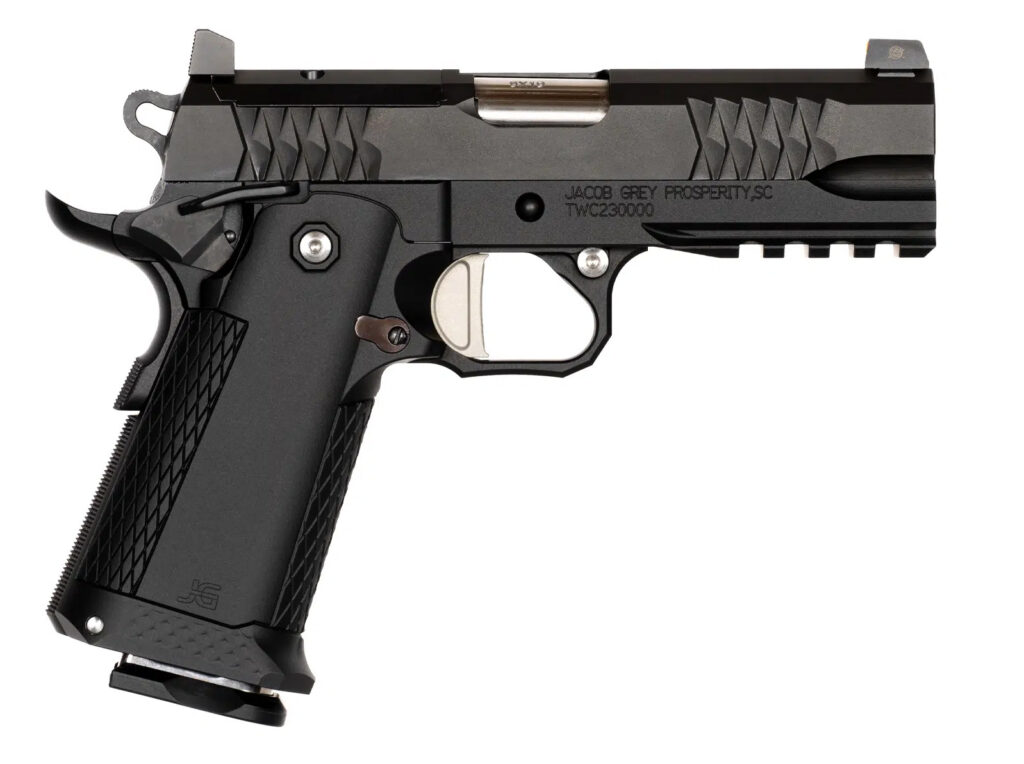 Learn more about the Jacob Grey Firearms TWC 9 Double Stack 1911 9mm.