John Browning's most famous design is the M1911 handgun. It served our country for over seven decades and, as fans of the platform will often point out, fought in two World Wars. It's a fine pistol but with more than a century now between us and the first M1911s, the gun is most certainly starting to show its age.
Despite its outdated design, the M1911 still has a number of features that M1911 fans love. It's no surprise that someone eventually decided to update the famed M1911 in a way that maintains those cherished features in a modernized platform. What is a surprise is that it wasn't a major firearm company, but a relatively small veteran-led firearm company in Georgetown, Texas, known as Staccato.
Who is Staccato?
Previously known as STI, Staccato is no fly-by-night operation. The company has built a reputation for producing the 2011 — a gun that modernizes the M1911 to an extreme degree. They've been producing guns for over 25 years, mostly under the STI banner. STI rebranded as Staccato in 2020, but nothing changed in the quality or innovation department.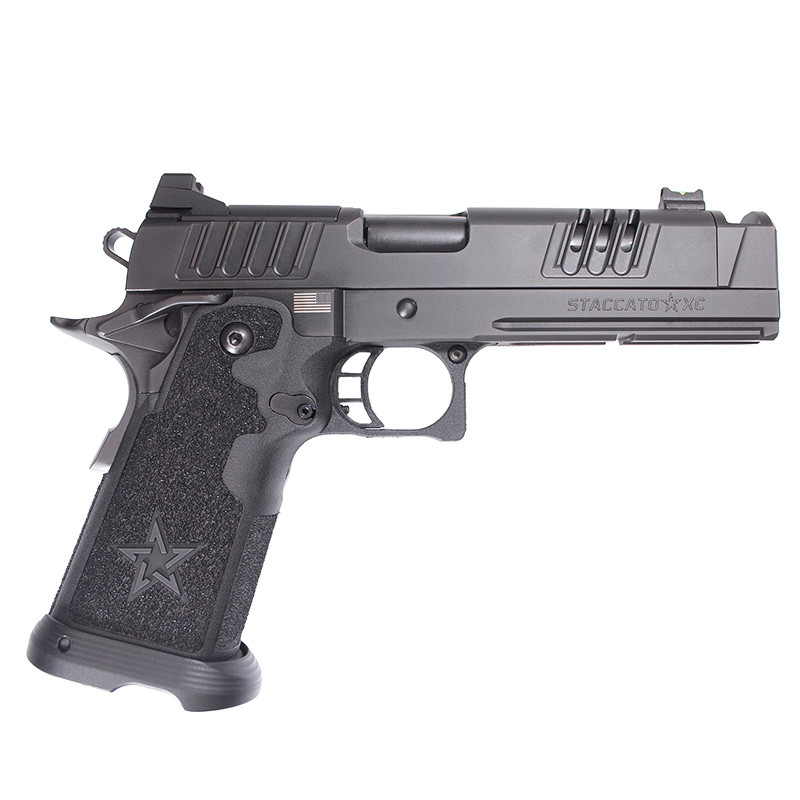 Staccato pistols have gained recognition among both professional shooters and the average Joe. They are favored by competitive shooters and have won countless matches, championships, and titles. The U.S. Marshal's Service SOG team chose the Staccato as their go-to sidearm, as did the LAPD SWAT D-Team and the Texas Rangers, and it's been approved by over 250 agencies across the country. Beyond their success in law enforcement and competitive shooting, Staccato has made plenty of firearms for the civilian market and concealed carriers.
the 2011: Beyond the Double Stack
The most widely discussed feature of 2011 pistols is the double-stack capacity. There is a bit of a myth regarding what is and what is not a 2011 design. A lot of folks assume any double-stack M1911 design is a 2011. This isn't true for numerous reasons.
First, the term "2011" is a trademark owned by Staccato. Arguably, the trademark is one thing, and the design is another. As an example, we all know that for many years, Colt owned the AR-15 trademark but wasn't the only company producing the Stoner-designed rifle.
In this instance, though, it goes beyond that — not every double-stack M1911 a 2011 because the 2011 design uses a unique frame and grip design. An M1911 uses a one-piece frame and grip. The 2011 has a two-piece frame and grip design. With a 2011, the grip attaches to the frame. This gives the 2011 a greater degree of customization, as grips can be made in various sizes.
Also, the use of polymer allows the gun to have some 'give' to it. This results in lighter, more controllable recoil. In fact, when we get down to it, the double-stack magazine isn't a necessary feature for a 2011 design. Staccato made the R Model, which is a single stack gun that uses the two 2011 grip design.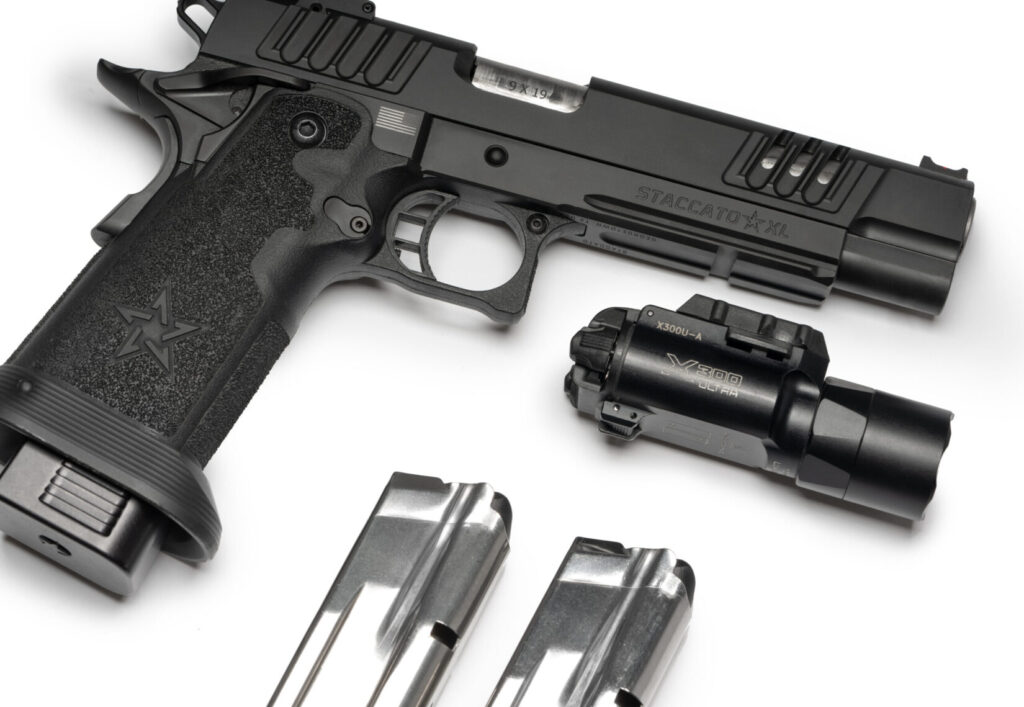 Making Tier 1 Blasters
Staccato's aim seems to be bringing the best pistols possible to market for a variety of uses. Their different pistols fulfill a number of genres. Each delivers an amazing trigger, outstanding accuracy, and unbeatable reliability. Things like ergonomics are not a second thought, and we see that in the presence of ambidextrous safeties, deep-cut slide serrations, and more.
Every part of a staccato handgun is seemingly well thought out and designed to maximize accuracy, reliability, ergonomics, control, and more. Their guns have a modern edge that allows the use of weapon lights and optics, as well as hidden features like the Dawson Tool Less Recoil System.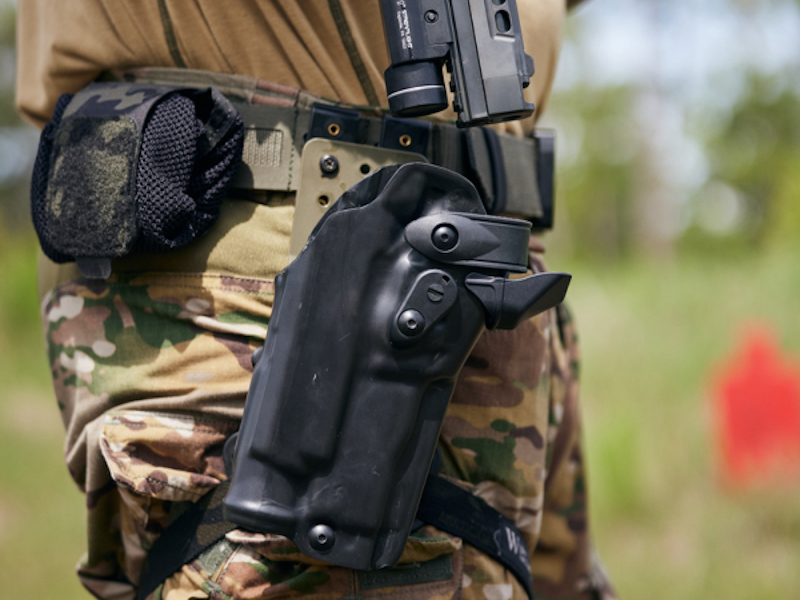 Guns like the Stacato CS and C2 provide compact options for concealed carry without compromising on the features Staccato is famous for. The P model is the model that's been adopted widely by law enforcement agencies around the world. The XC and XL are bred for the competition circuit and aren't afraid to push competition designs to the bleeding edge.
The only people likely to be disappointed by Staccato are those still seeking a .45 ACP design. Staccato has moved solely to the 9mm guns, so big-bore M1911 fans might feel left out.
Safarliand and Staccato
One good turn deserves another. If you have one of the world's best pistols, you need the world's best holsters. Safariland produces a ton of 6,000 series holsters to cover your holster needs. I spoke with Safariland's own David Higginbotham regarding the relationship Staccato has had with Safariland. When I asked him about the relationship between Safariland and Staccato, he had this to say:
"Our work with them has been gradual. Many folks were buying 6,000 series holsters and modding them. But we now have several fits for them and more on the way very soon."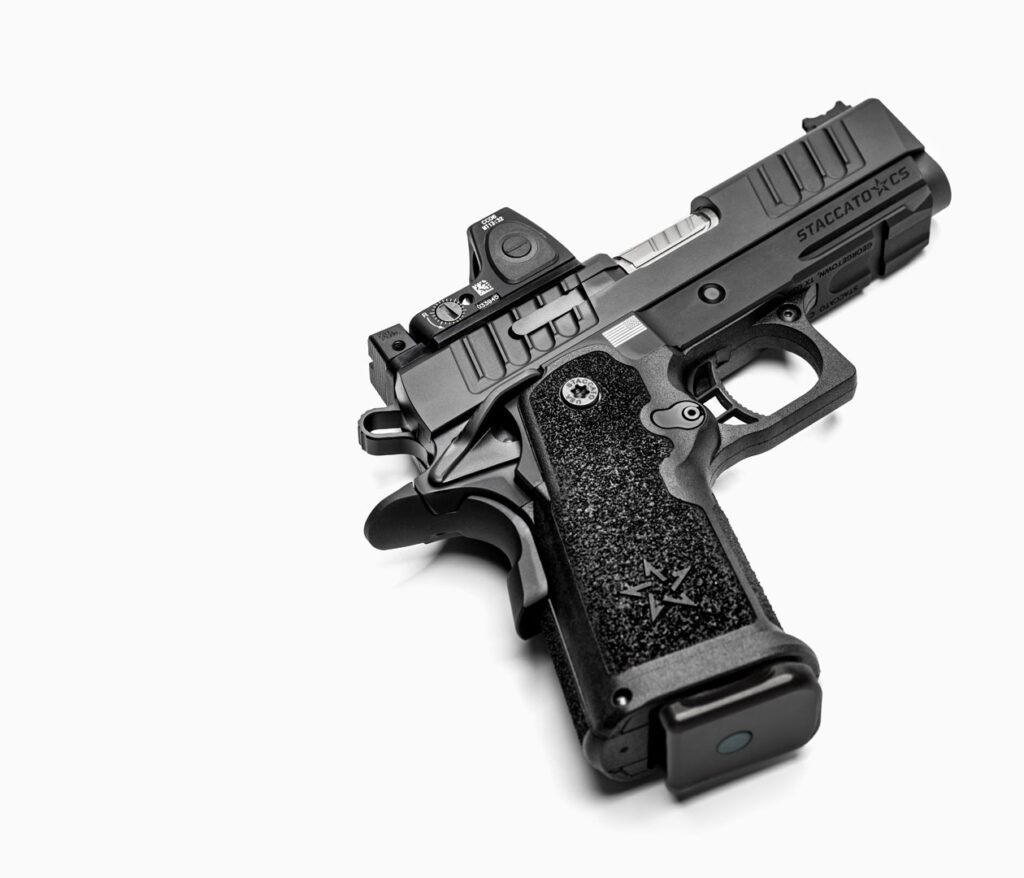 A quick look at the holster finder reveals several different holster options for the Staccato series pistols. This includes RDSO options and options that cover the entirety of the Staccato lineup. David also pointed me to Staccato's website, where they sell an exclusive Desert Tiger stripe 6390 RDSO holster.
Staccato and You
Premium guns come at a premium price. No one will ever put Staccato on a list of the best budget pistols, but any list of the best pistols is a lie unless Staccato makes the list. The Staccato reputation is built on the ingenuity of their pistols and the quality of their product. If you want something that's arguably the best in its field, then you want a Staccato.