The Sig Sauer P365 subcompact exploded onto the concealed carry firearm scene in 2018. It pretty much killed the single stack carry gun trend with its 10+1 capacity and small, yet comfortable design. Sig built the P365 around its revolutionary double stack magazine that nonetheless fit in a 1-inch-thick handgun.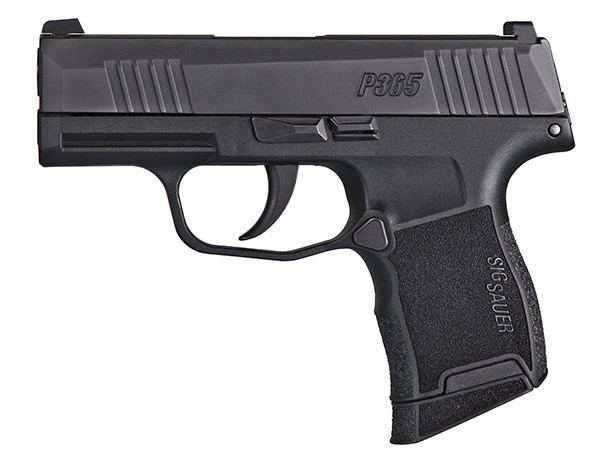 The P365's success spawned a whole series of pistols based on the original. These expanded offerings have been popular enough that Sig's P365 line is America's top-selling handgun series. The series is diverse enough that it now merits a brief guide highlighting the various options. Safariland has accepted the challenge.
We've organized this guide into models and product lines. The models cover the different P365 variants. The product lines look at enhanced thematic editions of the various models. We'll cover a few accessory options at the end. Let's get to it.
Sig Sauer P365 Models
Let's list the base models before briefly describing each one:
P365
P365 SAS
P365-XL
P365X
P365-XMACRO
P365-380
P365-AXG Legion
Each model is based on the original P365 pistol, so we'll begin there.
P365
The OG P365 started it all. Sig describes it as "game changing," and so it was in 2018. Honestly, it still is, having inspired a slew of imitators. The P365 is a polymer-framed, striker-fired 9mm subcompact pistol. It's rated for +P ammunition and includes Sig's XRAY3 Day/Night sights as a standard feature. It ships with a 10-round flush magazine but is also compatible with longer 12, 15, and 17-round mags. Sig offers a grip extender to help with those longer mags. The P365 is available with or without an optics ready slide. It has the proprietary Sig accessory rail. The handgun also features the P365 Fire Control Unit (FCU), allowing maximum modularity with other P365 model components.
There's even a version with a Robin's Egg Blue frame, stainless steel slide, and nickel finished controls.

Basic specifications:
Overall Length: 5.8 inches
Overall Width: 1.06 inches
Height: 4.3 inches
Sight Radius: 4.9 inches
Weight: 17.8 ounces
Optional Frame Mounted Thumb Safety
There is also a California compliant P365 model featuring a magazine disconnect mechanism, a mechanical loaded chamber indicator, and an ambidextrous manual safety.
P365 SAS
The P365 SAS (Sig Anti Snag) is designed for high speed and low drag concealed carry. Sig says it's "for the serious CCW user who truly understands the value of smoother draws, faster sight acquisition, and more effective engagements at realistic distances." The flush mounted Meprolight FT Bullseye sight eliminates snag points while providing superior tritium fiber optic performance. The slide catch and takedown lever are also flush, making the pistol completely smooth. The gun ships with one flush and one extended 10-round magazine.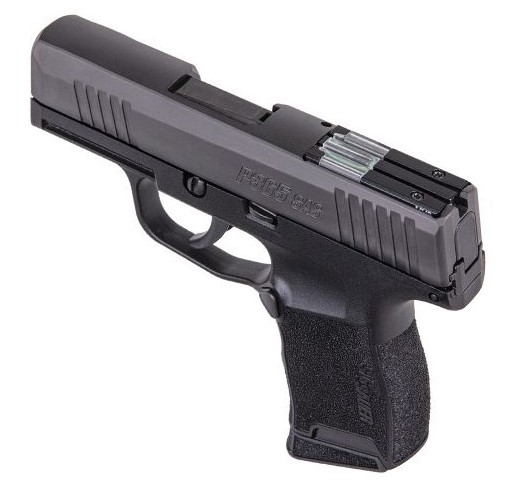 Basic Specifications:
Overall Length: 5.8 inches
Overall Width: 1 inch
Height: 4.1 inches
Sight Radius: N/A
Weight: 17.8 ounces
No Manual Safety
P365-XL
The P365-XL shares the P365's features but offers a longer slide, barrel, and an updated grip module with a flush 12-round magazine. It's also available as a 10-round gun to comply with certain state requirements. The XL was the first in the P365-X Series and featured the new X signature flat-faced trigger, which breaks at 90 degrees. The patented ZEV Technologies optics cut slide became standard, beginning with the XL.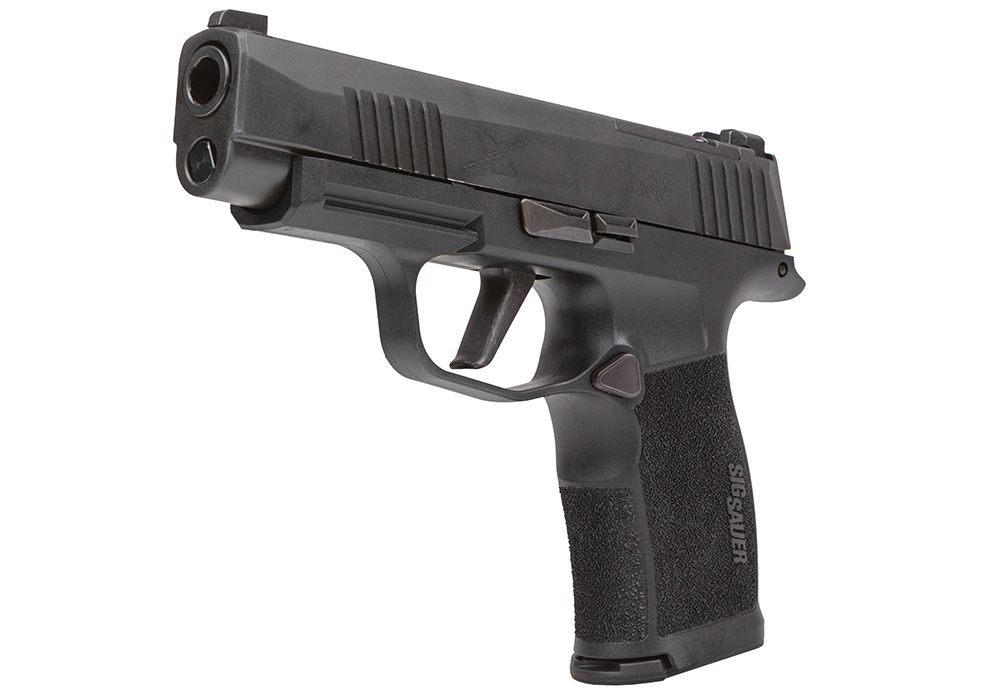 Basic Specifications:
Overall Length: 6.6 inches
Overall Width: 1.1 inches
Height: 4.8 inches
Sight Radius: 5.6 inches
Weight: 20.7 ounces
Optional Frame Mounted Thumb Safety
P365X
The P365X approximates the original P365's length and weight coupled with the XL's height and flush 12-round magazine. It also retains the 10-round availability for certain states. The P365X shows that Sig understands concealed carriers have different needs and "small" can take different forms. All the X Series features carry over from the XL.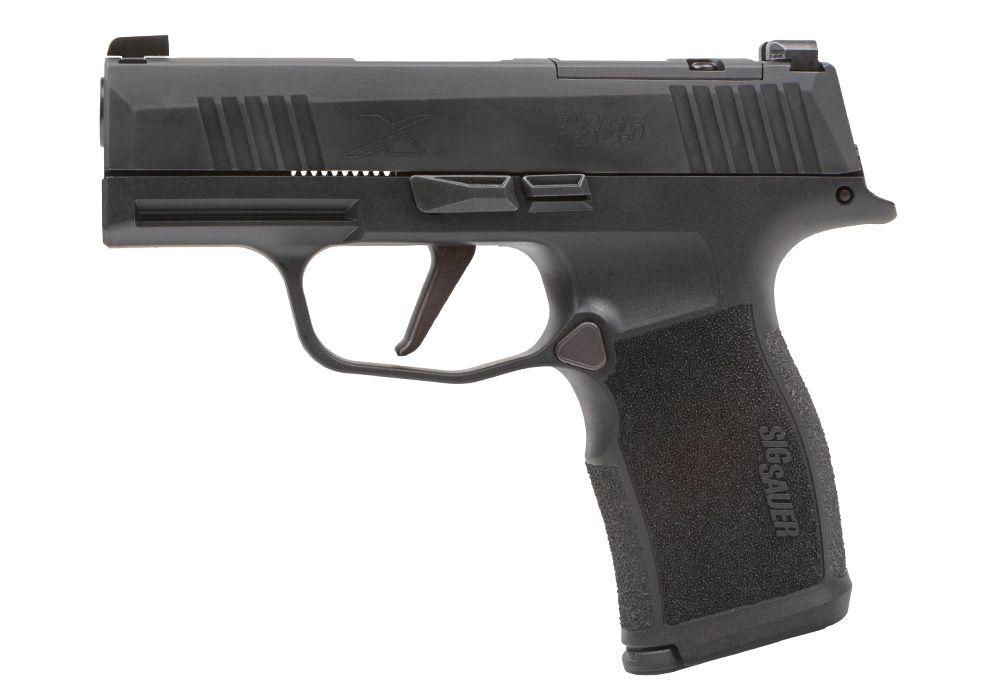 Basic Specifications:
Overall Length: 6 inches
Overall Width: 1.1 inches
Height: 4.8 inches
Sight Radius: 4.9 inches
Weight: 17.8 ounces
Optional Frame Mounted Thumb Safety
P365-XMACRO
The XMACRO builds on the X Series theme by mating a P365-XL-length slide to the larger XMACRO grip frame, allowing a flush 17-round magazine in a thin, compact pistol. This model also incorporates a 1913 Picatinny rail for the first time instead of the proprietary Sig rail. The XMACRO includes other previous X features.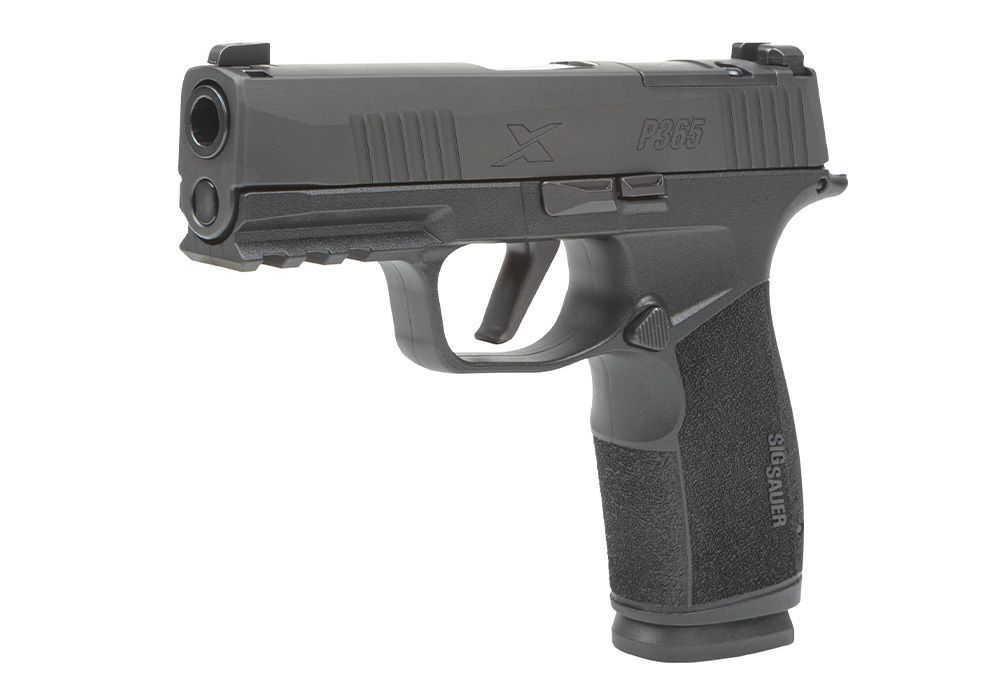 Basic Specifications:
Overall Length: 6.6 inches
Overall Width: 1.1 inches
Height: 5.2 inches
Sight Radius: 5.6 inches
Weight: 22 ounces
Optional Frame Mounted Safety
Sig also offers the P365-XMACRO TACOPS variant with an extended slide catch and a flared detachable mag well. This version ships with four 17-round magazines.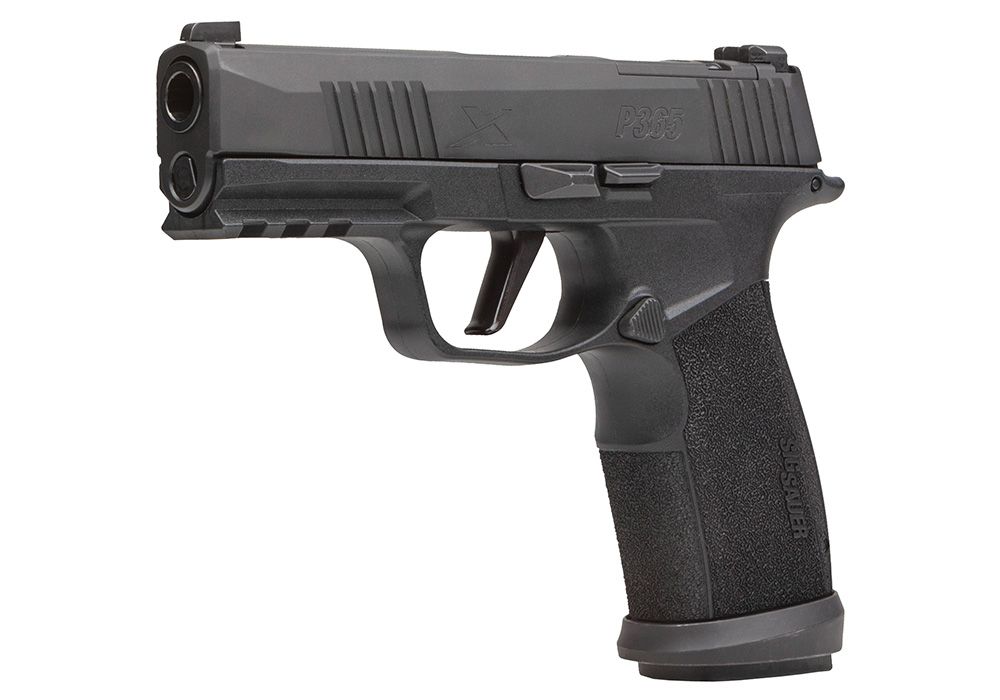 P365-380
The P365-380 harkens back to the original P365, except it's chambered in .380 ACP for a lighter, softer shooting package with a 10+1 capacity. The gun has the same P365 grip module and FCU, and the lightened slide and barrel are still compatible with existing P365 holsters. The new caliber prompted a new two-piece guide rod, and the P365-380 is equipped with SIGLITE night sights. The optics-ready slide is also retained, and Sig points out that the P365-380 is compatible with all P365 accessories.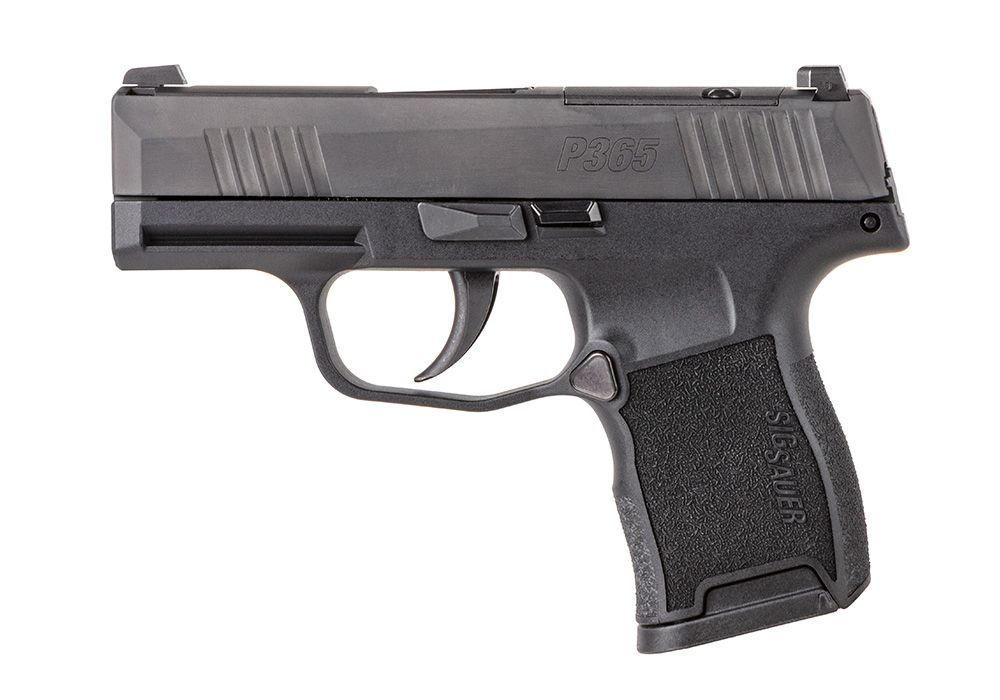 Sig also offers a version with a gloss rainbow PVD finished slide, magazine catch, safety lever, slide catch, and takedown lever.
Basic Specifications:
Overall Length: 5.8 inches
Overall Width: 1.1 inches (1.0 without the thumb safety)
Height: 4.2 inches
Sight Radius: 4.9 inches
Weight: 15.7 ounces
Optional Frame Mounted Thumb Safety
P365-AXG Legion
The latest addition to Sig's Legion family, this 9mm handgun features an alloy MACRO grip frame equipped with G10 Chevron grip panels, an optics-ready integrally compensated slide, an extended mag well, XRAY night sights, and Sig's Legion Gray Cerakote finish. It ships with three 17-round magazines.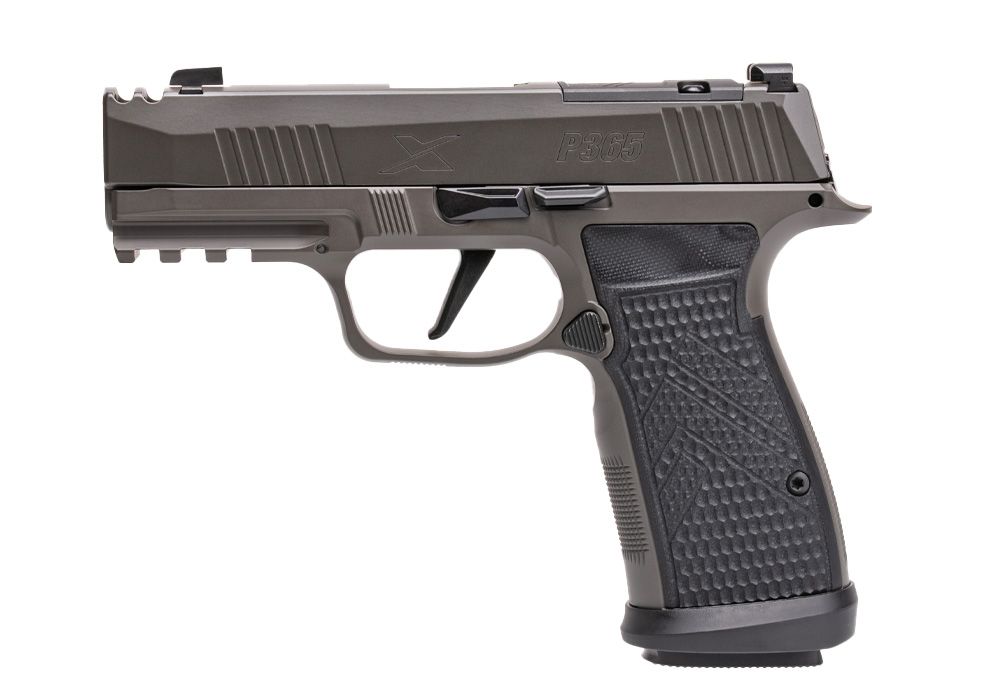 Basic Specifications:
Overall Length: 6.6 inches
Overall Width: 1.4 inches
Height: 5.2 inches
Sight Radius: 5.1 inches
Weight: 26 ounces
No Manual Safety
Sig Sauer Enhanced P365 Product Lines
Sig features four lines of enhanced P365 pistols (Comp; Spectre; ROMEOZero Elite; and Rose), which sometimes overlap one another. So, we'll detail each of these enhancements and list the available model and enhancement combinations. It seems the easiest way to handle the overlaps. We considered including the AXG Legion, but there's only one, so it isn't really its own line. Not yet anyway.
The Comp Line
P365 Comp pistols feature a two-port integrated compensator chamber for recoil mitigation. The ports are cut into the top of the slide. This necessitates moving the front sight back just a bit. For example, the XMACRO Comp has a sight radius of 5.1 inches instead of the XMACRO's 5.2 inches.
The following models include the Comp feature:
P365-XMACRO Comp
P365-XMACRO Comp ROMEOZero Elite
P365-XL Spectre Comp
P365-XL Spectre Comp Coyote
P365-XL Comp Rose
P365-XL Rose Comp ROMEOZero Elite
P365-AXG Legion

The Spectre Line
The Spectre Line comes from Sig Custom Works. Spectre guns feature custom, laser engraved LXG grip modules; the exclusive Spectre X-pattern engraved slide with lightning cuts and graduated serrations. You get your choice of a distressed slide/black barrel or Nitron slide/TiN gold barrel combination. The Spectre Series also includes X Series features like the flat trigger, XRAY3 day/night sights, and an optic-ready slide. They also ship with a Sig Custom Works Challenge Coin and Certificate of Authenticity.
The Spectre Line includes the following models:
P365-XL Spectre
P365-XL Spectre Comp
P365-XL Spectre Comp Coyote
The ROMEOZero Elite Line
The ROMEOZero Elite line ships with an already-installed and zeroed Sig ROMEOZero Elite 3-MOA optic.

This line includes the following models:
P365-XL ROMEOZero Elite
P365-XL Rose Comp ROMEOZero Elite
P365X ROMEOZero Elite
P365-XMACRO Comp ROMEOZero Elite
P365-380 ROMEOZero Elite
The Rose Line
Sig's Rose Line was developed in collaboration with World Champion shooter Lena Miculek and seeks "to help encourage and inspire women to take on the responsibility of their own personal safety through education, training, and community." Rose pistols feature a stylized integrally compensated optic ready slide, Rose laser engraved grip module, matte rose gold-colored controls, and the Rose Kit, which includes a Vaultek Lifepod Pistol Safe, dummy rounds, and a quick start instruction guide.

This line includes the following models:
P365-XL Comp Rose
P365-XL Comp Rose ROMEOZero Elite
P365-380 Rose
Sig P365 Accessories
A big advantage of being America's number one selling handgun is having easy access to accessories. Many companies want to get in on that action, and there are some really cool add-ons out there. But we'll concentrate on the three most common accessories: holsters, lights, and optics. Even then, there are so many that we'll just hit a few high points.
Holsters
Since this is a Safariland blog, we'll focus on those. The most compatible Safariland P365 holster is the Incog X Inside the Waistband concealed carry system. The Incog X works with the P365, P365-XL, P365X, and P365-XMacro. It also works with lights and optics. Just use the convenient Safariland Holster Finder tool to match up what you want.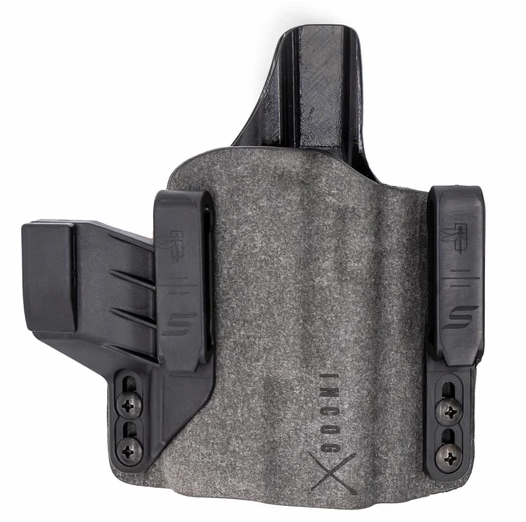 Safariland has 12 holsters compatible with at least one P365 model. The Holster Finder can help you there, but, for variety's sake, let's list a couple more right here: The 5198 Open Top Concealment Paddle/Belt Loop Holster works with the P365, P365-XL, and P365X. The 7053 7TS ALS Shoulder Holster offers a different option for the same three models.
Weapon-mounted Lights
The P365, P365-XL, and P365X have the proprietary Sig rail, so make certain you choose the correct light. We used the Holster Finder tool to identify compatible weapon-mounted lights and came up with several good options, which we confirmed on these companies' websites. Streamlight offers four choices for those firearms: the TLR-6, TLR-7, TLR-8, and TLR-8G. Nightstick has a light specifically for the P365 series in the TCM-365, as does Surefire with the XSC-P365.

The P365-XMacro features a three-slot Picatinny rail, giving you plenty of light options.
Optics
Sig markets their ROMEOZero Elite red dot for the entire line, even offering several variants with the optic already installed. All the other variants, except the original P365 are optic-ready. The P365 offers the slide cut as an option.
But if you don't want the ROMEOZero Elite, that optic uses the popular Leupold DeltaPoint Pro footprint. You can decide what you want from there.

A Winning Concept
The Sig P365 created the double-stack subcompact genre of carry pistols. It was just as small, or smaller, than the popular single-stack handguns it superseded, but boasted more available rounds. The P365 is "small in a different way," as some have observed. Designing the mag and then building the gun around it was a great move. That means the magazine concept is solid and doesn't have to be shoehorned into a frame designed for size first and function second.
The serialized FCU also shows that Sig planned ahead, offering unparalleled modularity across the entire series. The double-stack subcompact magazine and FCU are quickly becoming industry standards. If you lead, others will follow. Not to mention that imitation is the greatest form of flattery.
The new P365-380 and AXG Legion, however, show that Sig isn't resting on those laurels. They know what they have in the P365 Series, and it looks like they plan to ride that train. All the better for the rest of us.