Zev Technologies is renowned for quality, high-end parts for Glock and Sig pistols as well as AR-15 rifles. Along with their famous parts, like the Zev Fulcrum adjustable trigger, they now offer fully-built firearms. While Glock set the standard in polymer striker-fired handguns, other companies, including Zev, continue to innovate in this realm.
As a company, Zev Technologies began in a living room and now dominates the upscale world of upgraded parts for Glock pistols and other guns. You can build your own Glock or AR-15 from Zev parts or buy a complete firearm from them. And though their Glock clones are made in the image of Glock, they've got a look and feel of their own. That's a key point when it comes to Glock clones: just because it's a clone doesn't mean it isn't new or innovative.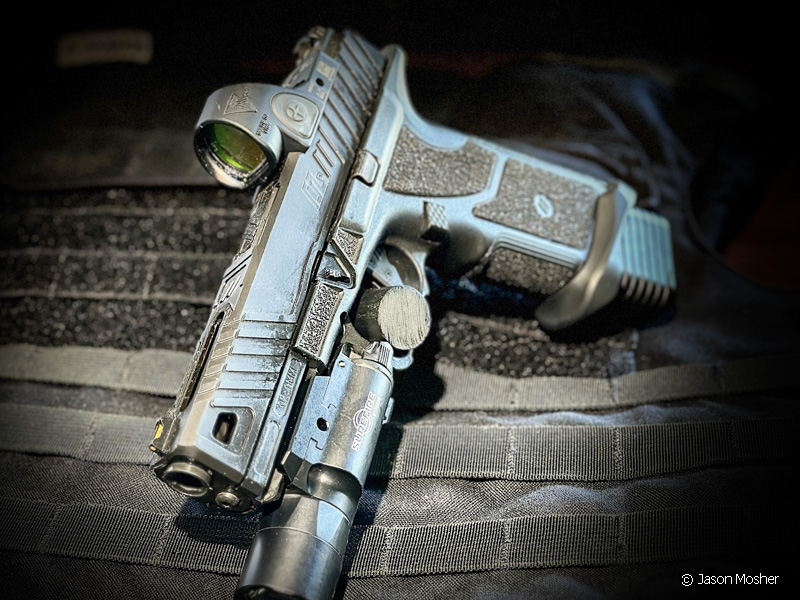 I have a buddy who bought a Zev OZ9 Duty for carrying at work. I thought he was crazy for spending so much money on a duty gun. To me, it was a glorified Glock, and he could have purchased four more Glocks for the price of the Zev. But then, we took it to the range and I changed my mind. It didn't just look pretty, it shot like a champ and then some. The trigger was smooth and crisp, and the feel of the gun was like upgrading from a Cadillac to a Porsche.  
Upgrade Parts
If you just want to upgrade a part on your Glock pistol or build your own custom Zev Technologies gun, Zev has everything you need. Each part indicates what generation it is compatible with so you can get the right part for your gun. For example, if you want a bronze barrel for a Glock 17 Gen 4, Zev makes it. You can find an optimized match-grade barrel for a Gen 1-4 that is sure to make your gun stand out. You also get what you pay for as this barrel retails for more than $300. Their parts are broken down into these categories:
Slides
Barrels
Sights and Accessories
Slide Parts
Frame Parts
Basepads
Triggers
Frame Work
Buying a customized Zev complete gun is the easiest way to get a fancy, bragging rights gun, but building one can also be satisfying. Some prefer to buy one piece at a time, so they don't have to spend so much green at once. Most of their guns, like the Zev Technologies OZ9, are considered "Gucci Glocks" because of their price and flashiness. Owning a Gucci Glock isn't the only reason people buy them, however. Customized triggers, sights, grips, and more all make a difference when shooting them.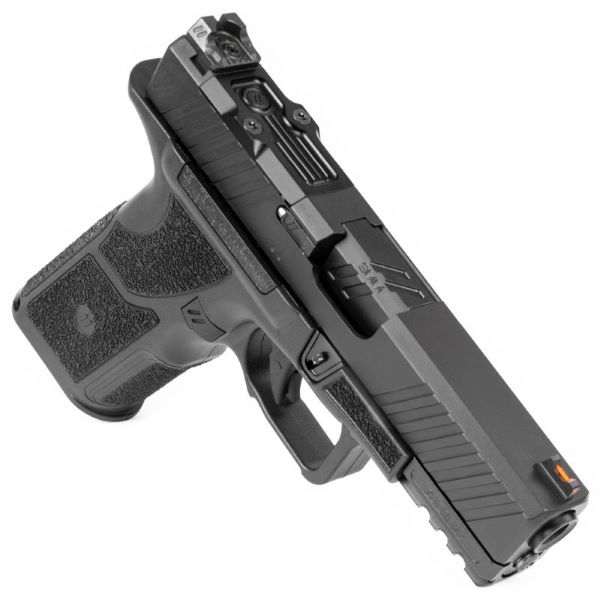 Zev Technology Firearms
If you are more interested in complete guns instead of gun parts, Zev Technologies has plenty to offer. They have five series of the OZ9 handgun, which are Glock clone options. Within each series are multiple configurations, or models. This is what allows the buyer to get the perfect gun they are looking for with one purchase. In the past, you would need to purchase a base model Glock or Glock clone and then have custom work done to it. Parts can be upgraded one at a time, but not everyone wants to build a gun. Here are the main categories offered by Zev Technologies:
OZ9 Elite
OZ9 V2 Elite
OZ9 V2 Combat
OZ9 Combat
OZ9 Duty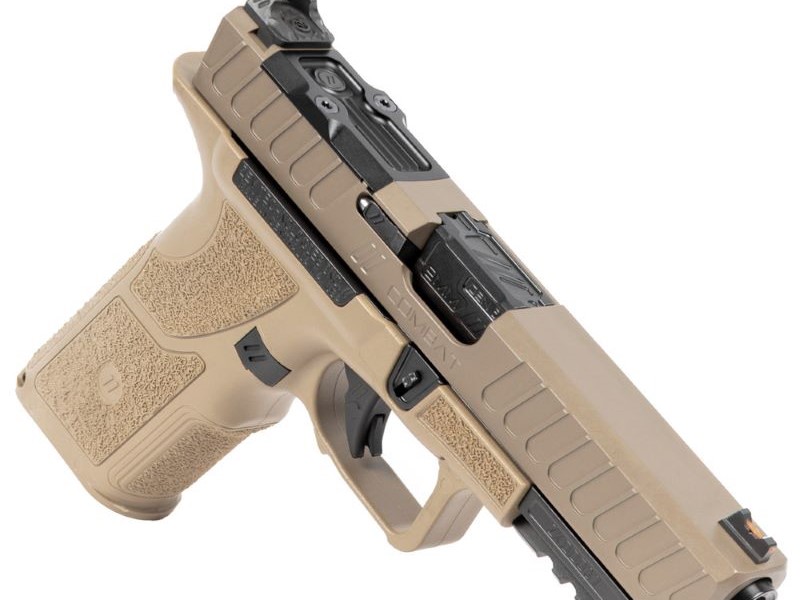 There are three models in most of the series which are the standard pistol, compact combat pistol, and compact combat ex-grip. The Elite V2 series has seven models to select from. Most of the Elite V2 series come with bronze barrels and cutouts in the slide. The gold and black contrast is one of the features that gave them the nickname "Gucci Glock."
On the range with the Zev Technologies OZ9
I have been shooting Glock handguns since the day I enrolled in the police academy, and they shoot great. But when you shoot a Zev, there are some differences. The first time I shot one on the range, I noticed the trigger, grip, and flared magwell the most. Gripping the OZ9 was comfortable and felt natural, somewhat like a 1911 does in your hand. It was the trigger that made the most difference though.
Light, smooth, and crisp is just an understatement when you're shooting a Zev Technologies OZ9. Even the flared magwell made a difference during mag change drills on the range. One of my friends did his qualification with an OZ9 instead of our standard-issue Glock. His time was a little faster with the Zev compared to the Glock. I could see a difference in accuracy because of the upgraded trigger.
Zev Technologies — quality and class  
Although many of the Zev Technologies guns are what some would call "flashy," they do offer models with a rugged durable finish for duty or combat. For example, the OZ9 V2 Combat X-Pistol is available in FDE and comes optic-ready that will co-witness with the iron sights. The combat version has a windowless slide, PRO match-grade barrel, and PRO curved face trigger. Zev has also created a hybrid slide that incorporates Gen 5 Glock parts with the Gen 3 recoil system.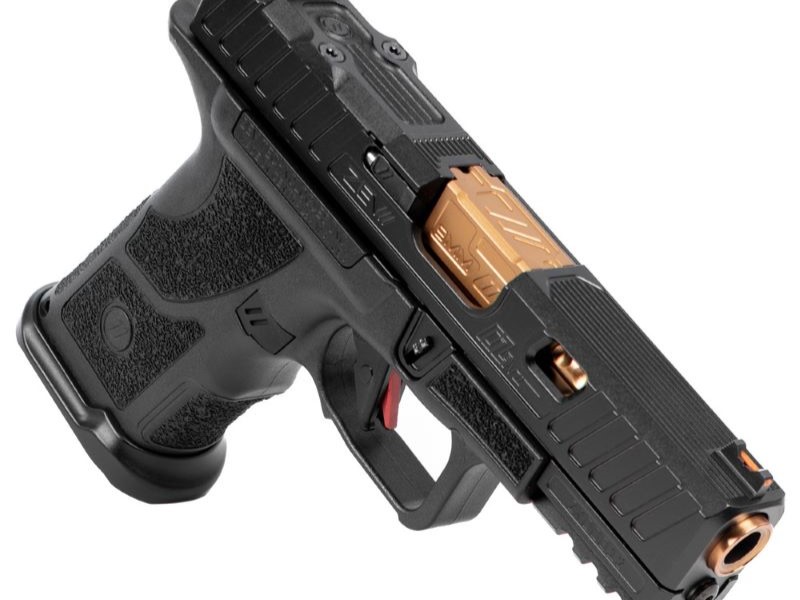 This makes them unique while still being compatible with Glock parts. Most Zev OZ9 firearms will fit Safariland Duty Holsters which allows plenty of carry options. This is one benefit of buying a high-end clone that uses interchangeable Glock parts and fits holsters made for Glock handguns.  
Summary
Zev Technologies OZ9 series of handguns may be considered Glock clones, but they have also distinguished themselves as firearms in their own right, whether you want the flashy Gucci or hard-core combat look. Besides the handguns offered in their OZ9 series, Zev Technologies also offers dealer exclusives and limited-edition models. They offer a one-year warranty on their products (90 days for government agencies) and installation videos for many of their parts.