MOUNTING OPTIONS by carry style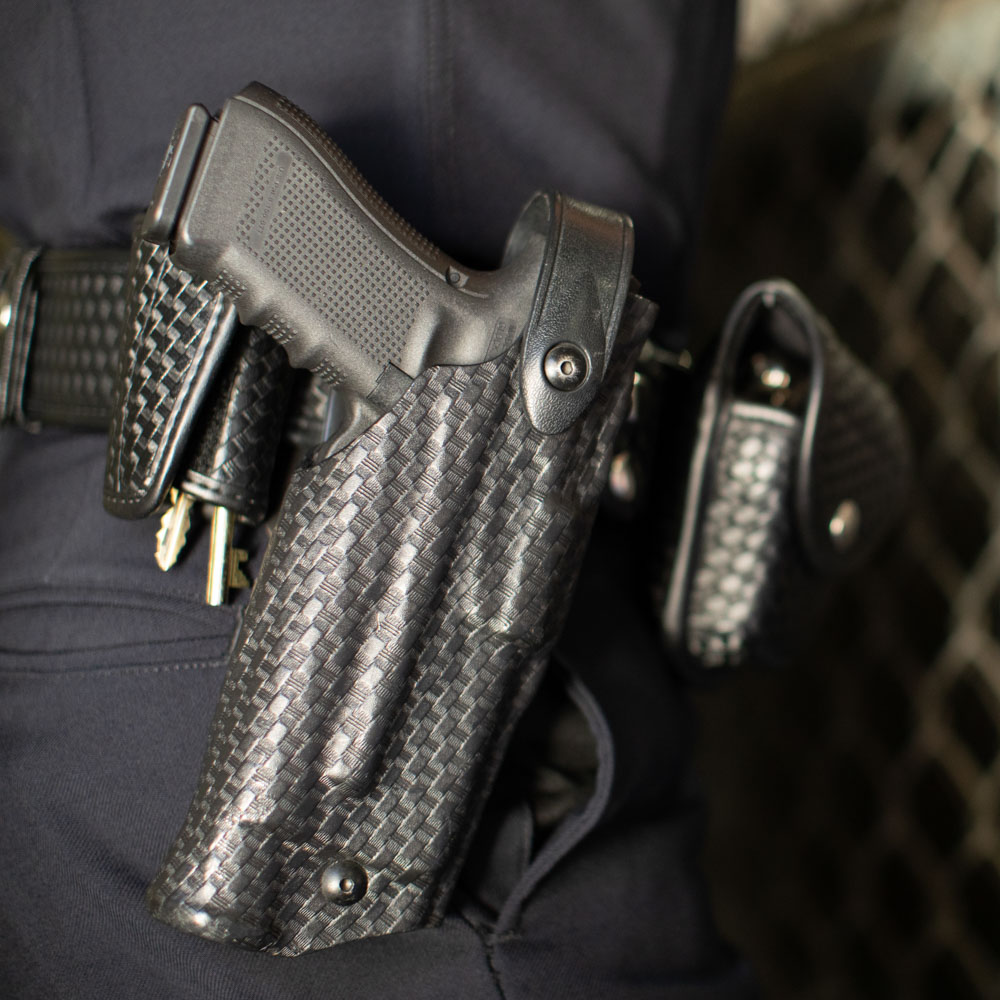 DUTY
Holster belt loops provide a secure platform to draw from, and are the foundation of Level I – III Retention. The user feeds their belt through the slits on the belt loop to secure the holster to the belt and hip. Safariland duty holsters come standard with the UBL – Universal Belt Loop Mid-ride.
Find your perfect universal belt loop with our Comparison Chart.
BELT MOUNTS
The Universal Belt Loop (UBL) is a standard belt loop that will not pinch or add pressure to hip bone, locks onto the duty belt with belt slot design, and is compatible with any holster with the 3-hole pattern. The UBL passes the retention pull test, and the duty UBL comes in two belt widths: 2" (50mm) and 2.25" (58mm) and three ride options, low-ride, mid-ride and hi-ride.
The Cantable Universal Belt Loop (CUBL) allows the user to choose the cant position on their holster based on their preference. Extremely adaptable, the CUBL integrates with Safariland UBL products and 3-hole patterned holsters. The CUBL passes the retention pull test, and fits belt widths of 2" (50mm) or 2.25" (58mm).
The QLS Universal Belt Loop (QUBL) allows the user to easily raise and lower their holster from low-ride, mid-ride or hi-ride holster height positions without any tools. Based on the VUBL design, the QUBL sits close to the body and is extremely adaptable, enabling quick attachment and detachment of gear from the QLS mounting platform. The QUBL passes the retention pull test, and fits belt widths of 2" (50mm) or 2.25" (58mm).
The Quick Locking System (QLS) allows users to secure a holster anywhere they wish. (e.g. inside a closet, under car dash, under desk).
The Vertical Universal Belt Loop (VUBL) offers a 3-position height adjustment. Compatible with any Safariland 3-hole patterned duty holster, the VUBL allows the user to quickly raise or lower their holster without any tools required. With the VUBL, a user can comfortably position their holster to sit in a low-ride, mid-ride or hi-ride holster height position and will not pinch or add pressure to the hip bone. The VUBL passes the Retention™ pull test and locks onto any duty belt with a belt slot design. The VUBL fits belt widths of 2" (50mm) or 2.25" (58mm).
The 745BL Belt Clip is designed with a 3-hole pattern, allowing interchangeability among various Safariland® holsters. Made of durable nylon, it clips on/off without having to remove the belt and/or other accessories. Fits belts with widths from 1.5″ (38mm) to 2.25″ (58mm). Designed to lower holster by 2" (50mm).
Start of TACTICAL/MILITARY tab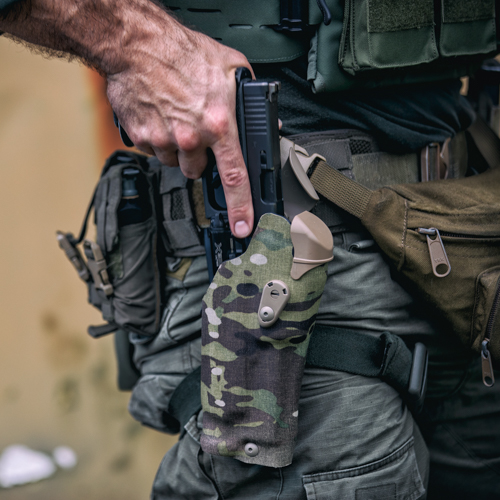 TACTICAL/MILITARY
Military and tactical operators typically wear a padded battle belt which includes a hook and loop under-belt that goes through the loops and attaches to the outer belt. Keepers are often added to line up both belts. Tactical thigh rig or drop leg shroud mounted holsters come with either a double strap shroud, single strap shroud, or a lightweight leg shroud (purchased separately).
When not used in conjunction with an outer belt, a good tactical belt is often used as the primary means of attaching gear. 1.75" is the most common, wider and stiffer is better. This is considered a lighter more comfortable option and can be combined with concealed or duty components.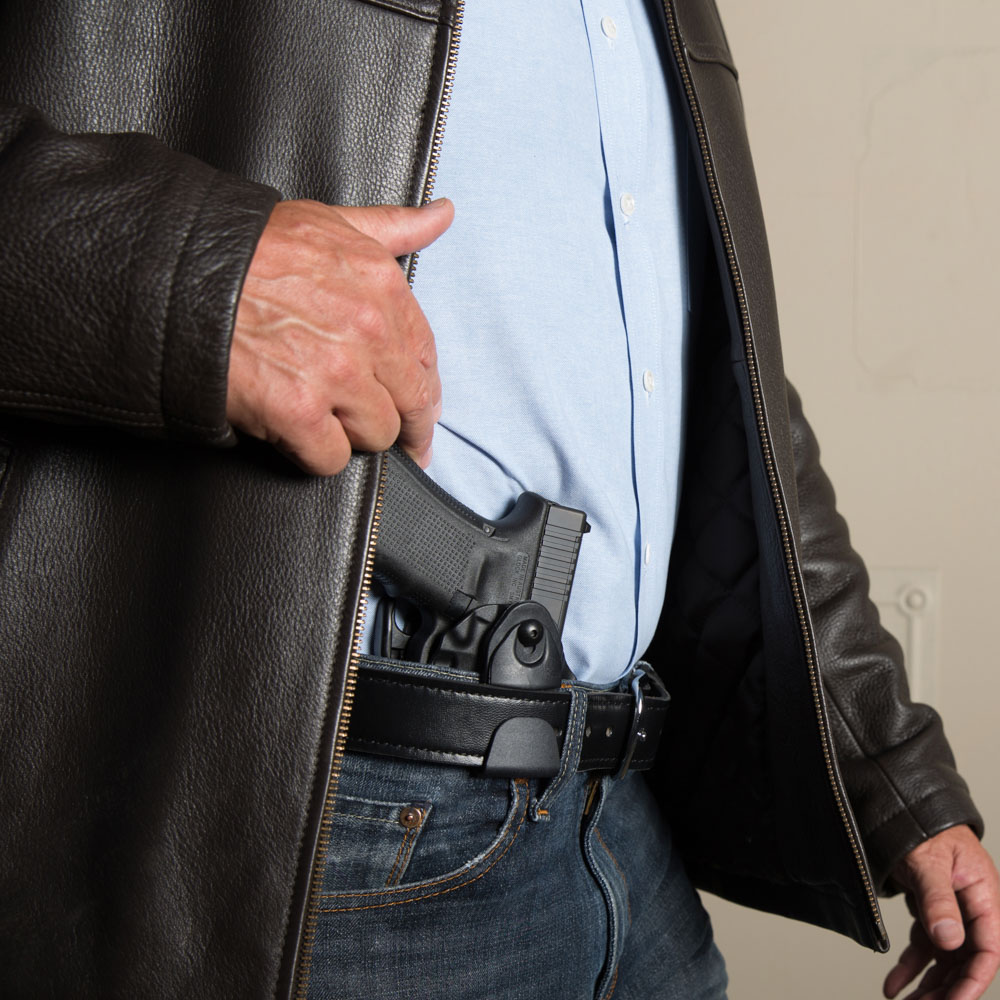 CONCEALMENT
For those with a CCW permit, retention may be less of a concern than concealment, comfort and a holster that rides close to the body.
Plainclothes or detective holsters are concealment based. These are holsters with concealment mounts, and you'll see paddles, or paddle ride UBLs or belt slide kits. These holsters will usually have Level I or II Retention, with the ALS® (Automatic Locking System) or SLS™ (Self Locking System). However, they may be required to have the holster secured to their person, in which case belt loops are required for retention purposes. This also eliminates the use of a paddle or hook attachment (IWB) for retention. Some CCW individuals that are more comfortable with retention of the holster may choose a retention option as well.
Paddle holsters are designed for concealment firearms, and have a paddle section which fits inside the waistband while the holster sits over the waistband. This allows for a more comfortable carry, and the Safariland 568BL paddle is specific to right or left hand carry.
Micro-paddles have a paddle section which fits inside the waistband, and are designed for holsters that fit smaller concealed carry pistols like the Glock 43X and P365. They can be inadequate for full sized handguns.
BELT MOUNTS