ELECTRONIC VS. PASSIVE
Hearing protection is available in two different styles: electronic or passive. Electronic options will generally offer enhanced audio, situational awareness and additional functions and features. Typically, these are more expensive than passive protection and also require batteries. Passive hearing protection is affordable and requires no power source, but will not offer sound amplification.
Start of ELECTRONIC HEARING PROTECTION tab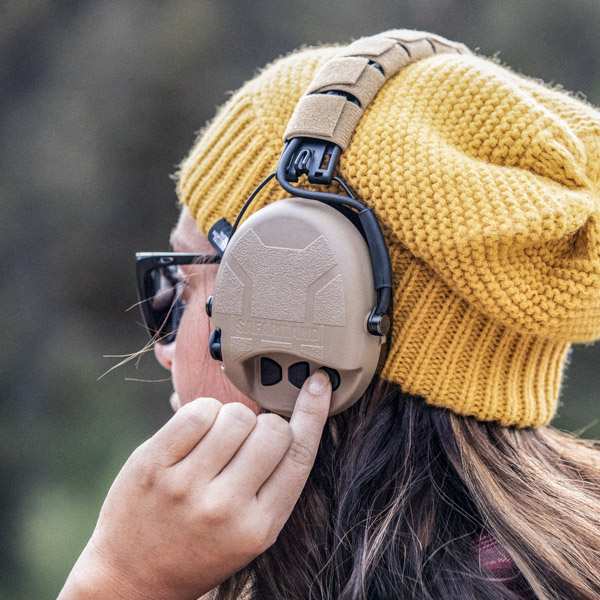 ELECTRONIC HEARING PROTECTION
Reduces noise through electronic and structural components.
The Liberator HP™ is an advanced electronic hearing protection headset, and the basis earcups of the Liberator IV™ and Liberator V™ communications systems. The headset provides the exact same functionalities, military specifications, patents and features to consumers as military professionals.
State-of-the-art features of this multi-mode electronics package include human speech isolation. The Liberator HP provides enhanced hearing protection in all environments, such as protection from impulse/gunfire noise and high decibel constant background audio, while advanced sound localization provides maximum situational awareness and sound detection. Glass polymer injection-molded earcups provide excellent durability.
The DEHP is the predecessor to the Liberator HP.
The Safariland Electronic Hearing Protection headset allows you to hear what's going on around you while simultaneously protecting your hearing. The ear muffs feature electronic noise compression, which reduces and compresses loud noises to safe hearing levels. In addition, the headset offers sound localization technology for maximum situational awareness and sound detection; they let you have a conversation with your friends on the range—or hear an animal moving through the brush. The Electronic Hearing Protection ear muffs are engineered with low distortion squeaker technology to achieve superior sound quality.
Since you can wear the headset throughout your activity, we engineered them to be durable, and with comfort in mind. The proprietary earcups have rubber cheek wells, single-sided controls and comfortable ear seals. Two AAA batteries keep the Safariland Electronic Hearing Projecting ear muffs charged for 325 hours of operation.
Start of PASSIVE HEARING PROTECTION tab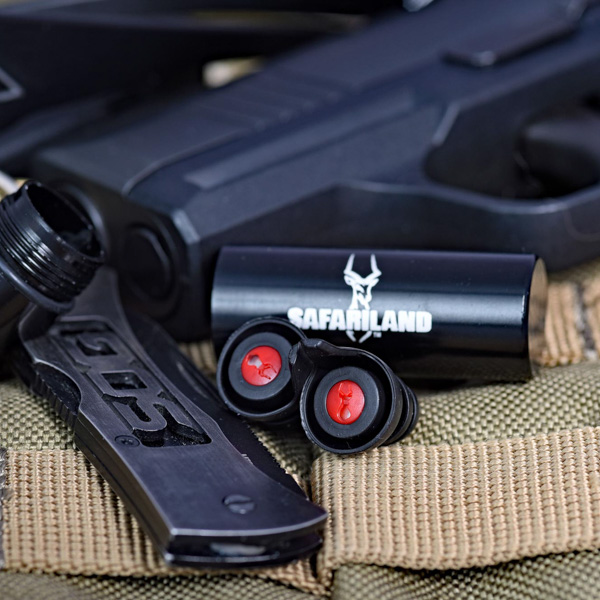 PASSIVE HEARING PROTECTION
Passive hearing protection blocks sound with a range of materials.
Affordable, reusable and comfortable, Safariland In-Ear Impulse earplugs use Impulse Filter Technology and noise blocking performance rated NRR of 33dB. Easy to insert, the earplugs automatically engage hearing protection against single shot, explosions, automatic rifle fire, artillery, impulse and impact noise, yet allow normal ambient audio to pass through. You can have a conversation while hunting or at the range, and still protect your hearing.
Safariland's Foam Impulse Hearing Protection uses patent-pending filter technology to instantly reduce dangerous sound levels while still allowing speech and audio to be heard.  Soft, memory foam tips provide a universal fit and all-day comfort, while the removable neck cord keeps them from getting lost when not in use.  Adjust your hearing protection on the fly by using either Impulse Mode to achieve 38dB Peak Impulse Reduction + 13dB Continuous Reduction, or Full-Block Mode to achieve 20dB Continuous Reduction.  Ideal for the shooting range, hunting, tactical training or operational missions.  No batteries required.
An ideal kit to ensure safety while shooting at indoor and outdoor ranges, Safariland's Impulse Range Kit includes patent-pending Foam Impulse Hearing Protection, Ultra-Compact Earmuffs and HD Flex Protective Eyewear.