Springfield Prodigy 1911 DS
The Springfield Prodigy made its debut in September of 2022 and it made a significant impression almost immediately. Designed in iconic M1911 style, it's chambered in 9x19mm Parabellum. The Prodigy's geometry includes a widened frame to accept double-stack magazines, deep serrations on the slide, an accessory rail, a bushing-less bull barrel, and a pre-cut top section for common pistol RDS options.
Though derided by some as "just another double stack 1911" the pistol earned high marks from its first reviewers and quickly began rising to the top of the Armory's most popular models. It developed a reputation as a more budget-friendly competitor to the Staccatto 2011 (another excellent pistol). The DS in its name, by the way, is for Double Stack.
Although we are now approaching the Prodigy's first birthday, that trend has continued. In fact, if it has slowed at all it's because it's being overtaken by the more recently released Springfield Armory Echelon (which we'll get to).
Let's take a look.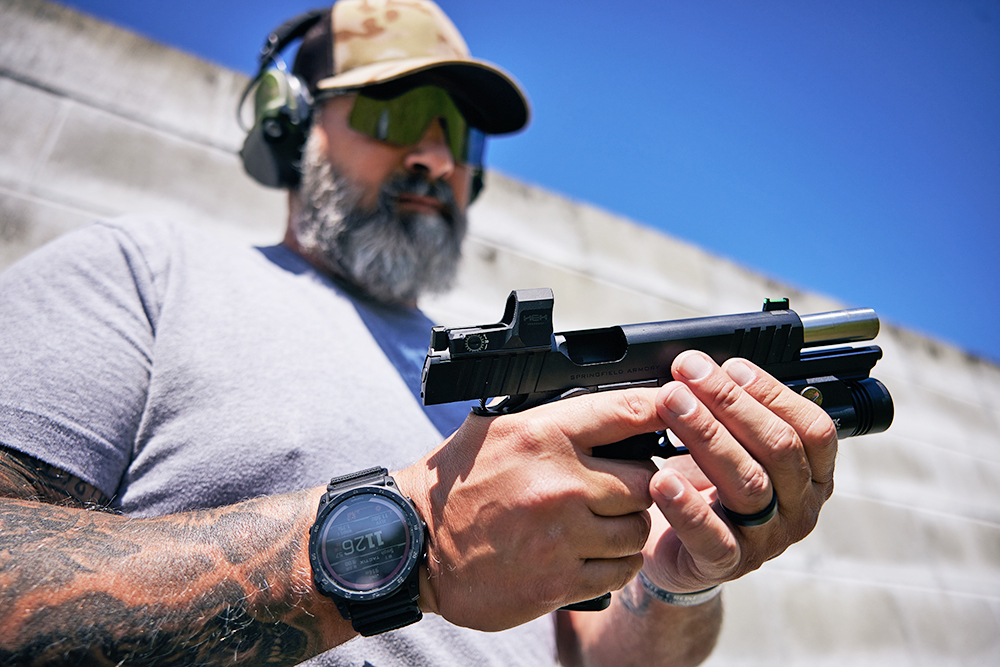 Springfield Prodigy 1911 DS
There were two variants of the Prodigy when it was released, both using the Agency Optic System (AOS); whether there will be others we don't know.
The 1911 DS Prodigy 4.25 AOS 9mm
The 1911 DS Prodigy AOS 9mm 5″
Both were (and are) optics-ready and had the option of coming with a preinstalled Hex Dragonfly pistol red dot. Buyers looking elsewhere for a suitable RDS could simply get an alternate plate with the appropriate pattern. Other features included ambidextrous safeties, raised fiber-optic iron sights, magazine funnel, and polymer grip modules with SA's wraparound Adaptive Grip Texture. Each would take a flush-fit 17-round magazine, with 20-round and 26-round capacity magazines available.
The only real difference? Barrel length. One's three-quarters of an inch longer than the other.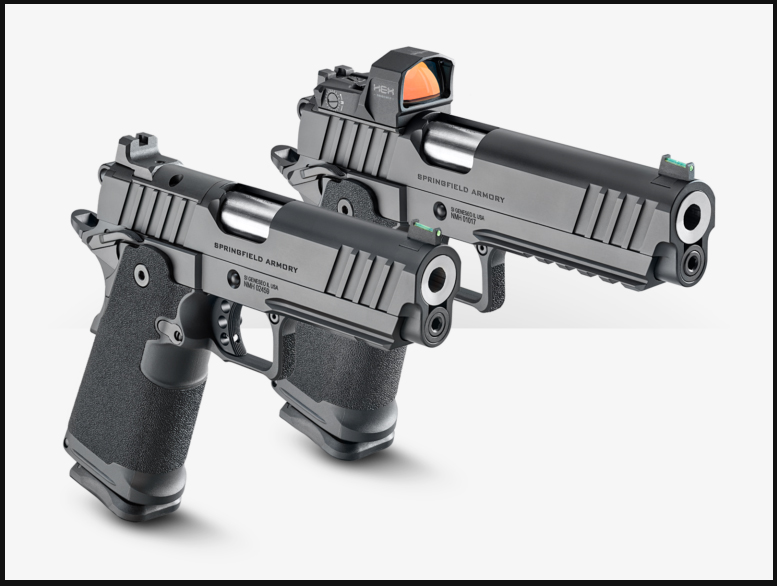 Double Stack 1911 Need to Know
A double-stack 1911 pistol is hardly new. Staccato (formerly STI) has been killing it with its eponymous pistol. The list of manufacturers in this battle space is an ever-growing one. Bul Armory, Cosaint Arms, Atlas Gunworks, and many more. And let's not forget the older Para Ordnance 1911 models, either. Despite this, the Springfield Armory Prodigy puts a number of excellent design elements – including generous slide serrations – into a unique package that is worth a second look.
And some range time.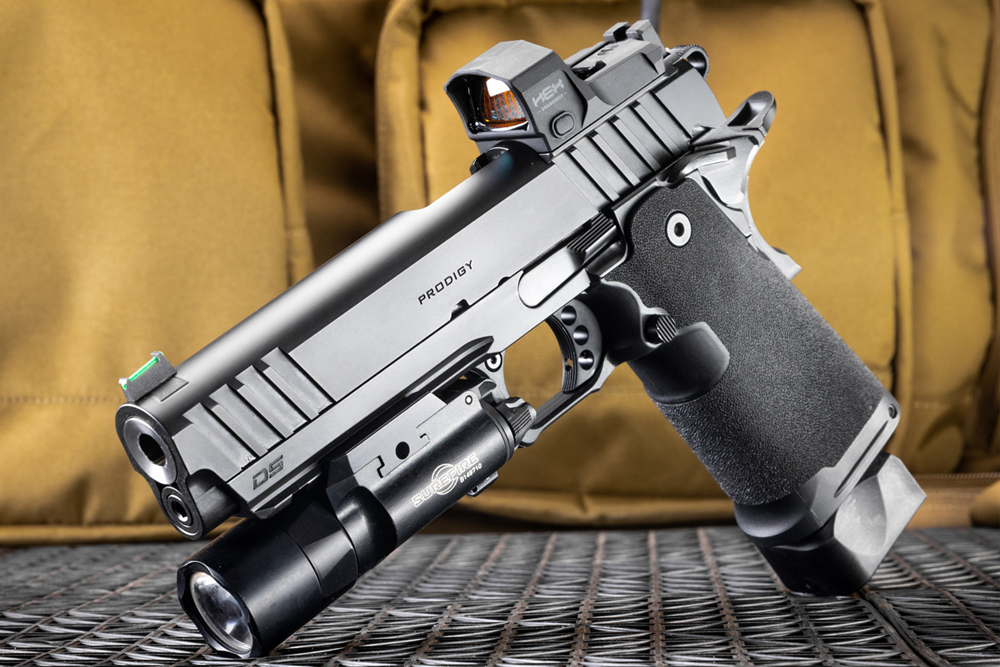 Bushing-Less Match-Grade Barrel
Unlike its iconic forbear, the Prodigy doesn't use a barrel and bushing John Browning-style. A few people have taken issue with this because of its potential for greater difficulty fitting in a replacement barrel. Others seem to be opposed to it more from a traditionalist's perspective and who can blame them? John Moses Browning. The weight of the barrel helps mitigate the already light recoil impulse produced by the 9mm cartridge.
The Prodigy uses Springfield's proprietary two-piece full-length guide rod, not surprisingly (takes down with a 5/32 hex wrench). It doesn't yet have a manufacturer's threaded barrel option, but aftermarket options are becoming available.
Frame Physiology
This Springfield DS 1911 handgun is an excellent "modernized" upgrade to the proven 1911 platform. The upper part of Prodigy's frame and the full-length dust cover is carbon steel. This minimizes or eliminates movement and flex in the frame and also allows a low cut below the trigger guard. The grip is a familiar polymer construction and the accessory mount is a single-slot Picatinny rail.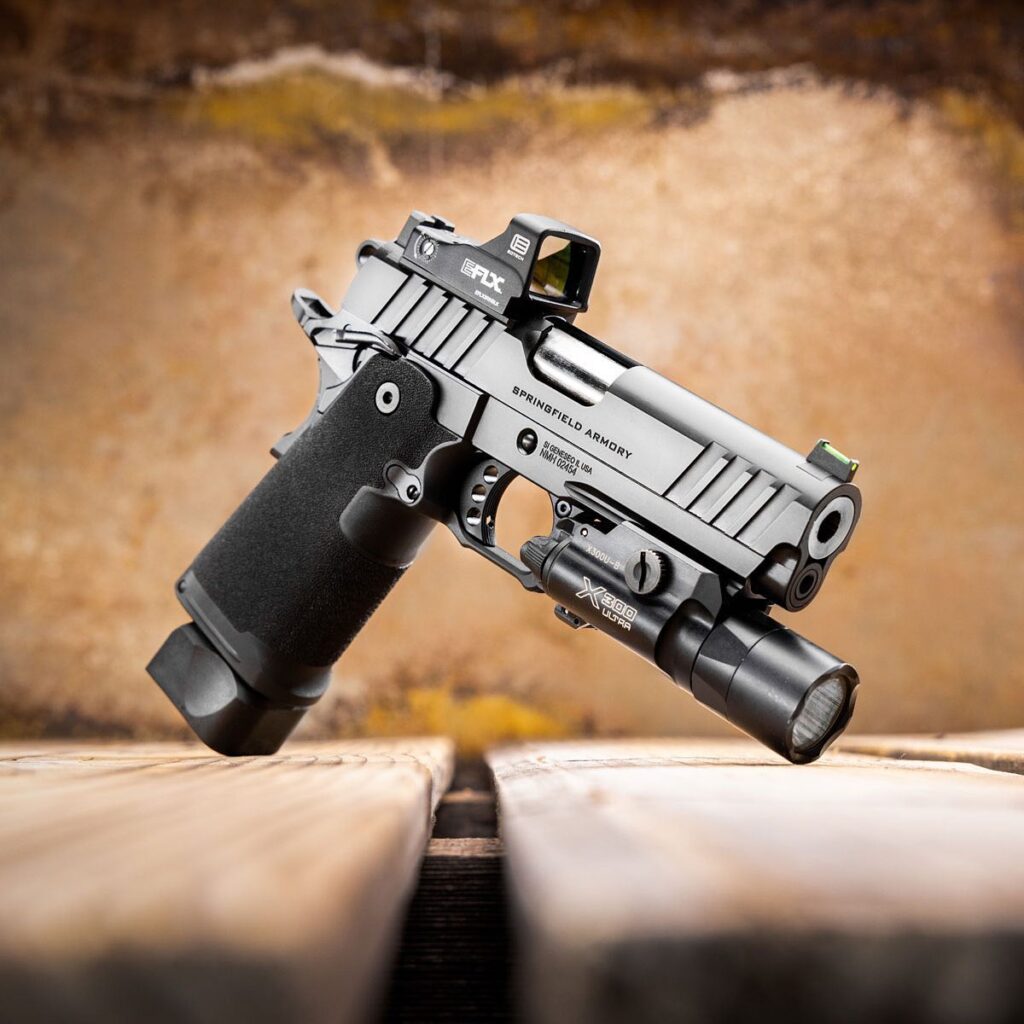 Trigger Talk
Prodigy's trigger is reportedly a very good one, breaking at 3.5 pounds sans mush or creep. The safety is ambi, which is good for a race gun in competitions but arguably less so on an EDC/CCW gun.
Springfield utilizes a "Series 70" type of safety system, so there's no firing pin safety, which generally allows for a superior trigger pull. The upswept beaver tail grip safety is perfectly fitted, and in conjunction with the undercut trigger guard, it really fits the sweet spot in the grip department.
Sights and Optic Options
The sights on Prodigies are a green fiber optic front with a black serrated rear sight notch (specifically, that integral rear sight is a blacked-out U-notch). You can co-witness them with the Hex Dragonly's window and likely with most others. The modularity of the billet steel AOS allows for several other RDS options, including the Trijicon RMR. This gives shooters quite a selection when it comes to their preferred pistol dot (and the intuitive sight picture it provides). This helps with what SA refers to as instant target acquisition.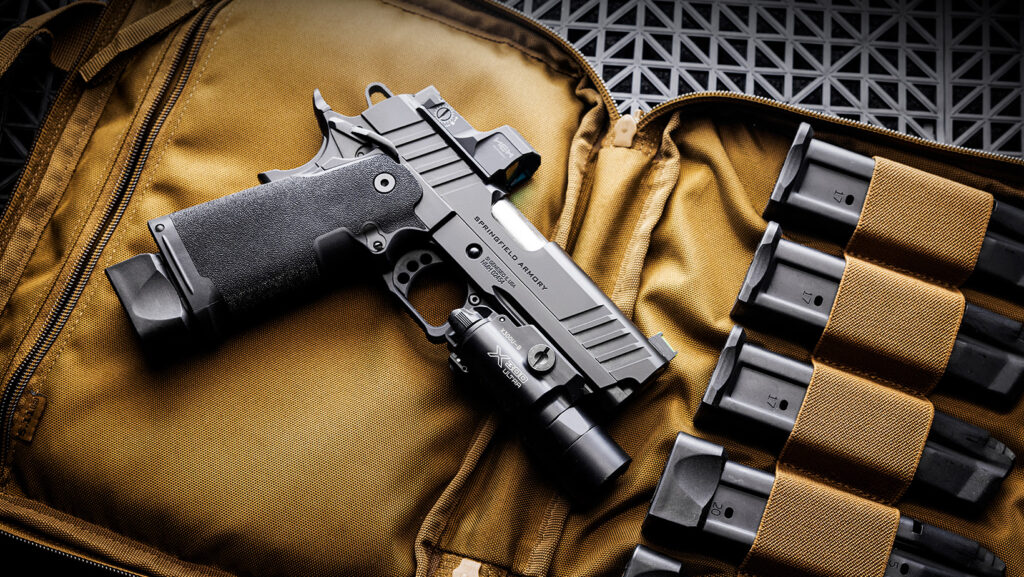 AND Finally: Functionality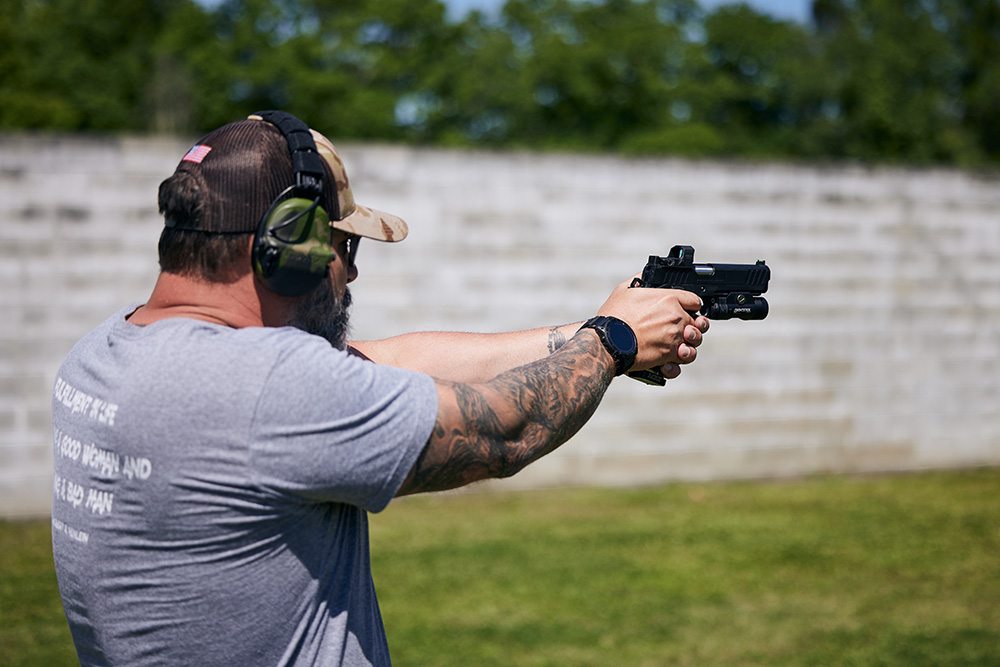 How about we let some of the reviewers address this part? (Scroll down for excerpts; scroll further down for links.)
"This one is destined to win the Bianchi cup or some similar trophy in the future. Once you pick one up, not only does it demand to be shot, but it demands that you shoot it fast and accurate."

Mike Searson, Gun digest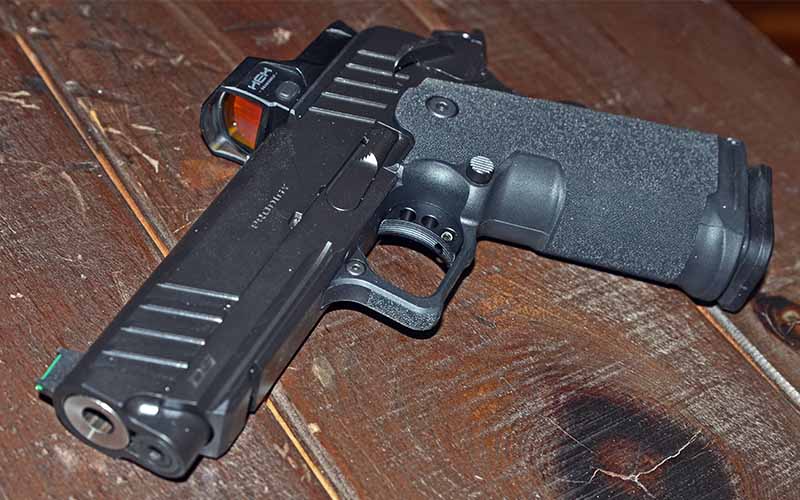 First, let me explain what I loved about this pistol. Vibe. Yes, I just included "vibe" as a category for reviewing a pistol. Once you hold this gun, it's clear that it wants to run. You almost feel bad NOT shooting it.

Ryan Cleckner
"I'm not sure how to describe this feeling. Perhaps it's like sitting in the driver's seat of a supercar and feeling the car begging you to let it roar.'
"Perhaps this is a silly metric. Regardless, it feels real to me."
"This could have been accidental by Springfield but everything about this gun from the design to the fit and finish just screams 'Shoot me!'"
Ryan Cleckner, Gun University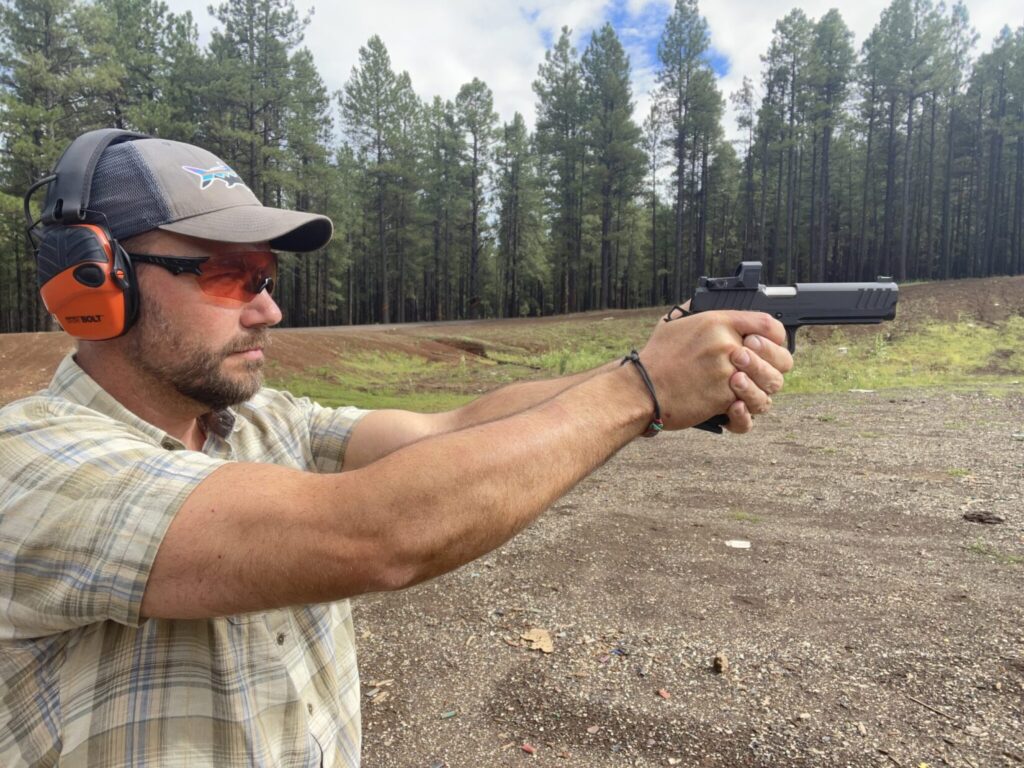 Bottom line up front — yeah, they can shoot.

Iain Harrison, RECOIL MAgazine
"Once we made a slight adjustment to the red dot and dialed its brightness all the way down, standing unsupported at 50 yards, the Commander version turned in a 2.25-inch, five-shot group with 130PF reloads consisting of Montana Gold 121-grain JHPs over WSF powder. "
"We've shot pistol-caliber carbines that struggle to get that kind of accuracy, so for a 4.25-inch barreled handgun to achieve it in the first 20 rounds of a range session is an indication of its potential. In the next 300 rounds, we replicated that performance numerous times."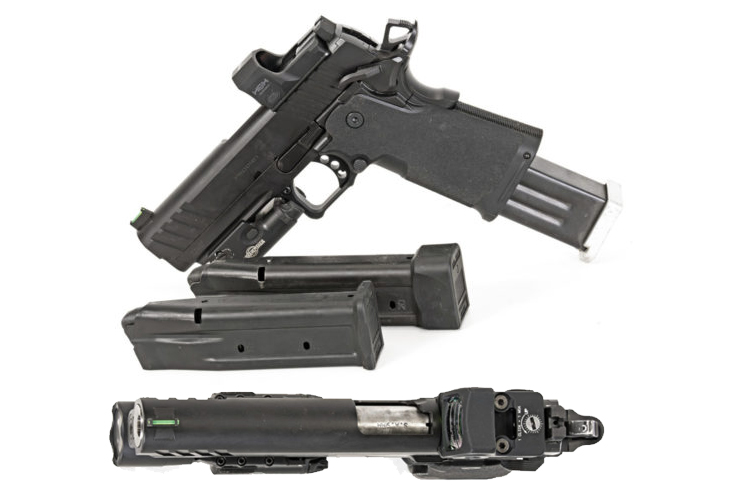 On the range, the Prodigy pistols beg to be run fast. The balance is good, slide cycle is flat, and the weight of each devours most of the recoil.

Joe Kurtenbach, Guns & Ammo
"On the range, the Prodigy pistols beg to be run fast. The balance is good, slide cycle is flat, and the weight of each devours most of the recoil. With 17 or 20 rounds per magazine, you can shoot these guns a lot — and you're going to want to. The pistols not only blaze through target arrays, they are also capable of one-ragged-hole accuracy. A normal 25-yard five-shot group with Guns & Ammo's test pistols looked like a three-leaf clover with two other holes in close orbit. During my evaluation, the 41/4-inch Prodigy posted slightly better accuracy results, but remember that mine wore the Trijicon optic — a big advantage for benchrest accuracy, in my opinion. "
"Still, the 5-incher with its iron sights was right behind the red-dot-equipped model in terms of the accuracy displayed. The total average for the platform — two guns, three loads of ammo, 30 five-round groups — was 2.15 inches at 25 yards. That's absolutely unreal, and well beyond my expectation. I'll give extra credit to the sighting systems, great trigger and the Prodigy's overall ergonomics. I was feeling these guns and they did not disappoint."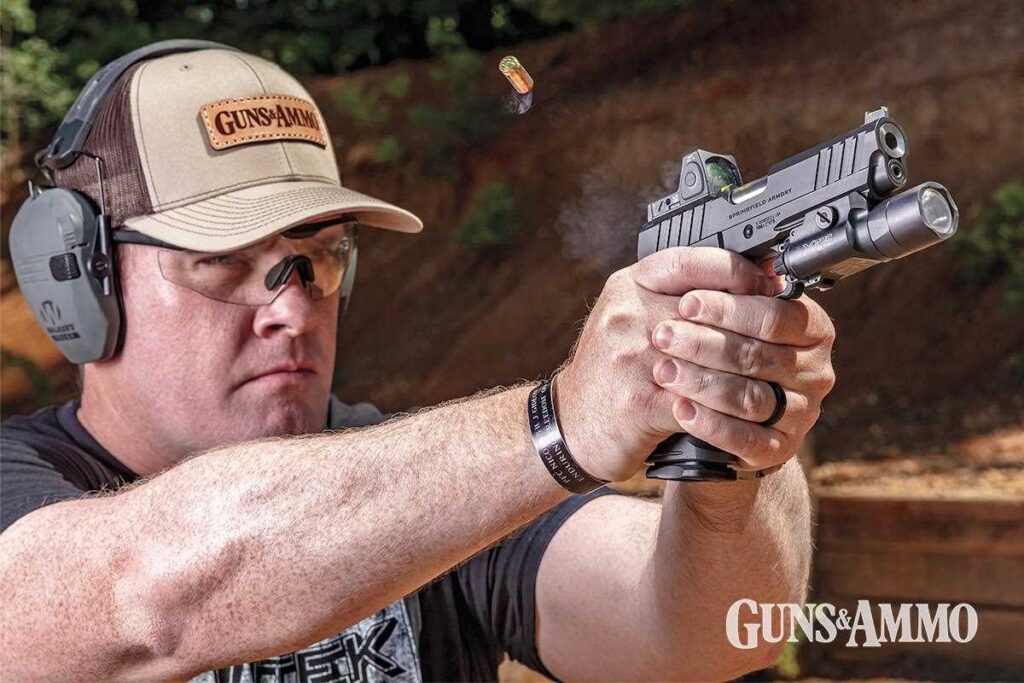 The Springfield 1911 DS Prodigy is one of the slickest shooting guns on the market right now, and it is high in the category of single action 1911 style handguns.

Lindsey bertomen, officer.com
"I loaded up the Prodigy and set up a few IDPA-style targets. I stepped back 7 yards, and rapid fired. I did the same at 10 yards. At 7 yards, almost all the bullet holes touched. The 10-yard target was tiny. Out of the box, this was one of the most intuitive guns I have shot all year."
"Between the gun and the holster, it was lightning fast, and I was able to draw and engage faster than my own setup. The Prodigy uses AOS (Agency Optics System) plates for officers who go with optics, and it can be purchased with a mounted Hex Dragonfly. The AOS allows officers to choose a compatible plate for their preferred optic. I liked the fiber optic iron sights on the one I tested, and having the AOS option gives the user flexibility."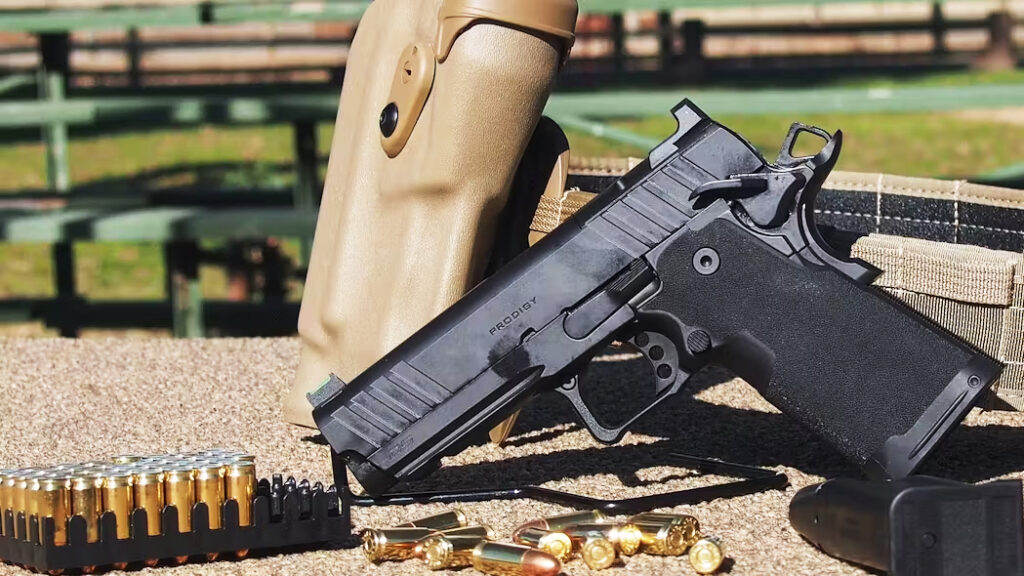 Springfield Prodigy Features and Benefits
Caliber: 9mm
Capacity: 17+1, 20+1, or 26 +1
Action: Single-action, hammer-fired
Barrel: 4.25-inch or 5-inch, bull profile, stainless steel, 1:16-inch twist
Dimensions: 7.8 inches (L) x 5.5 inches (H) x 1.28 inches (W)
Weight: 37 ounces (w/empty 17-round magazine)
Frame: Forged steel frame
Slide: Carbon steel, forged
Optics: Cut for optic, uses Agency Arms adapter plates
Controls: Right-handed slide stop, mag catch, ambidextrous safety levers
Finish: Black Cerakote
Grip: Polymer grip module, fine stipple texture
Sights: Fiber-optic front, serrated black "U-notch" rear (drift adjustable) and designed to complement proper optic height
Trigger: Aluminum, single-action, curved shoe, 4 pounds, 0 ounces (measured)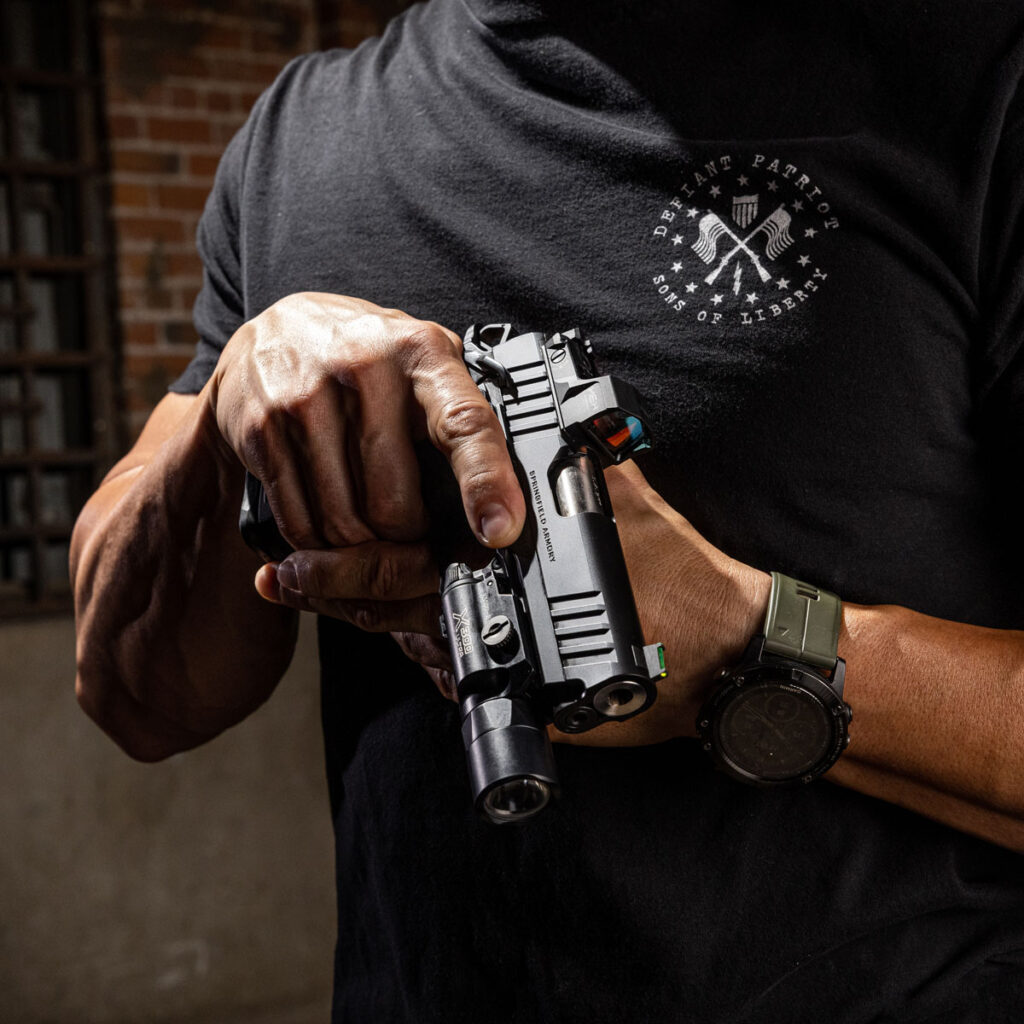 Need a Springfield Prodigy holster?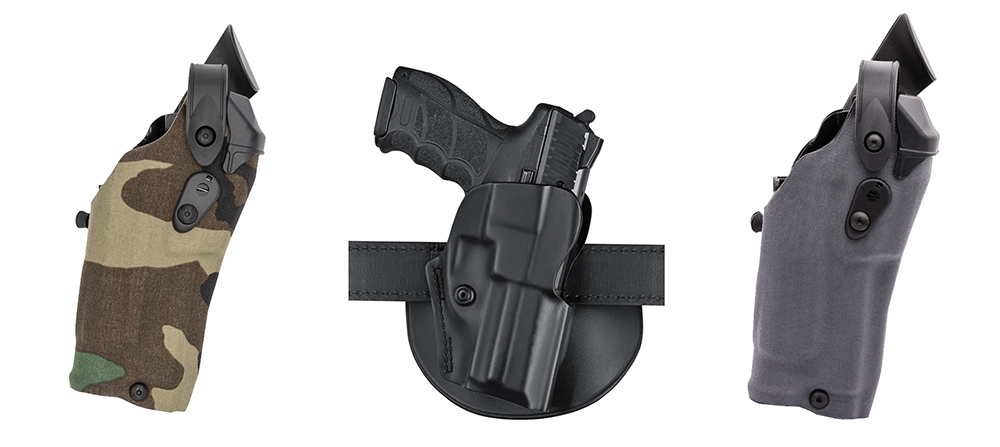 You can learn more about the Springfield Prodigy on several sites and many reviews: