INTRODUCING THE SAFARILAND® E-CATALOG AND ASSORTMENT BUILDER ON THE AWORKBOOK APPLICATION
As a leading innovator in the products we deliver, we're also evolving how we support and serve you, our customer. One way we're doing this is by providing an app with comprehensive and up to date product information in a centralized location. It's easy to use, efficient to access, build and download content; and, it reduces paper. Therefore, we're saying farewell to the traditional printed catalog and are launching an e-catalog app for our dealer and distributor customer base. Get product information when you need it. Create custom product assortments and access a variety of sales and marketing resources; the control is in your hands.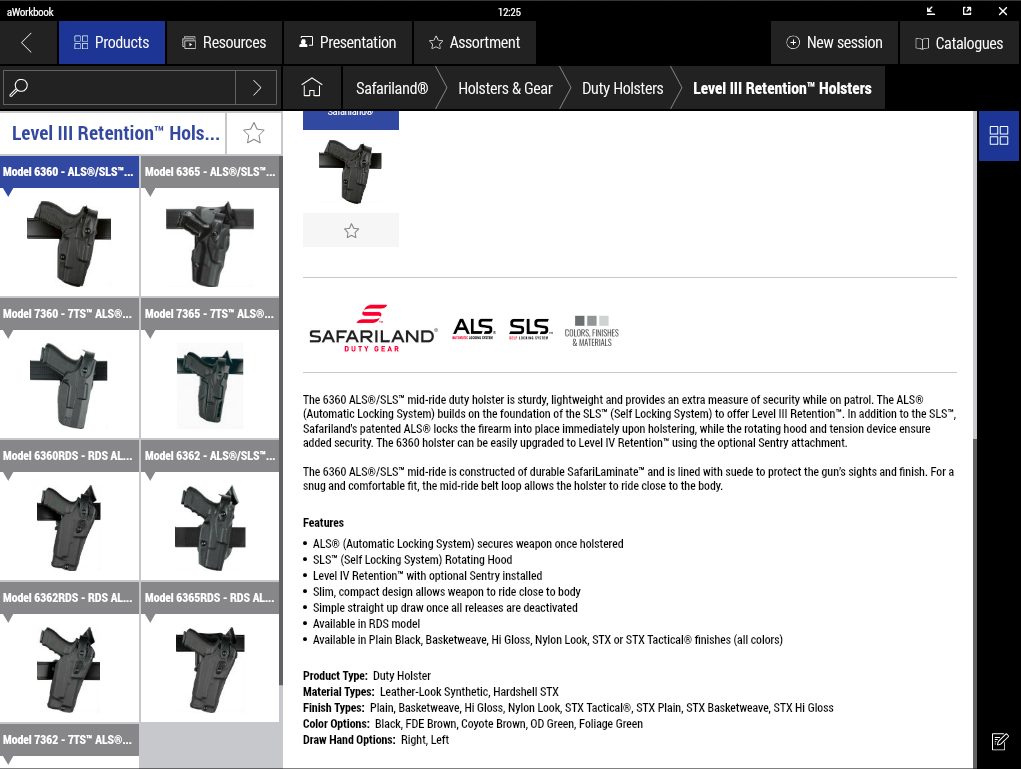 EXPANDED AND ALWAYS UP-TO-DATE PRODUCT INFORMATION
Detailed product features and specifications
Tech bar with icon links to additional content
More images than in a printed catalog
New products added when introduced throughout the year
Discontinued products deleted
Online or offline use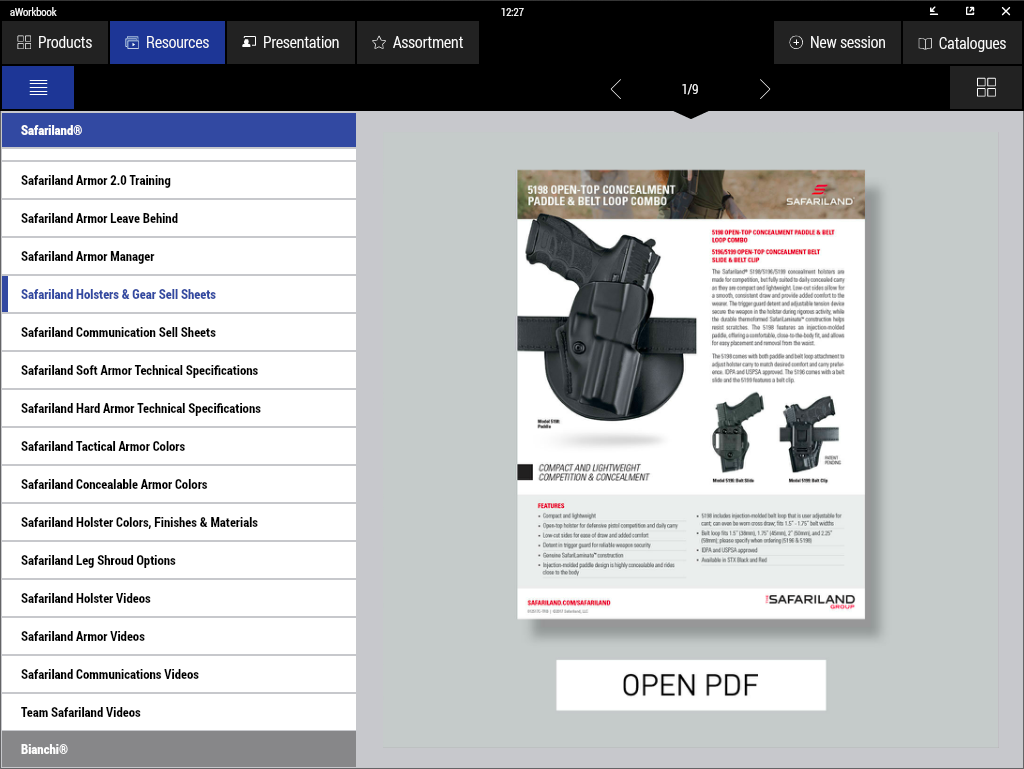 RESOURCE LIBRARY
Find sales support and marketing resources with the click of a few buttons
PDF formats available for download and sharing
A single location for collateral – category, sell sheets, look books, tech specs, brochures, MSRP price lists and videos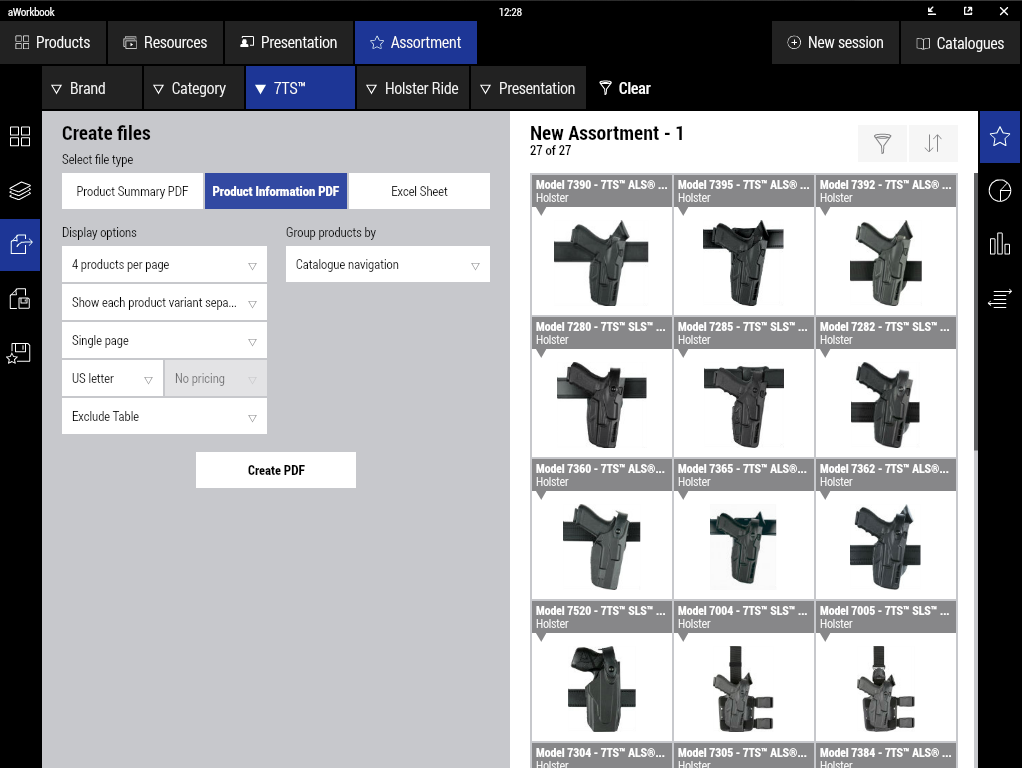 POWERFUL PRODUCT ASSORTMENT BUILDING TOOLS
Create custom assortments with customer/agency-focused product collections and sales materials
Access them anytime, online or offline
Save, repurpose, export to PDF or Excel spreadsheets; print or email to others
Share exported and imported information with other aWorkbook app users
ACCESS THE SAFARILAND E-CATALOG AND ASSORTMENT BUILDER TODAY
Access is as simple as 1-2-3.
---
1.
Download and install Adobe Air (Windows or MacOS only, not required for iOS or Android).
---
2.
Download and install the aWorkbook App. Launch aWorkbook and register an account.
---
3.
Input the customer reference code SLAND-13386 to download the Safariland catalog. There will be a pause while aWorkbook connects to our server. Once downloaded, you will be able to click the cover to enter the catalog.
---
View Full Download Instructions (PDF)
View Step-by-Step Registration Instructions (PDF)
training & support
Training Videos
How to Register
Introduction to Safariland E-Catalog
Product Module
Assortment Module
Resource Module
Presentation Module
Updates
aWorkbook checks for updates whenever you are connected to the internet. Throughout the season a blue 'Update' bar will appear underneath your catalog cover. We recommend you click this button to download the update and ensure your product range is up-to-date. If you are running the catalog when an update is released you will see a blue highlight next to the 'catalog' icon in the top navigation.
troubleshooting
If you can not access your digital catalog for any reason, first check that you are logged in by checking your profile button icon is green.
need help?
For questions or requests for training, email us at catalogadmin@safariland.com.