Glocks are fantastic guns. They're reliable, durable, and accurate right out of the box. Of course, they're also incredibly customizable which is one of the reasons they're so popular. Unless you have a Gen 5 Glock — and even if you do — you're probably replacing your Glock's trigger right out of the box. That's one reason there are so many Glock triggers available: they're the first upgrade to go on a new-to-you Glock. We've done the legwork of narrowing down which Glock triggers are worth considering. Check out our top picks for the best Glock triggers along, with a few tips about running triggers along the way.
Types of Glock Triggers
There are two basic types of Glock triggers: drop-in style and kits that require you to piece it all together yourself. It's also possible to replace only certain parts of your trigger to change things up, but we're not getting into that here. So, what's the basic difference between drop-in triggers and trigger kits? We're glad you asked.
Drop-in Glock triggers only require you to disassemble your gun, remove the old trigger, and drop the placement into the frame. They're the quickest choice and may also be preferable because any fine-tuning of connectors is done at the factory. With a drop-in trigger, you can be assured you're getting a specific type of performance with no need for second-guessing your installation process. Of course, depending on what you need your trigger to do, that can also mean buying trigger components separately from the trigger and trigger bar setup to make things even better. It entirely depends on the manufacturer and the result you want.
Trigger kits usually include a variety of springs, among other parts, so you can install the parts you want to get the results you need. A great example of an extensive trigger kit is the Zev Technologies Fulcrum Adjustable Trigger Ultimate Kit for Gen 1-4 9mm Glocks. That kit includes:
Zev adjustable fulcrum trigger and trigger bar
Zev ejector housing
Zev Pro Connector
Zev trigger spring
Zev Pro Striker Spring
Zev Stainless Steel Firing Pin Safety
Zev Firing Pin Safety Spring
Zev 2 pound striker spring
Zev 3 pound striker spring
Zev stainless steel skeletonized striker
As you can see, a true, complete trigger kit involves quite a few parts and requires at least a little know-how on not only installation but knowing what you need and how to get it. Trigger kits are a great option for shooters with the knowledge and time to fine-tune their Glock triggers at some length. It's not that you can't put in a complete kit in a timely manner, only that it takes some experience and trial and error.
Author's Choice for Best Glock Triggers
The vast majority of Glock triggers are marketed either for tactical applications or competition use, which makes sense considering their usual purpose. For the purposes of this "best of" compilation, we're checking out the best Glock triggers for various calibers and generations. After all, one of the common frustrations of doing a Glock trigger upgrade is trying to find the correct generation and caliber. These are the categories we're filing these Glock triggers under:
Best Overall Glock Trigger
Best 9mm Glock Trigger
Best Gen 1 Compatible Glock Trigger
Best 10mm Glock Trigger
Best Flashy Flat-Faced Glock Trigger
Before we get into the specific models, let's consider what you might be looking for when swapping out your Glock trigger.
How To Choose a Glock Trigger
Triggers, like firearms, are purpose-driven. You need to decide what the trigger has to do for you before selecting the correct model for your needs. If your gun is meant for use as your daily carry weapon and you intend to use it for self-defense, it's wise to avoid installing a trigger with a measured trigger pull weight lower than the pull weight of factory triggers (which is typically 5.5 pounds).
Although you won't find self-defense cases where the defendant lost the entire case due to a lighter-weight trigger, you will find that modifications such as lighter-than-factory triggers or snarky end plates tend to mean writing a bigger check to your attorney. This is because the prosecution is highly likely to go after whatever they can to win the case. No, this isn't legal advice, but it is information worth filing away in your memory: consider not using a Glock with a trigger pull weight under 5.5 pounds for daily carry.
Aside from the aforementioned self-defense issues, you need to decide how light — or heavy — you need the trigger to be. Almost any aftermarket Glock trigger is going to deliver a smoother, crisper pull and break with a more abbreviated re-set. Not all triggers are created equally, though, so do your homework when deciding just how crisp or brief a re-set you require. When you're researching triggers also take time to consider longevity because although the average gun owner doesn't shoot enough to wear out a trigger, it's certainly possible under the correct circumstances.
Now, let's get into the trigger reviews.
Best overall Glock trigger: Timney Triggers Alpha Competition for Glock Gen 3-4
Anytime there's a "Best Trigger" list for a manufacturer or model of gun that Timney makes triggers for, you can be sure they're going to top the list. Timney's attention to detail and incredible adherence to strict tolerances consistently result in exceptional triggers, and the Alpha Competition trigger is proof of it.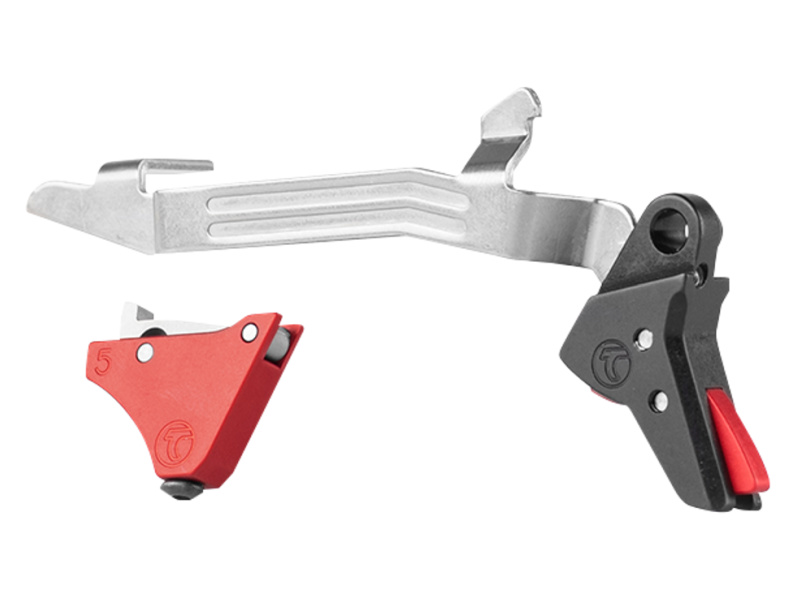 This specific aftermarket trigger is meant for Gen 3-4 Glocks but it's worth mentioning they do offer this trigger for Gen 5 Glocks, too. They also make it for smaller-frame Glocks; this particular trigger is meant for the large models.
The Timney Triggers Alpha Competition for Glock Gen 3-4 trigger is compatible with large-frame Glocks like the G20, G29, G30, G38, G41, and G21 (among others). This is a drop-in style Glock trigger that replaces the following components:
Trigger bar
Sear
Sear spring
Receiver housing
Sear housing pin
Housing screw
Trigger pin
Safety blade
Safety blade spring
Trigger spring
Trigger housing
Trigger set screw
No, the trigger doesn't come with all those tiny pieces loose, it arrives pre-assembled. There will be some assembly required to remove and replace the original trigger, but it's not complex. The TimneyTriggers Alpha Competition trigger gives you a beautifully smooth trigger pull with a glass-rod crisp break. This trigger is set by Timney for a three-pound trigger pull weight, and it delivers. The trigger bar and sear are Teflon nickel coated and the straight aluminum trigger has an anodized safety blade. Want a Glock trigger that wows you right from the start? Then you want the Timney Triggers Alpha Competition trigger.
Best 9mm Glock trigger: Agency Arms Syndicate Trigger for Gen 5
It's true that Glock improved their trigger game when they came out with Gen 5 but also accurate to say that it still doesn't quite do what some shooters want. If you're among those with a 9mm Gen 5 Glock who want a better edge for trigger use, you should be checking out the Agency Arms Syndicate Trigger.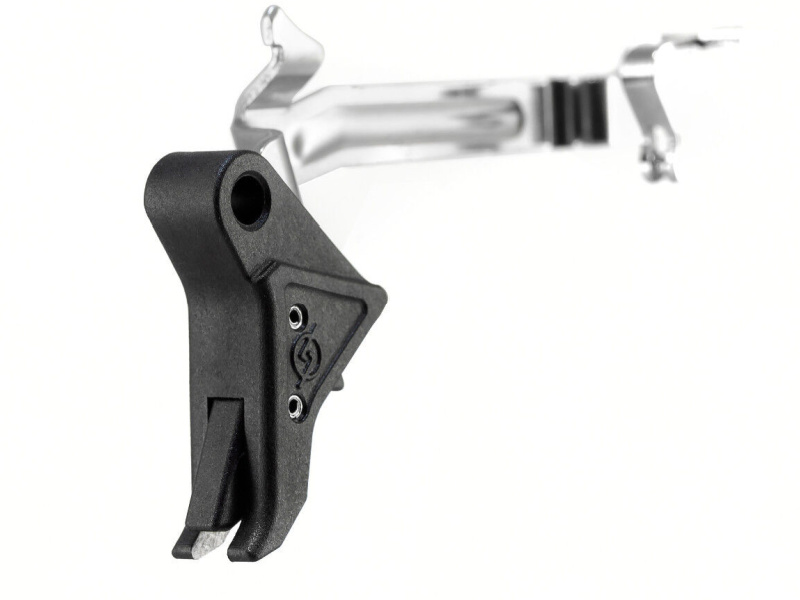 The Agency Arms Syndicate Trigger for Gen 5 Glocks is designed for a significantly better performance than OEM Glock triggers. It has a polymer shoe, which many shooters prefer, and is made for a smooth pull, clean break, and short, crisp reset. The trigger bar is polished. This trigger is only compatible with Gen 5 9mm Glocks, so if you want one for a different generation you'll have to check out the rest of the Agency Arms family of triggers. It's offered in flat black and doesn't lighten the pull weight, it simply enhances the feel, and that means you get tighter groups on target and less finger fatigue during lengthy live fire sessions.
If you aren't ready to take the leap into the high-priced aftermarket Glock trigger world but do want something better than factory, Agency Arms Syndicate is a good place to start. You might even discover that the improvements this trigger offers are enough on their own. Step into the world of aftermarket Glock triggers with Agency Arms.
Best Gen 1 compatible Glock trigger: Zev Fulcrum Adjustable Trigger Ultimate Kit, Gen 1-4, 9mm
Yes, there are Gen 1 Glocks still being used, and Gen 2s as well. Those can be some of the toughest gens of Glock to fit with aftermarket triggers, but fortunately, there's Zev Technologies. This is a complete Glock trigger kit that's compatible with the first four gens of Glock, but we like it best for those first two gens. Make a note that this is a highly adjustable trigger and the makers themselves recommend it for only competition use.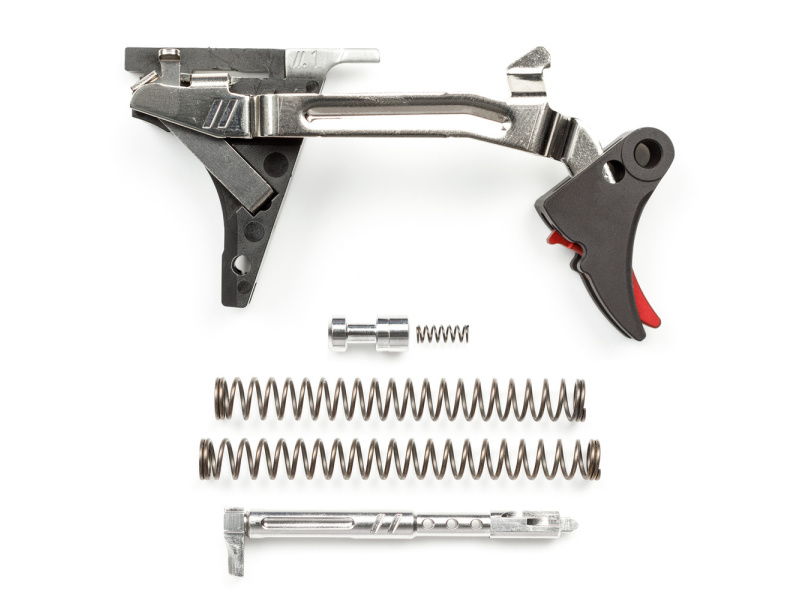 The Zev Fulcrum kit includes parts like the trigger, trigger bar, ejector housing, connector, trigger spring, and firing pin safety. Basically, it has everything you need to totally overhaul your factory Glock, plus it gives you your choice of two different striker springs (two-pound and three-pound). This trigger has an adjustable pull weight that goes as low as three pounds. Features include a wider trigger face and safety for greater finger engagement and a crisp, tactile re-set.
It's going to take you a little longer to install this trigger kit, but the results are well worth it. Those results increase exponentially when you're talking about replacing a Gen 1 or Gen 2 Glock trigger. Remember, greater trigger control translates to improved hits on target. This Zev Fulcrum kit delivers and is worth the investment of time required to learn how to install the various parts.
Best 10mm Glock Trigger: Glock Store Ultimate Gen2 Flat Face Pyramid Trigger for 10mm
The model name for this one's a bit of a mouthful, but it's a popular trigger among 10mm Glock fans. This is another trigger kit that comes with all manner of components and options, and that's a good thing if you're particular about your Glock trigger.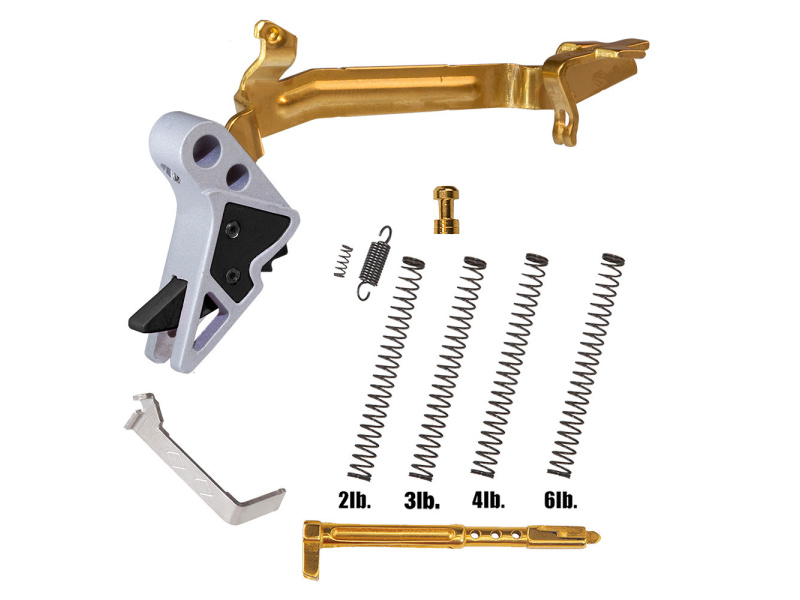 This Pyramid trigger includes:
Gold trigger bar coated with titanium nitride
2-pound spring
3-pound spring
4-pound spring
6-pound spring
Skeletonized striker with extended firing pin
Titanium safety plunger with rounded shoulders
Double Diamond 3.5-pound connector
This is an incredibly customizable trigger kit. According to the Glock Store, there are 216 possible color combinations for this kit. This includes your choice of trigger, insert, and safety color combinations based on their color selection of black, blue, gold, pink, red, and silver. Possible trigger pull weights range between 2.5 pounds and 6 pounds depending on the parts used. The final trigger pull weight is reached after a break-in period.
10mm Glocks need love, too, and your Gen 1-3 10mm can take a leap forward with this Pyramid trigger. This trigger has a flat profile for improved contact with the trigger's surface, which translates to greater control and accuracy on target. Pre-travel and over-travel are set at the factory to be shorter and crisper than what you find on an OEM Glock trigger. Getting greater trigger control with a 10mm is a fantastic way to up your game whether you're shooting targets or using it for hunting.
Best flashy flat-faced Glock trigger: Tyrant CNC I.T.T.S. Glock Gen 3-4 Compatible Trigger
It just wouldn't be a "Best Glock Trigger" list without including Tyrant CNC. This is a company that produces some nice triggers, often with a bit of flare. The I.T.T.S. Glock Gen 3-4 Compatible Trigger is one such trigger with its 24-karat gold-plated stainless steel trigger safety blade and screws (yes, you can get it without the flash of gold if you so prefer). This trigger is compatible with a variety of models including the G17, G19, G22, G23, G26, and G34. It's offered as the trigger only or with the trigger bar as well.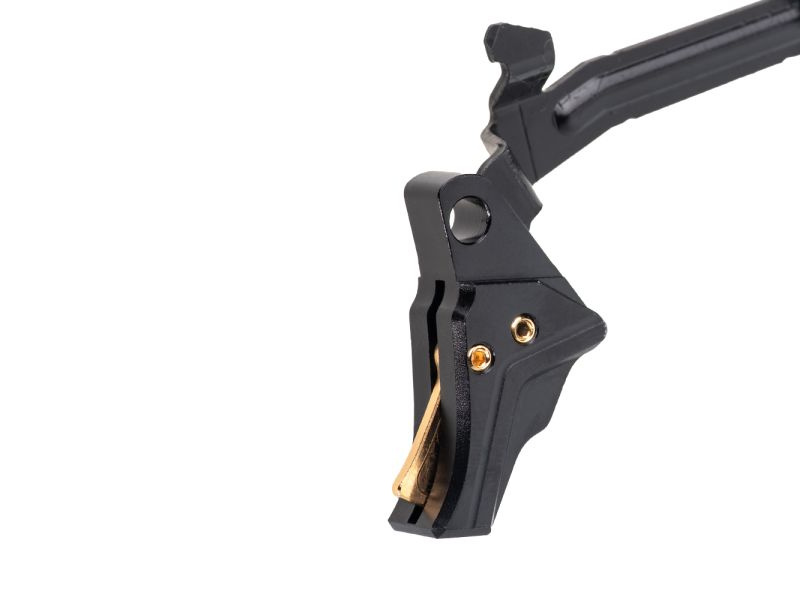 The Tyrant CNC I.T.T.S. trigger offers numerous features to recommend it as more than just a pretty (trigger) face. It has a 30 percent power spring for rapid re-set which allows significantly faster follow-up shots, making rapid fire easier to accomplish. The company describes the re-set as"aggressive" which is fairly accurate. Tyrant says this model has neither a curved nor a flat face but is, instead, the idealcombination of the two styles. That also means the trigger is a bit taller like a curved trigger would be, which makes it a far better fit for larger hands.
Perhaps the most unique feature of the I.T.T.S. trigger is the use of set screws rather than pins. Tyrant CNC says the use of set screws provides greater durability and rigidity along with an overall improved performance, and considering how well this trigger performs, that just might be the reason. This trigger is available in a variety of color combinations and is relatively easy to install.
Bottom line: Is it hard to swap your Glock trigger out?
Changing out the trigger on your Glock is surprisingly simple once you understand the process. As a general rule, you're not going to need a gunsmith, although you might benefit from a good how-to video. Most aftermarket trigger manufacturers offer detailed installation videos and FAQs which makes things easier on your end.
Take your time, read through the steps, and find videos meant for your specific trigger as needed. You might be pleasantly surprised just how easy it is. Who knows, you could be motivated to learn more about customizing and working on your guns for yourself. But first, change out that factory trigger with one from this list. You won't be disappointed.