The High Power MCP35 PI Light Weight (LW) is the result of a joint effort by EAA Corp and Girsan. It is, as the name indicates, a lightweight handgun based on the classic Browning Hi-Power design. Intended for concealed carry purposes, it is available in four variations.
At 1.34 pounds it is nearly a half pound lighter than its Girsan High Power predecessor; this is largely the result of its aluminum alloy frame, though the G10 grips also help keep the weight off. There are two versions of handgun, OPS, and Match. Each ach of those is further available in either an all-black or two-tone Tungsten frame.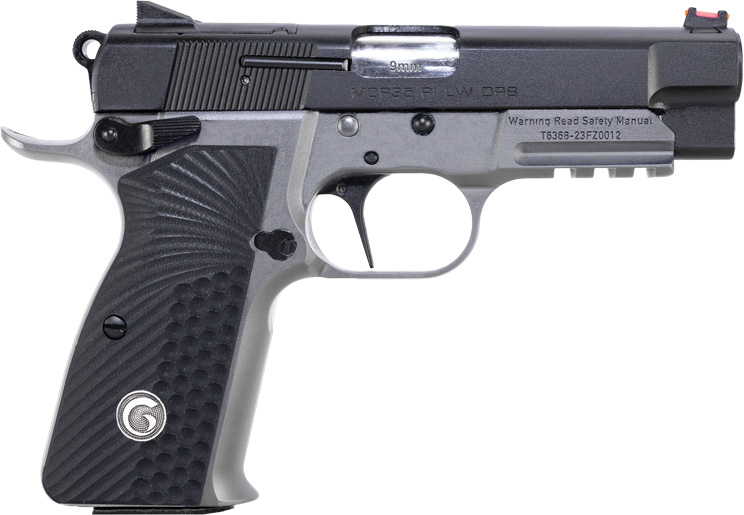 Among its key features are ambidextrous safeties, an extended beavertail, a straight trigger, and fiber optic front sight. Crucially for many who worry about the original Browning Hi-Power's (BHP) greatest perceived drawback, the MCP35 PI LW does not have a magazine disconnect. It also sports an optic-ready slide that utilizes the RMS/RMSc footprint.
Pistols of the OPS model also have an accessory rail for weapon-mounted lights, lasers, laser-light combos, and the like. Pistols of the Match model have a more traditional BHP geometry.
Girsan High Power MCP35 PI LW Attributes
The following specs and features have been provided by the manufacturer.
Chambered in 9x19mm
Barrel length 3.88″
Overall length 7.5″
Wight 1.34 lbs
Capacity 15+1
Fiber Optic Front Sight/ Optic Ready
Lightweight Aluminum Frame
Accessory Rail
Flat Smooth Trigger


Safariland is working toward the most appropriate fit for this short-barrel firearm. In the meantime, check out these Hi-Power holsters from Bianchi.
Learn more about the pistol on the EAA website.