The Digital Reflex Sight Night Vision optic (Holosun DRS-NV) is now available. First revealed at SHOT Show 2023, the DRS-NV is exactly what it sounds like: it's a red dot sight (RDS)/night vision device (NVD) in one package.
To say it and its DRS-TH counterpart created a stir when it was announced would be a gross understatement.
Holosun DRS-NV
The DRS-NV model utilizes an LED multi-reticle system to project either a 2 MOA or 65 MOA digital circle. These can be optimized for use in various lighting or environmental conditions with one of eight (8) daylight or four (4) night vision brightness settings. It is equipped with an OLED digital night vision sensor with a 1024×768 resolution and can zoom out from 1x to 2x, 4x, or 8x.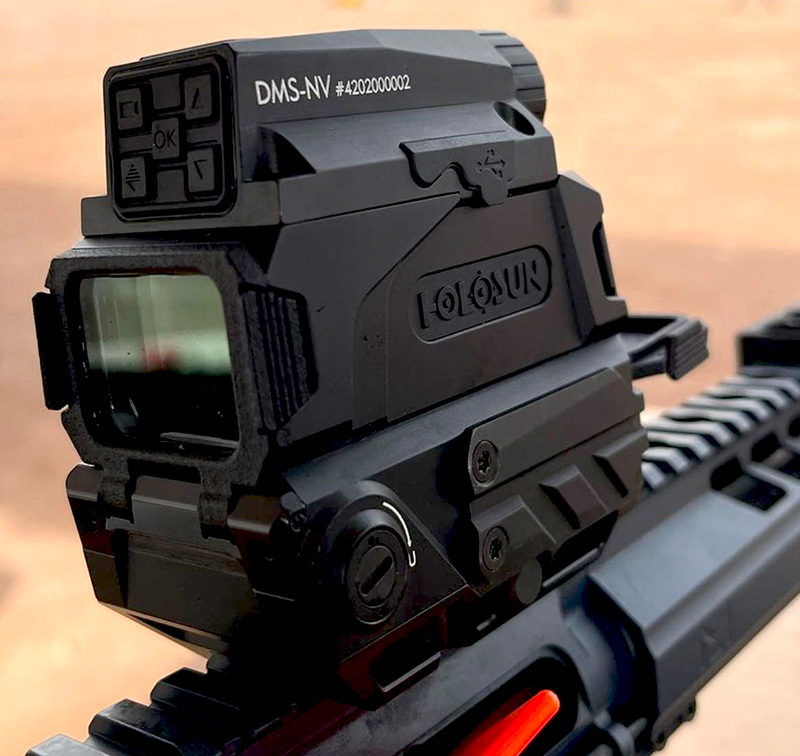 If recording is necessary, the DRS-NV has onboard imaging capability. It can take video up to 60fps or still images and store them on board. Power to do so is provided by two rechargeable 18350 lithium batteries. The batteries will last up to six hours on a single charge and can be recharged via a (provided) 5V Type-C USB cable. This can also be used to download stored videos and images.
As with its more typical RDS predecessors, the DRS-NV utilizes Holosun's "Shake Awake" technology. This automatically turns on the LED emitter when any movement is detected and similarly shuts down the optic once it becomes motionless.
Holosun Digital Night Vision Optic
The DRS-NV boasts the following attributes.
7075-T6 aluminum housing
Corrosion-resistant anodized finish
Corrosion-resistant anodized finish
Mil-Spec 1913 Picatinny rail mount
1024×768 OLED digital night vision sensor
1x, 2x, 4x, and 8x digital zoom
Shake Awake technology
LED Multi-Reticle System
8 daylight and 4 night vision brightness settings
2 rechargeable 18350 lithium batteries (included)
IP67 waterproof