Popular Competitions
In recent years, competitive shooting has advanced to a whole new level, like so much of our equipment. With more competition options than ever before, action-style shooting allows you to put your skills to the test and learn some new ones.
Many competitive shooting organizations, including USPSA/IPSC/STEEL CHALLENGE, IDPA, and MULTIGUN/3GUN/OUTLAW (in its various forms), offer multiple competitions such as USPSA Multi-gun, Outlaw style matches, and the Tactical Games. These represent the most recognized organizations and use a blend of similar equipment depending on your weapon choice and setup, or division.
The 1911 Pistol is a popular firearm used in competition shooting. Safariland makes a number of holsters that fit the various 1911 models and styles. Learn more →
Start of Action Shooting Sports tab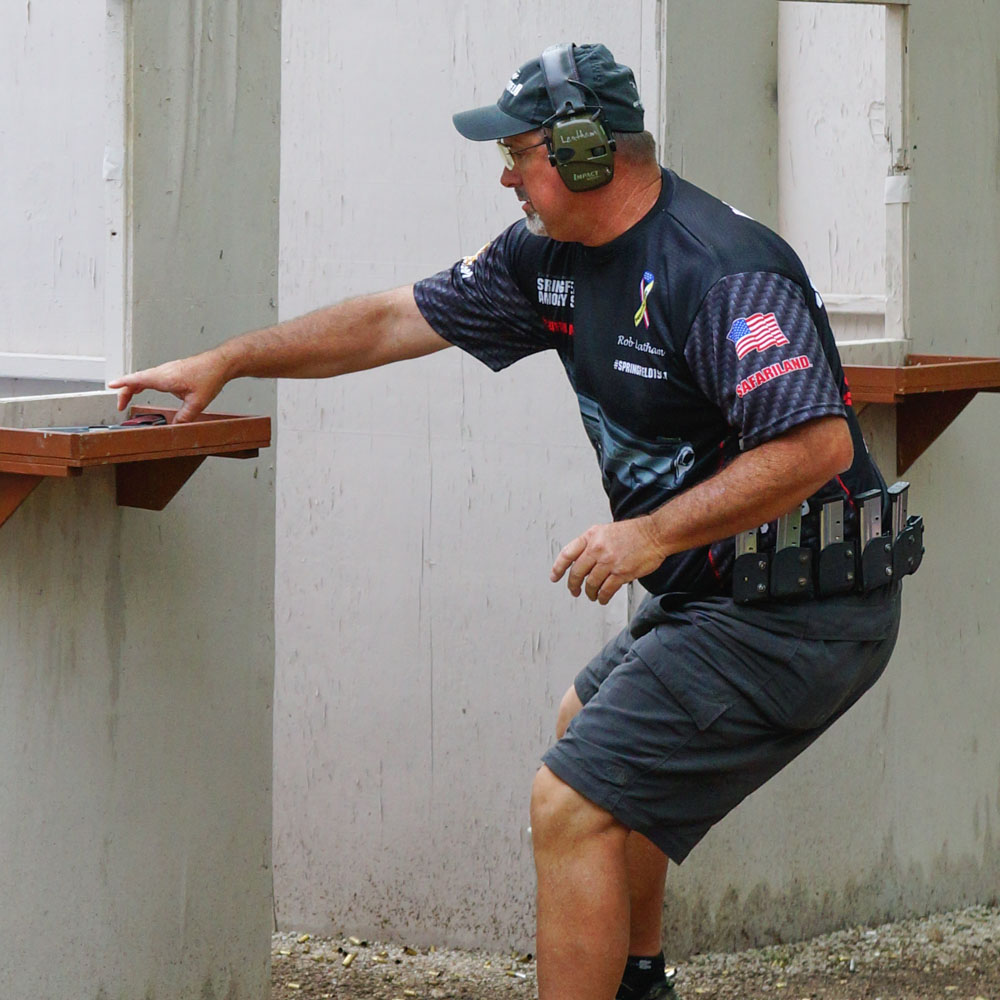 Action Shooting Sports
Action shooting is a style of shooting sports that strives to break the limitations of typical box range static shooting and add elements applicable in real life. This is accomplished by placing the shooter under stress with physical and mental challenges while demanding a high degree of speed and accuracy. These competitive matches are available from various organizations, each with its own view, rules, and equipment requirements. Most shoot both static and moving targets, as well as fixed and falling steel. Most courses of fire require the shooter to demonstrate proficiency with their firearm in various types of actions and situations simulating real-life scenarios. These include moving through barricades, off-balance positional shooting, and even manipulating objects while engaging targets. You name the challenge, and you'll probably find it in action shooting sports.
USPSA: United States Practical Shooting Association / IPSC
PISTOL/REVOLVER
MULTIGUN
PCC
USPSA/IPSC (have similar but slight variations due to USA weapon configurations vs. IPSC international weapon allowances).
The 032 ELS belt is the belt of choice for most all of USPSA, paired with the 030 underbelt, it's a solid platform for drawing and fastening equipment. Most competitors love the ease of equipment setup and changes using the ELS Kit (Equipment Locking System) on the 032 belts. This combination gives shooters the chance to change out pouches for any other divisions or new weapon options. The QLS kits (Quick Locking System) are not to be forgotten, allowing shooters to change out their holsters quickly, and is a must-have for any competition gear rig.
This division uses the most expensive and advanced handguns: 2011 style pistols with compensators and optics (both slide-mounted and frame-mounted) with larger magazine capacity. For these pistols, most shooters will use the Model 015 Competition Holster. Or for other firearm makes the Model 5198 is a great choice working with many types of handguns and compatible with slide-mounted optics.
Uses similar 2011 style guns or comparable weapons from other manufacturers, with NO optics and NO compensators allowed, and the magazine length allowed is dimensionally shorter.  Typically, most competitors in this division will use a speed holster like the Model 015 or the  Model 5198 type models.
Production class was designed for new shooters or those not wanting to put the financial resources into more expensive guns and gear required for the above divisions. Considered more practical by many, it is a place to compete on equal ground with other competitors shooting the same equipment. Production class is for out-of-the-box standard duty/carry guns, like Glock, Beretta, Sig, etc. There are limitations on modifications to the weapon. (no optics, compensators, or barrel weights). Most of the time, production class shooters will use holsters like the Model 5198, GLS Pro-Fit models, or  Model 6378/7378 ALS open top holsters. These typically are the same basic holsters you would see in OWB concealed carry style though there are restrictions on setup and placement for equipment. All equipment must be worn behind the hips, and the holster must be a practical, non-race style such as those intended for daily wear. Production Class limits magazines to 10 rounds as well.
Single stack division was created for the classic 1911 single column pistols with traditional magazines, eight rounds for 45, and ten rounds for 9mm (scoring penalties for those shooting minor caliber). Equipment rules are similar to Production Division. All equipment must be worn behind the hips, and the holster must be a practical, non-race style, such as those intended for daily wear. Like the Model 5198, GLS Pro-Fit models, or Model 6378/737 ALS open top holsters.
L-10 is similar to Limited division (no optics or compensators); the primary limitation is only ten rounds per magazine are allowed. This was primarily developed around legal magazine restrictions on hi-cap mags. The typical competitor will use either a wide body or single stack 1911 style pistol. Equipment used in the Limited division is also popular in L-10, you will see Model 015 or Model 5198 style model holsters in this division., but production style holsters will be represented.
Carry Optics is currently the hottest division in USPSA. Built around the optic-ready out-of-the-box guns to compete in an "Open-Lite" weapon setup. These are standard MFG production class guns utilizing slide-mounted optics (no compensators or mag wells allowed). Optics must be slide-mounted (no frame mounting) and typically all running 9mm minor. There are restrictions on weight and maximum magazine length, but some mods are allowed. Holsters are non-race style, such as those intended for daily wear, drop offset holster mounts are allowed, and the holster must cover the slide up to ½" below the ejection port. So that means holsters like the like the Model 5198, Model 578 GLS models, and other lowered top holsters that would allow optics as an OWB everyday carry holster option.
Pistol Caliber Carbine is also another popular division. Competitors use only the PCC for the match, just needing to use a belt and magazine pouches. The 032 ELS belt is the belt of choice for most all of USPSA, paired with the 030 underbelt for a solid platform. The 774 Mag pouches available for popular PCC rifles utilize the ELS Kit to make these a winning combination.
Steel Challenge is a speed shooting match consisting of eight standardized stages comprised of different sizes of steel targets. Competitors shoot each stage for speed and are scored solely by shot time. Each steel challenge stage is shot in 5 runs by each shooter, dropping the slowest run, and the total time is added for the score.
Steel Challenge is operated by USPSA, so the gear is generally mirrored by the divisions found within the organization – Open, Limited, Production, Carry Optics, and Single Stack. Most competitors tend to use the same equipment and with the draw to first shot speed being such a crucial part of performing well in this match, most competitors opt for holsters that will give them the quickest draw times (see above for popular options per division).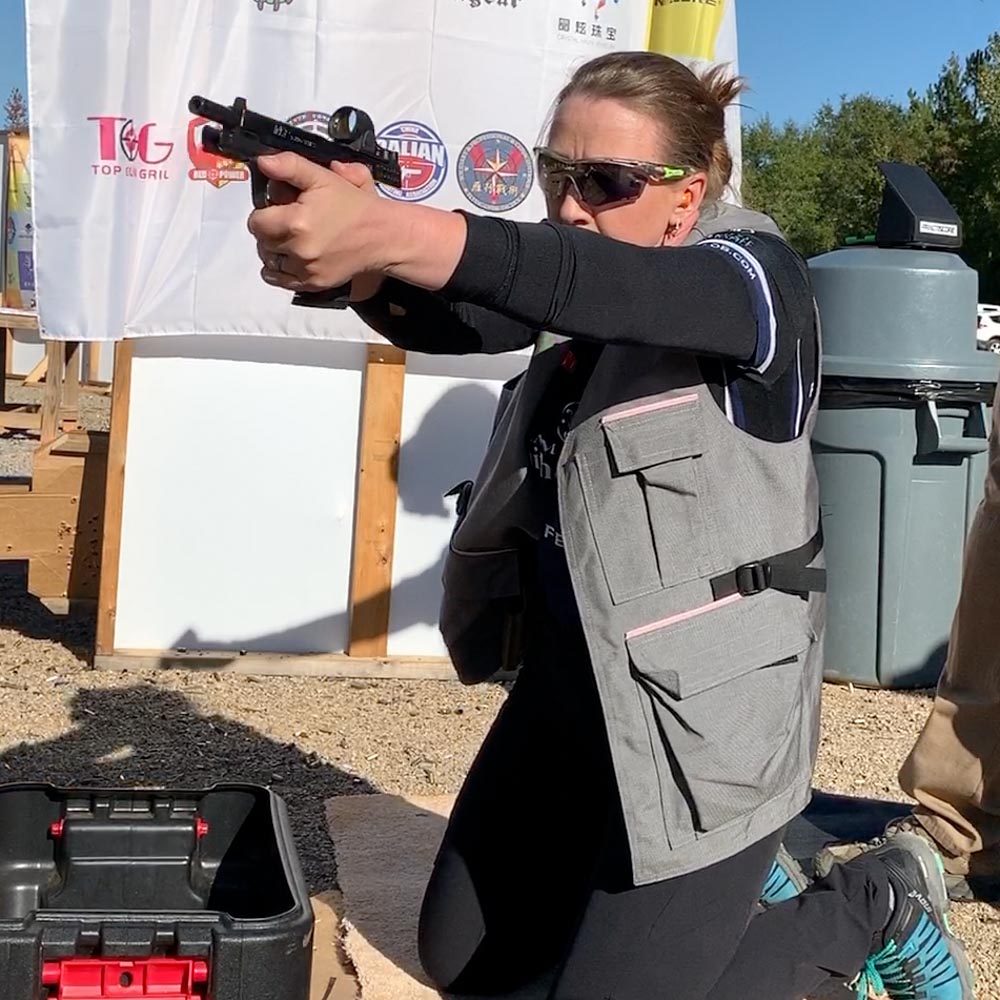 IDPA (International Defensive Pistol Association)
IDPA (International Defensive Pistol Association) is a Practical Competitive Shooting focused on defensive tactics with everyday carry gear.
IDPA is a sport centered around concealed carry concepts working from cover with a concealment mindset. Each match represents their idea of simulated self-defense scenarios, often drawn from potential real-life encounters. There are multiple divisions available, but they are considered for more stock-oriented gun types, not allowing for compensators, weapon lights, or frame-mounted optics.
Holster philosophy is strong-side hip holsters (OWB) which cover the trigger guard with no cut-aways, drop or offset (there is some allowance for female shooters). Holsters must be practical for all-day concealed-carry use, no competition open style holsters like the Model 015 Holsters.
Popular holster models will be Model 5198, Model 578 GLS Pro-Fit, Model 547 PRD™ OPEN TOP, Model 6378/7378 ALS open top holsters, as well as some of the Bianchi style CCW holsters like Model 82 CarryLok, and Model 126GLS Assent.
IDPA also has BUG gun matches, which work on skills when deploying a back-up gun. These may be ankle holsters or other IWB styles using small semi-auto pistols or carry-type revolvers. These can often be determined by the match director on what styles are appropriate for their range safety requirements. Some competitors use the same models as for standard matches. Others will try their BUG guns in holster models like the Model 575 IWB GLS Pro-Fit, Model 27, Model 17, Model 18, and Model 135 Suppression. These are popular choices considered practical to actual carry and will also work with most Optic Ready Micro Carry Guns. Another option you might see is the Model 150 Negotiator Ankle holster, a long-time choice for back carry for LEO and detectives.
PCC: Pistol Caliber Carbine is also another competition division option available in IDPA matches which is similar to what is seen in the USPSA PCC, requiring only the use of a belt and magazine pouches. The 032 ELS belt is the belt of choice for most all of USPSA, paired with the 030 underbelt for a solid platform. The 774 Mag pouches available for popular PCC rifles utilize the ELS Kit to make these a winning combination.
Start of 3-Gun and 2-Gun Style Matches tab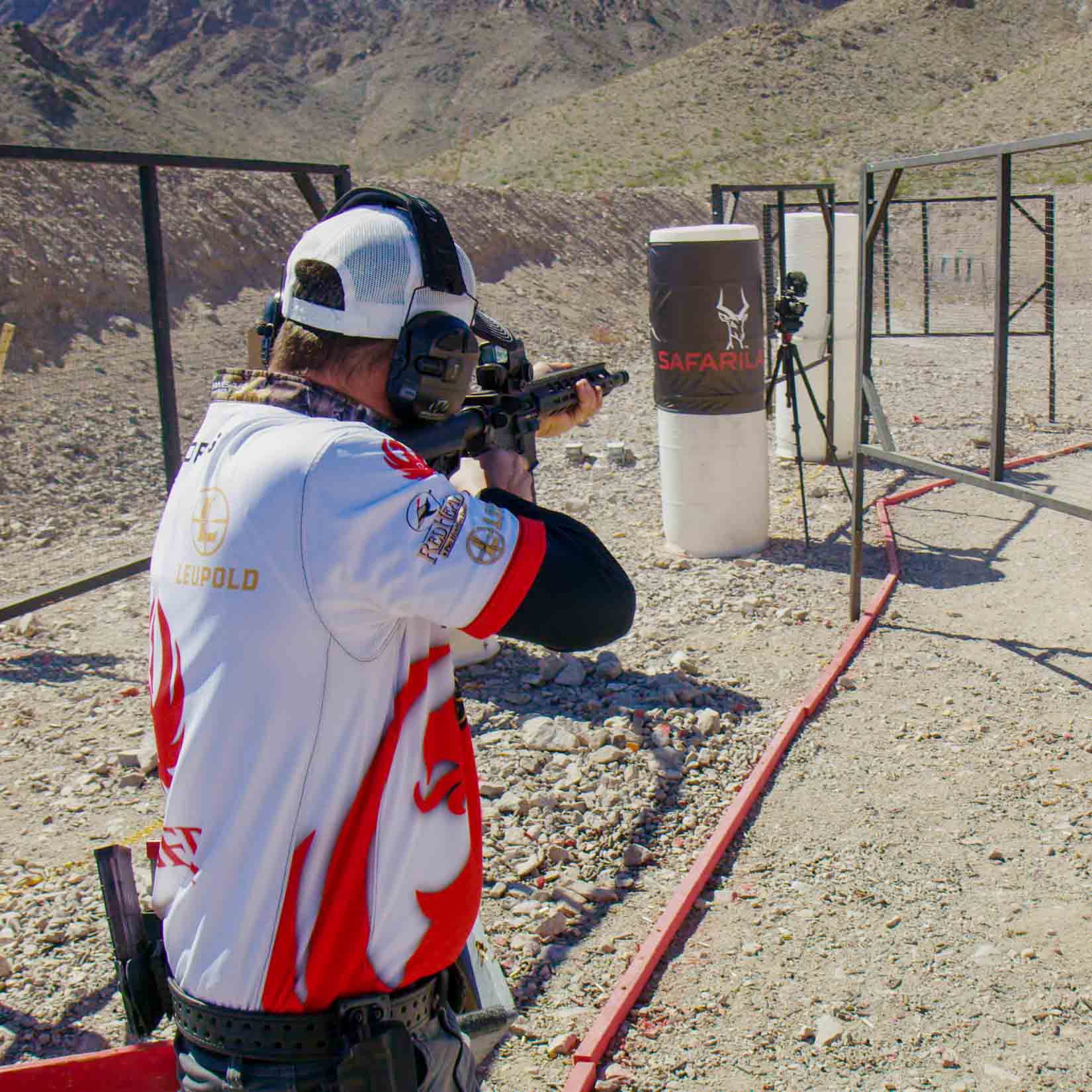 3-Gun and 2-Gun Style Matches
USPSA MULTIGUN/3 GUN SUMATION
Multigun is a competition from the parent organization USPSA. This match utilizes much of the same equipment as found in USPSA and IDPA for pistols. Most competitors employ the ELS (Equipment Locking System) to a greater degree, allowing for the quick movement and positioning of Model 774 rifle pouches and Model 085/086 shotgun holders, giving them great versatility and competitive advantage when setting up for stage-specific needs.
The Tactical Games
The Tactical Games and Outlaw Tactical Style 2 & 3-Gun Matches use gear similar to Multigun/3 Gun but generally bend far more towards real-world equipment utilized by Military and SWAT customers. These matches may have very heavy physical endurance tests and requirements all done while maintaining control of your weapon systems under time and accuracy requirements. Weapon retention is a must in these matches. The Tactical Games have grown in popularity for the Tactical Athlete, who not only wants to test their shooting skills but push their bodies to the limit while doing it. As with all competitive matches, there are different divisions and options available. Common gear for the Tactical Games may include retention style holsters like Model 7390 or Model 6390 ALS belt-mounted holsters, or even Level 3 versions can be seen on the field like Model 7360 or Model 6360 models. Similar models available in a tactical thigh rig and carry optic compatible holsters may be used as well. Belt choices may range from the Model 032 ELS belt with Model 030 underbelt to even more battle belt styles like Model 4331 or Model 4333 MOLLE belts. There are as many options for setups as there are variations in the competitors themselves.
A growing group of what we call outlaw tactical matches (which are not part of any major organizations) has taken on huge popularity in recent years. These matches are usually more tactically oriented using battle belt setups like the Model 4331 or Model 4333 MOLLE belts, some using "Full Kit Wear," which includes armor or vest, belt, and holster assembly, IFAK, helmets, and more. The 2Gun/3Gun options require more equipment, usually set up to work with military-style/tactically grounded gear. This is also popular with many of our LEO /SWAT officers as well, using their duty equipment for training.
The use of Carry Optic-style weapons with slide-mounted optics and weapon lights are predominately seen on the field at these matches. Typically, these include Sig/Glock/M&P and STI firearms with slide-mounted optics and weapon lights. The 2011 with iron sights, or Sig 320 X5 and similar models are most common. Many competitors use tactical thigh rigs with RDS style holsters in wrapped configurations (6354DO, 6384RDS, 6378USN, 7390, etc.). Due to the physical requirements to manipulate obstacles and utilize rifles and handguns, shooters typically run each stage with a loaded holstered weapon. Because of this, an active holster retention is a must. The ALS system is a very popular choice, as are the QLS and ELS systems. The versatility they can offer is a big part of the gear setup, allowing shooters to quickly adapt their equipment to the changing challenges they may face on the field at a competition or on the job.