about the Equipment Locking System (ELS)
The ELS Kit provides a mounting platform for 2-hole pattern/bolt-on accessories to be placed in various locations, including belt clips, tactical rigs, or directly in MOLLE loops (with the addition of an MLS Locking Fork). The kit is popular with competitive shooters and military operators. In competition, users have the ability to switch out the type, or fit of the mag pouches that are used in different disciplines. The kits are also gaining a new appreciation with duty officers, who use them on leg shrouds to swap out OC pouches and extra mag pouches.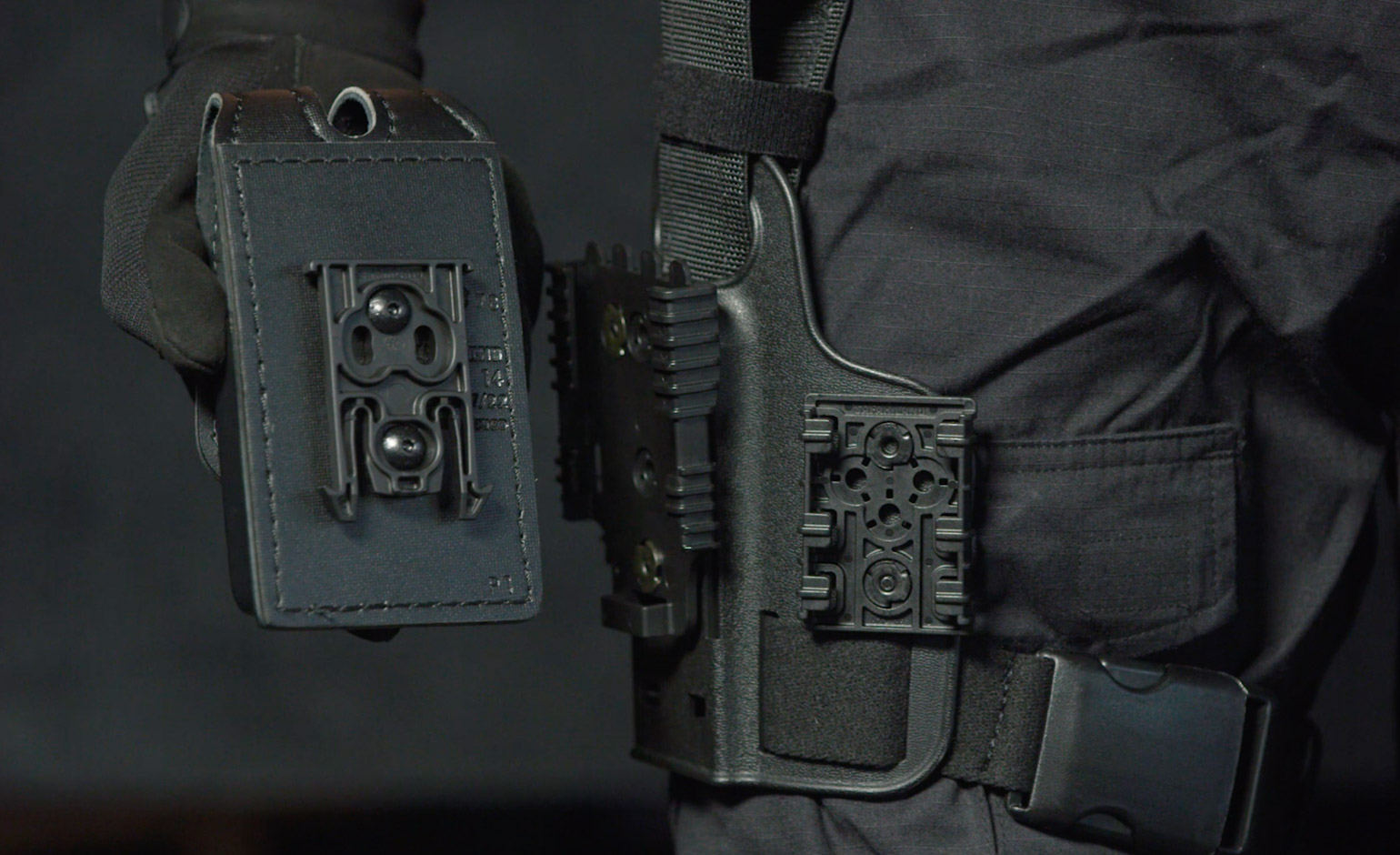 HOW TO SET UP THE ELS
step 1 – Installing the Receiver Plate
There are multiple holes for attachment so the ELS kit can be used for a variety of applications, and configured at a preferred angle or position. To install the ELS 35 Receiver Plate on a belt, belt loop or leg shroud, line up two of the holes at a preferred angle and secure the plate with the T-nuts and button screws provided.
Step 2 – installing the Locking Fork
To install the ELS 34 Locking Fork, place the fork over the accessory and align two holes. Secure the accessory with the screws provided.
Step 3 – Locking the fork into the receiver plate
Once the two parts are installed, the ELS 34 Locking Fork can be inserted into the ELS 35 Receiver Plate, and it will lock into place with a click. To remove, simply squeeze the fork to slide it out from the plate.
ordering the els
The ELS system is comprised of two parts, the ELS 34 Locking Fork and the ELS 35 Receiver Plate. The ELS 34 Locking Fork attaches to any 2-hole pattern/bolt-on accessory. The ELS 35 Receiver Plate can be bolted onto leg shrouds, the 744BL belt clip and the Safariland Model 032 ELS Competition Belt, which features two pre-cut holes running the full length of the belt. The top and bottom holes of the 032 ELS Competition Belt are offset, so you can attach accessories at different angles and heights.
The ELS is available to order in a number of options:
Equipment Locking System Kit: Includes two (2) ELS 34 Locking Forks and two (2) ELS 35 Receiver Plates
ELS 34: Locking Fork only, sold in a set of two (2)
ELS 35: Receiver Plate only, sold in a set of two (2)