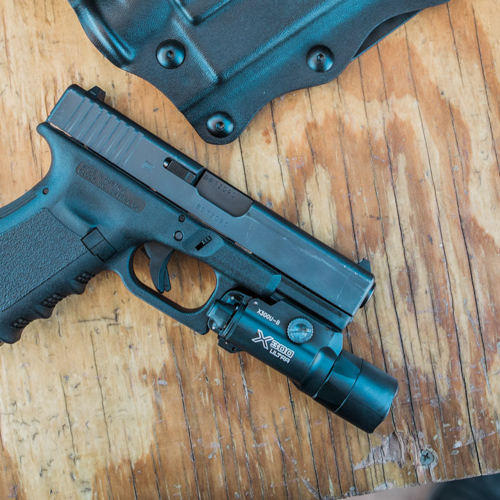 RAILS
Rail systems on firearms provide a mounting platform for firearm accessories like lights and lasers. Rails come in different lengths, from full railed, ¾ railed, and 1913 Picatinny rail cuts. Rarely, the rail will be used as an attachment point for a scope.
Many EDC guns have lasers attached to the trigger guard or rail beneath the frame. Lasers can be an effective aiming device and can cut down time-to-target. They can also interfere with retention systems and holster fit. Be sure to check for compatibility with make and model designations. Learn more about lasers and sighting systems →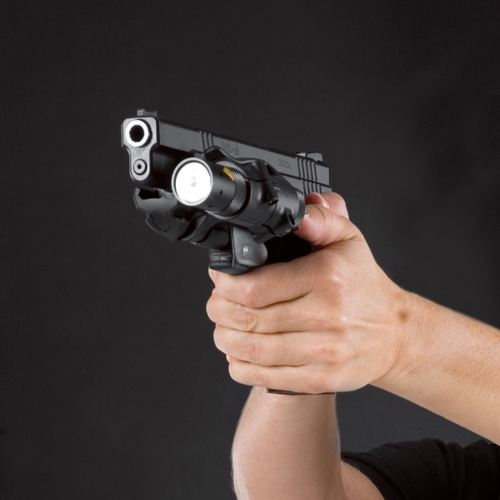 lights
For law enforcement officers, lights are usually chosen by the agency and are part of the uniform code.
Safariland was one of the first holster manufacturers to offer holsters that fit light-bearing firearms. The Holster Finder will help you determine which holsters will fit your firearm and light combination. New holster fits are constantly being added, and it's an ongoing process continuously updating our product guides and website. Please contact us for more support.
In most cases, having a light attached to the gun is not critical to the holster's retention. For example, in ALS light-compatible holsters, Safariland retention standards will apply whether the light is attached or not. This means that you can utilize the holster and gun without the light attached, and the holster will still provide the life-saving retention that Safariland is known for. See the will fit charts for specifics on which light models are available, and for those holsters that have retention with or without the light.
lights compatibility related to saf holster models
For firearms running Weapon Mounted Lights (WML) there are often questions on the different options for holsters. There is a commonality with some light sizes, and these will typically be grouped together and fit within the same holster. Safariland holsters include the WML information as part of the fit code (center code). The most common fit will be for full-sized light holsters, the fit code for these holsters will end with a "2". An example would be a 7360-2192-411, the firearm fit is for the S&W M&P 4.25", the WML options are TLR-1/HL, X300/U/V, TWM-350, TWM-350S, TWM-850/S, O-Light PL-2, or PL-Pro Valkyrie models. Since all of these lights are similar in size, they are grouped into a single fit code and will work in the same holster.
Safariland marks its holsters with the firearm and WML information on the back of each holster. Even though multiple firearms or lights may fit into a single holster only the most common firearm and light are listed. For full-sized light holsters, the X300 is often the only light information on the back, this does not mean your TLR-1HL will not fit, it is considered part of the light group for that fit option so it is not listed.
The will fit guides have a full listing on light combinations and their fit in relation to firearm models, as well as which models require the light to remain attached for retention purposes.
Here are the most common WML designations, these will be found at the end of the fit code. This is not an inclusive list of all the WML options available – that information can be found in the Will Fit Charts or Holster Finder for your specific firearm/light combination. There are some additional variations depending on specific firearm and light combinations.
2 — Inforce APL, Nightstick TWM-350, TWM-350S, TWM-850, TWM-850S, ITI M3, O-Light PL-2, or PL-Pro Valkyrie, Streamlight, TLR- 1, TLR-1HL, Surefire X200, X300, or X300U
21 – M3, M6, M3 LED IT Tactical Illuminator Light, Streamlight TLR-1, TLR-2, or Insight XTI Procyon
17 – DBAL light
14 – X400, X400U, or X400V Light
12 – Insight Technology Streamlight M3X /M6X
01 – Surefire X300, or X300U with Pressure Switch (DG Switch) NOTE: Retention is reduced by removal of light
27 – Streamlight TLR-7, Surefire XC-1, XC-2, Nightstick TCM 550XL, or Inforce APLc
18 – TLR-6 & Crimson Trace Laser Guard Pro (CT only in the S&W M&P Shield model)