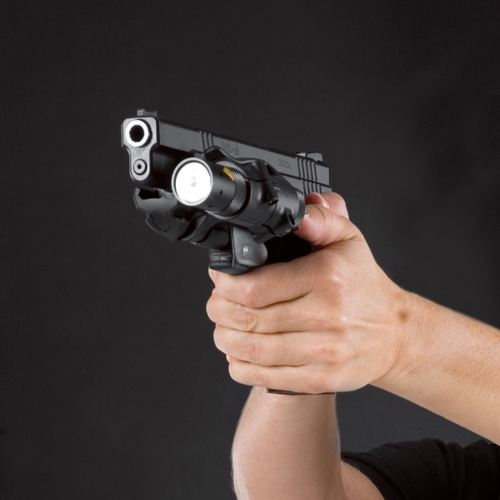 lights
For law enforcement officers, lights are usually chosen by the agency and are part of the uniform code.
Safariland was one of the first holster manufacturers to offer holsters that fit light-bearing firearms. The Holster Finder will help you determine which holsters will fit your firearm and light combination. New holster fits are constantly being added, and it's an ongoing process continuously updating our product guides and website. Please contact us for more support.
In most cases, having a light attached to the gun is not critical to the holster's retention. For example, in ALS light-compatible holsters, Safariland retention standards will apply whether the light is attached or not. This means that you can utilize the holster and gun without the light attached, and the holster will still provide the life-saving retention that Safariland is known for. See the will fit charts for specifics on which light models are available, and for those holsters that have retention with or without the light.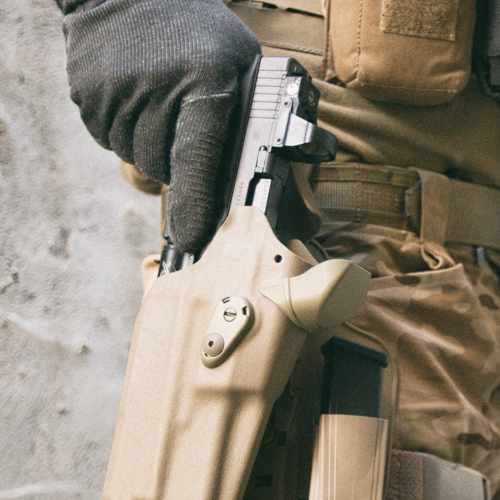 OPTICS
There are three sighting systems available for handguns. The first are traditional iron sights and just about every gun will have them, even if it has other types. The second sighting system is lasers or light laser combos. Lasers are a part of the military, law enforcement and civilian markets, and they generally work within the light fit on the bottom of the handgun frame (or accessory rail).
The third optics sighting system choice is the slide-mounted optic, also known as red dot sights (RDS). The Safariland RDS holster line is specifically designed for slide mounted optics on handguns. Almost all of the RDS holsters accommodate a light and optics.
There are also some holster lines like the GLS and the 5197 holsters which are open at the top end, and make it possible to add any type of RDS optic.
Red dot optics can be mounted on top of the pistol slide using a mounting plate or a slide cut. The mounting plate is installed in place of the rear sight, and the optic directly mounted to the plate. Alternatively, cuts can be machined into the slide itself, and and the optics mount directly to the slide often in front of the rear iron sights.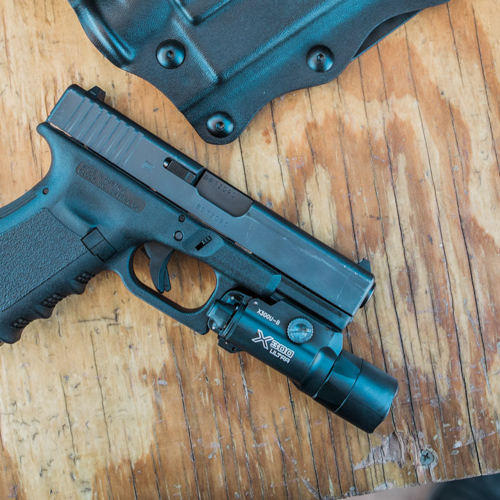 RAILS
Rail systems on firearms provide a mounting platform for firearm accessories like lights and lasers. Rails come in different lengths, from full railed, ¾ railed, and 1913 Picatinny rail cuts. Rarely, the rail will be used as an attachment point for a scope.