If you're a SIG P365 enthusiast looking for a versatile and user-friendly grip module, the S365 by Smith Defense might be just right. This aftermarket grip module offers flexibility to easily customize your handgun setup. With it, you can switch your handgun setup between P365, P365X, P365XL, or P365L, and the company says it integrates seamlessly with the SIG Sauer P365 Fire Control Unit (FCU) with a straightforward and uncomplicated drop-in fit.
S365 / SIG P365 Grip Module
The patent-pending S365 grip module is CNC machined from a solid block of billet aluminum for strength and rigidity. Smith Defense says, "Ergonomically, the module is crafted to enhance grip and control." They go on to describe it as a "…solid option for those looking to enhance their SIG Sauer P365 [with] a balance of aesthetics, customization, and functional improvements."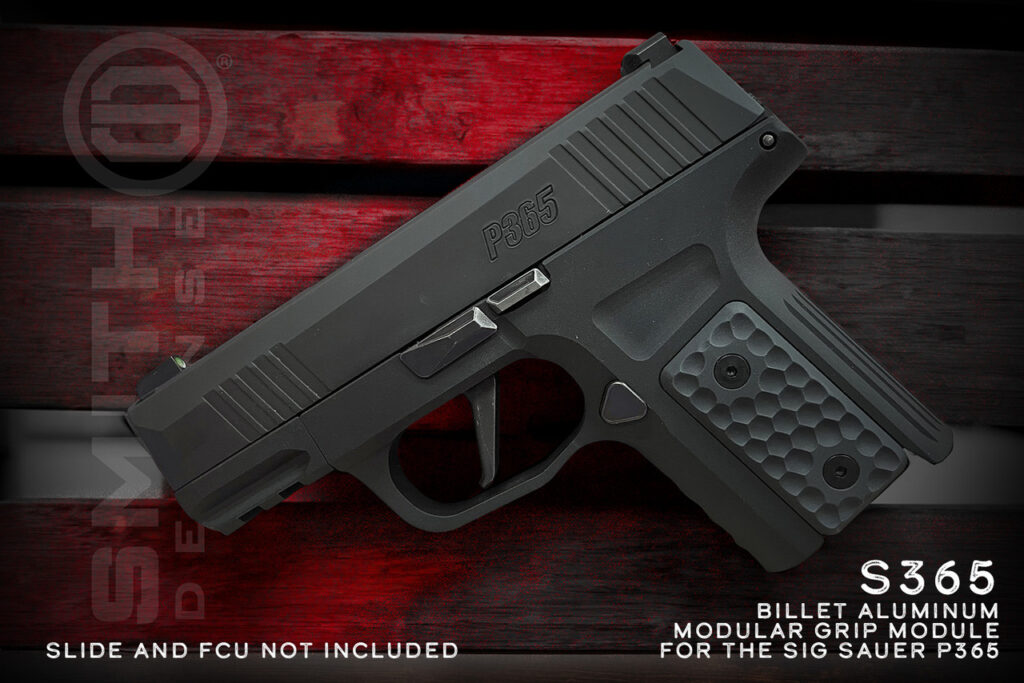 The S365 includes standard and long interchangeable grip attachments and dust covers with – and this is significant – a standard 1913 Picatinny rail. That means a user can utilize standard attachments like weapon-mounted lights and lasers. This is unlike the OEM SIG P365, which features a proprietary rail.
We do not yet know how exactly, if at all, this might affect the pistol's fit in a typical SIG P365 holster.
Adding custom grip panels is also an option, giving a prospective user the option to modify the grip in a way that, if not completely custom, at least has great potential for pseudo-customization.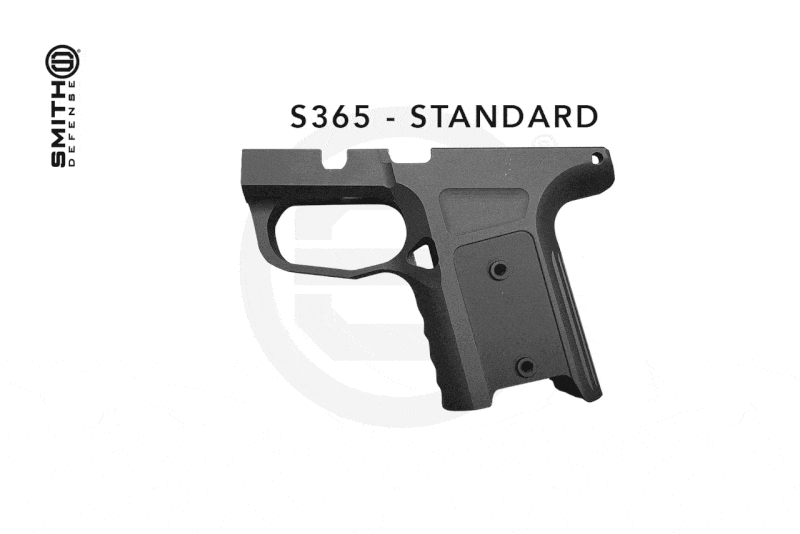 S365 Features
Things to know:
A mag release is NOT included.
The serialized fire control unit (FCU) is NOT included.
This grip module is NOT compatible with a manual safety, which can be removed prior to installation.
The 1913 Picatinny rail is larger than Sig's proprietary accessory rail, so the S365 requires use with a light-bearing holster for compatibility.
Users can easily switch configurations across the P365, P365X, P365XL, and P365L setup.
The S365 is compatible with your existing lights and lasers as well as your favorite slides and barrels.
Milled from a solid block of aluminum using CNC machining, the S365 provides outstanding strength and rigidity.
Refined design and textures provide a more secure and comfortable grip, boosting accuracy and control.
Engineered for a drop-in fit with Sig P365 FCUs, ensuring reliable performance right out of the box
Though designed by Smith Defense, the S365 is only available at 80 Percent Arms.