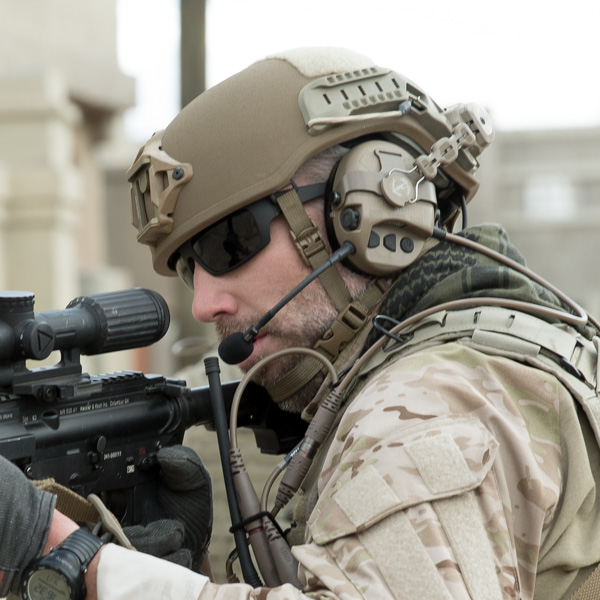 liberator communications systems
turnkey solutions
A headset and PTT system is a combination of a headset model with a PTT (Push-To-Talk) model and additional components which provides a turnkey solution offering reliable transmit and receive audio for your existing radio or device. For the purpose of simplicity and efficiency, our approach is to provide a single SKU to assist our customers when ordering a complete system. This method also allows our customers to easily identify the true cost of the product without hidden fees or additional complexity.
The Safariland Liberator IV™ and Liberator V™ communications systems elevate tactical headset technology to the next level through advancements in communications and hearing protection. Coupled with proven Push-to-Talk and cable systems, the Liberator series communications systems are compatible with over 250 different tactical communications sources. The universal mount is a modular headset suspension system which allows users to transition between rear helmet rail mount, over-the-head, or behind-the-head wear with no tools in under a minute. Dual Fuel technology enables the headset to run on two AAA batteries or one CR123 battery. The Liberator IV and V are the only headset models with user audio profiles modifiable with simple keystrokes on the headset.
The Liberator HP™ is the basis earcup for the Liberator IV and V communications headsets, and provides enhanced hearing protection in all environments. Electronic Noise Compression protects hearing from impulse/gunfire noise, while Active Noise Cancellation offers hearing preservation against high decibel constant background audio. Additional state-of-the-art features include human speech isolation and advanced sound localization for maximum situational awareness and sound detection. Learn more about our patented audio technology.